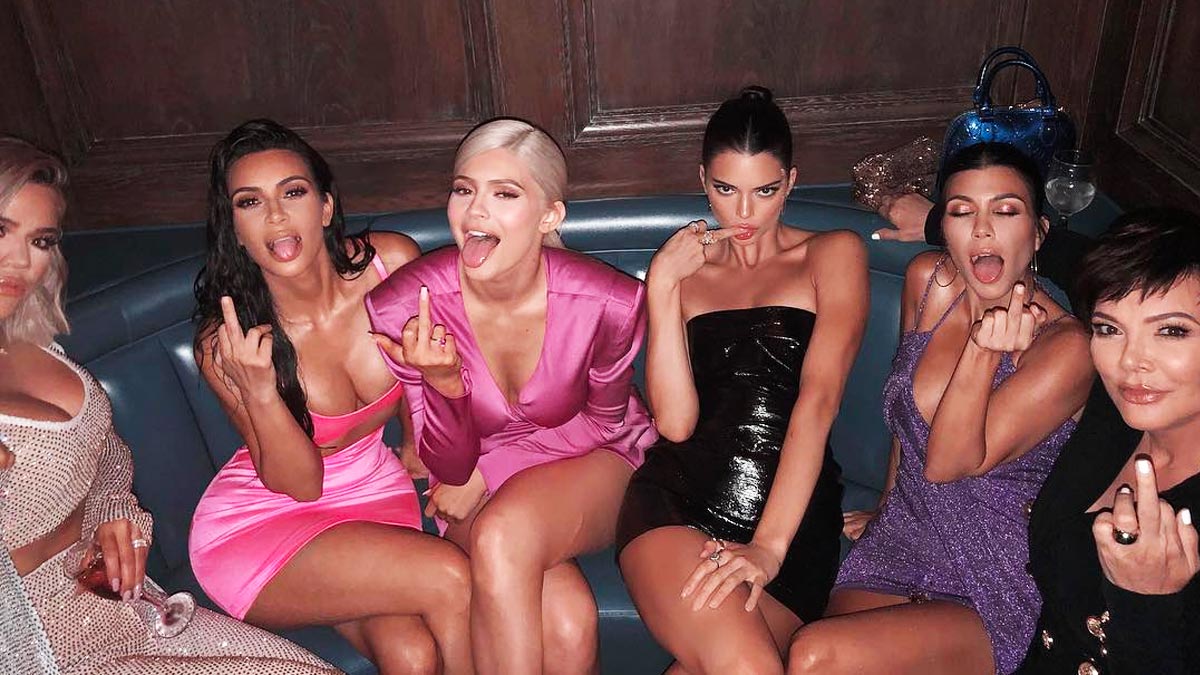 Keeping up with the Kardashians has been tough this year. A lot has happened in 2018. First came Kylie Jenner and Khloe Kardashian both revealing their secret pregnancies and later giving birth. Then Kim Kardashian welcomed a child via surrogate. And then the Tristan Thompson cheating scandal emerged. But that's before you even get onto the celebrity shade, Photoshop fails, awkward award show run ins ~and~ controversial Twitter moments. Let's look back at the most awkward Kardashian moments of 2018, shall we?
When Kim called Kourtney the "least exciting to look at"

Kim and Kourtney's feud took center stage on Keeping Up With The Kardashians this year, and came to a head when Kourtney refused to adhere to Kim's photoshoot schedule. "No one wants you in the f***ing shoot so get the f*** out of here," Kim screamed at her. "Get the f*** out of here and go. No one wants you in the f***ing shoot. I'm planning it, so we don't want you in the shoot. I need Kourtney to not be so f***ing annoying with a stick up her ass like she runs this sh*t, because she doesn't. She's the least exciting to look at."


And then clarified her comments by calling her "the most boring"

Later, when the internet criticized Kim for being so savage, she attempted to clarify her comments—referring to Kourtney as the "most boring" instead. She explained, "We got into a fight, I said, 'You're the least exciting to look at.' What I meant is you're the most boring. People think that it's like I said, 'Kill your mom.'" Er, not quiiite sure that cleared the air, Kim.


When Kendall shaded Sofia Richie over dating Scott Disick


Though Scott and Sofia became Instagram official at the end of 2017, it wasn't until January 2018 that Kendall Jenner had her say. A fan account shared a photo of Sofia and Scott sitting in the front of a car while his kids are in the back, and Kendall commented, "Awww Scott and his kids," seemingly referring to the 15 year age gap between Scott, 34, and Sofia, 19.

Considering Kendall and Sofia were once BFFs, it's clear Kendall sided with her half-sister Kourtney on this one. 

When Kim said she was on ecstasy when she made the sex tape

Kim took oversharing to a whole new level, when she revealed to Kendall and Scott that she was on drugs during her marriage to Damon Thomas in 2000, and when she made her sex tape with Ray J in 2003.

She said, "I got married on ecstasy. The first time. I did ecstasy once and I got married. I did it again, I made a sex tape. Like, everything bad would happen. Absolutely [I was high]. Everyone knows it. Like, my jaw was shaking the whole time."


And Ray J's camp denied it

Ray J's camp denied the claims, though, with a source telling TMZ that Kim "never touched ecstasy" during filming, and that he is "offended" by her claims that she was in a "significantly altered state" when they made it. The insider added that while the reality TV star "took no hard drugs or drank alcohol," she did "smoke marijuana from a penis-shaped pipe." 

When Khloe found out Tristan cheated on her while filiming KUWTK


Poor Khloe. 2018 hasn't been a great year for her relationship, after it emerged that Tristan had "got up close and personal" with another woman while she was heavily pregnant with their daughter True Thompson. The story broke while filming for KUWTK, which means Khloe has had to relive the drama six months later.


When they were called out for their KUWTK Photoshop fail

While the Kardashian-Jenner clan have been accused of Photoshop fails before, it wasn't until 2018 that fans noticed something weird about the promos for KUWTK. While Kris and the sisters all look a similar height, in reality, Khloe is 5'8, Kim only 5'2, Kendall 5'9, Kourtney 5', and Kylie 5'5. The difference between Khloe and Kim doesn't look like seven inces from here.

When Kendall reportedly gave her Bella and Gigi's brother, Anwar, a hickey

~This~ was an odd story. Kendall and Anwar Hadid, aka BFF Gigi and Bella Hadid's younger brother, were reportedly seen making out this summer, and later spotted in September 2018 sporting love bites at the same time. Something to share, Twilight fans?

When Nicki Minaj threw all the shade at Travis Scott and Kylie


Nicki Minaj went IN on Travis Scott, Kylie Jenner, and their daughter Stormi Webster when her album, Queen, failed to chart above his album, Astroworld. She accused the makeup mogul of using her brand for publicity, and helping Travis to sell tour passes. 

When Kanye said he'd "smash" his sister-in-laws

In the lyrics for single "XTCY," Kanye sang, "You got sick thoughts? I got more of 'em / You got a sister-in-law you would smash? I got four of 'em." Oh right.


When Kim was made into a meme

Kim's Yeezy promo broke the internet in a similar fashion to her PAPER shoot (nearly), after she was made into hundreds of memes. You can find them here —but the best ones included a Toy Story-style toy playing dead to Andy, a crime scene chalk painting, and playing Twister.


When they were accused of using a Kim look-alike

When the family's Calvin Klein shoot came out, it wasn't just Kylie Jenner's hidden baby bump that caught the fans' attention. People also thought Kim Kardashian had been replaced by a look-alike, or was very heavily Photoshopped.


When they mysteriously fired Joyce Bonelli

A ~strange~ story unfolded when makeup artist Joyce Bonelli stopped working with the Kardashians, with Us Weekly saying the "family doesn't speak to her anymore," and that "she hasn't worked for them for months." They even stopped following her on social, and then Joyce posted this shady bathrobe to Instagram.

PEOPLE said the split was thanks to Joyce being shady with money, saying she allegedly "tried to go around [the Kardashians] on a deal so [they] wouldn't make money off of it."


When Kylie and Kendall didn't reply to Brody Jenner's wedding invitations

Brody Jenner got married this year and revealed in an interview in the build up to the ceremony that, as well as father Caitlyn Jenner dropping out due to work commitments, half sisters Kylie and Kendall didn't even reply to his invite.

"My two little sisters, we never even heard from them. They never even RSVP'd I don't think," he told PEOPLE. "We sent them an invite but we just never heard anything back. Well, they'll be missed. I would have loved to have had them there."


When Kim said she wanted to change Chicago's name

After revealing the name of their newborn daughter in January 2018, Kim posted a video on her website, KimKardashianWest.com, explaining that she didn't like the name anymore.

"Chicago just looks really long to me and doesn't flow, so I call her Chi," Kim said. "That's it, she can decide later if she wants to be called Chicago or Chi. But like she's so girly. When she first came out I was like what do we name her? It was the hardest decision ever and I could not think of a name."

When Kanye did a lot of controversial tweeting

Kanye was in a lot of hot water this year with controversial tweets about slavery, Donald Trump, and Caitlyn Jenner. While Kim explained why she'll always defend her husband ("He's put himself up against the world for me when everyone told him 'You cannot date a girl with a sex tape'"), celebs such as John Legend, Jay-Z, and Chelsea Handler publicly called him out.

When Tyga shaded Kim on Instagram

Despite Kylie Jenner and Tyga breaking up in 2017, the rapper called out her sister Kim's spelling on Instagram in an awkward move. Kim shared a picture in Japan along with the caption "Train Station in Keyoto," to which Tyga replied, "KYOTO*." Shady.


When Kylie Jenner revealed she'd kept her pregnancy secret for nine months

Ahh, yes. 2018 was also the year Kylie Jenner finally revealed she was indeed pregnant, after keeping it quiet from us all for a whole nine months. She announced the news with a video, "To My Daughter," which gave a glimpse into her pregnancy journey.


***
This article originally appeared on Cosmopolitan.com/uk. Minor edits have been made by the Cosmo.ph editors.
Recommended Videos