Nadine Lustre just opened up about a lot of things, like how she got through a breakup and why she chooses to air her political views.
While guesting on Saab Magalona and Jim Bacarro's podcast, the singer-actress also talked about her "don't give a damn" attitude to life, in particular, to bashers.
Recently, a Twitter user commented on Nadine's body, prompting the singer-actress to shut the netizen down.
"Why @hello_nadine ang chuba mo na, wala ang butt, wala nang curve, sabagay wala ka nang insecurities sa katawan kasi tanggap ka ni Chris kahit maging big ka pa, kaso baka 'pag nagsawa at makakita ng mas bata iwan ka rin. 'Wag magpabola kasi hindi ka naman bolang dini-dribble think twice or thrice lagi." 
Nadine responded, "Ew, body shamer."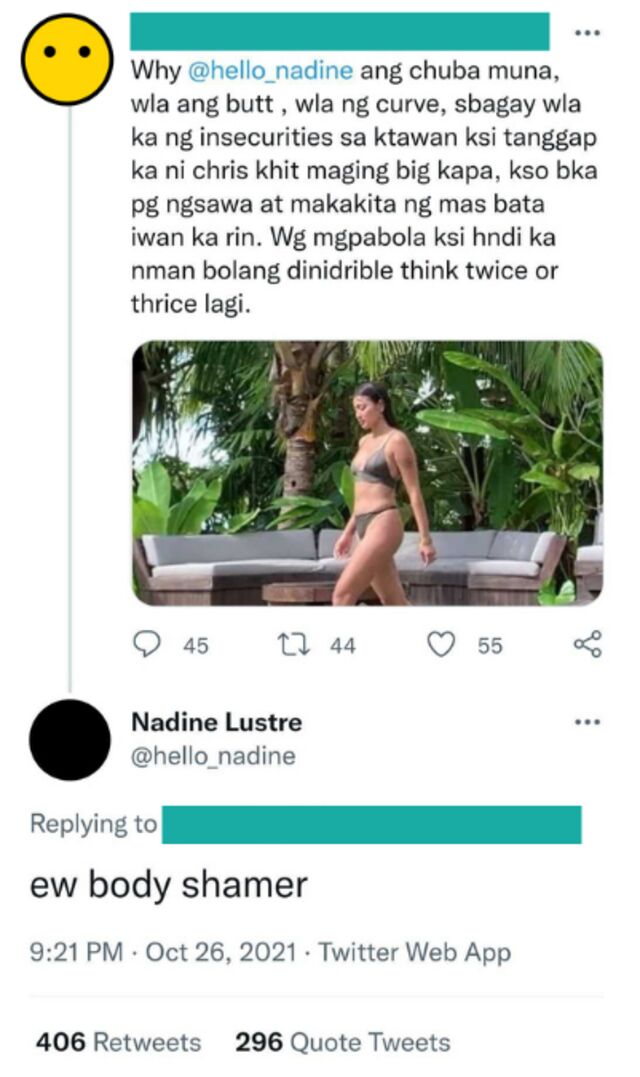 ADVERTISMENT - CONTINUE READING BELOW ↓

Nadine clarified in the podcast the reason why she fired back at the netizen, expressing her concern for people who may be affected by such hateful and judgmental comments. And yes, Nadine is perfectly happy with her body now, thank you very much.
"Pretty much that person was saying that I was gaining weight, I'm starting to look like a ball, blah blah blah," Nadine recalled.
"You know what, I am gaining weight because food in Siargao is just so good, I'm not going to lie (laughs). It's not that I'm insecure about gaining weight or it's not that I think that I look bad because I'm gaining weight. I like my body now. It's just that, if a girl who's younger than me, who's not really confident, and who's still figuring out herself reads that comment, how do you think [would she] feel?"
"Even if it's directed to me, I'm sure that it does something to other people who read those comments."
Nadine has always been very vocal about her thoughts and opinions. She says it probably all started with her viral "Come on, guys, it's 2017" statement during an interview. While it's common for people in showbiz to receive criticism, she fears for newcomers in the industry who may not be used to it.
"I think that's also why me just not giving a damn started. It was because I can see how people treated celebrities. I know how people see us in a way na they can just bash us online without even caring, they can just say whatever hurtful things to us. We're used to it. But at the same time, we're still human. And there are new artists that are not used to this, and especially the young ones who are just new in the showbiz industry."
Nadine also said that it all boils down to her just wanting to live her life on her own terms.
ADVERTISMENT - CONTINUE READING BELOW ↓
"I honestly don't know where my courage is coming from and why I'm able to say just whatever I want to say and do whatever I want to do. I just really don't care anymore. I just want to live my life, that's it. Surprisingly, I don't really succumb to all the comments anymore. I've done a lot of shit just because of what happened recently, but still, I'm like, 'Whatever. This is my life, not yours. Just deal with it.'"