When it comes to being one-of-a-kind, K-pop boy group NCT from SM Entertainment definitely stands out in the crowd. Not only do they have a unique approach to their style of music, they also have an out-of-the-box concept in terms of how their group works. Case in point: They are the current biggest group in the Kpop industry with a total of 23 members who are grouped into different sub-units. Planning to stan them but don't know where to start? This guide will turn you into an NCTzen by the time you finish it!
The concept of NCT
NCT is short for Neo Culture Technology, a name that expresses the concept of the group which is meant to have an infinite number of members. These members are grouped into different sub-units and have different focuses, not only when it comes to location, but in terms of their target market, too. The first members of NCT were introduced in 2016 and the group, since then, has grown from being a six-piece unit into the 23-strong group they are now.
ADVERTISMENT - CONTINUE READING BELOW ↓
Now on their sixth year in the industry and with four official sub-units, NCT has earned their fair share of achievements in the industry. The group has earned numerous nominations and wins from rookie awards to Daesangs (Grand Prize)—the highest recognition K-pop artists can get in South Korea. NCT 2020 won the Album of the Year Daesang at Asia Artist Awards for Resonance Pt.1 and NCT 127 once again bagged the same recognition in 2021 for their album, Sticker.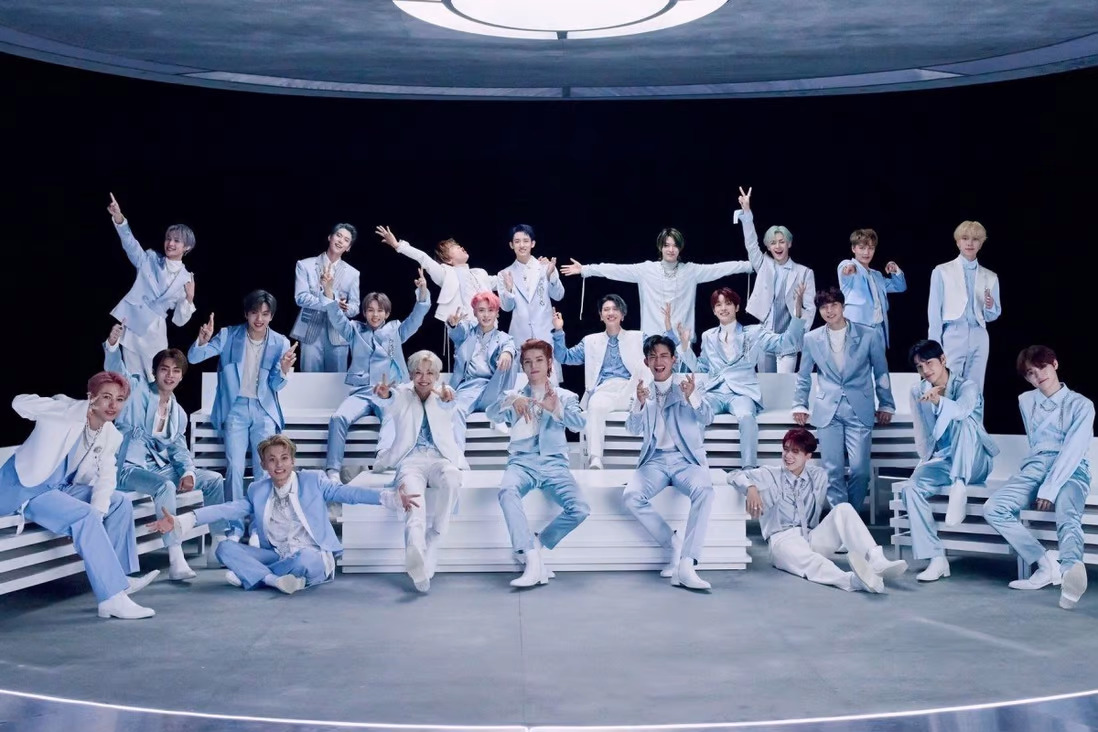 NCT units and their members
NCT U
NCT U (short for NCT United) is the first-ever unit of NCT. The group debuted on April 9, 2016, with six members, Mark, Jaehyun, Taeil, Doyoung, Ten, Doyoung, and Taeyong who released two digital singles, "The 7th Sense" and "Without You." NCT U is considered the main group of NCT with rotational members making up each comeback. The main concept behind it is that different members from each sub-unit are chosen to form a group depending on how well they fit the feature song.
NCT gathers every one or two years as a single group where they are grouped into different NCT U units to promote their tracks. In 2018, for example, NCT U released "Boss" as part of their album Empathy and "Make A Wish" in 2020 with a different set of members. NCT U's last comeback was with the title track "Universe" from their album of the same name in 2021.
ADVERTISMENT - CONTINUE READING BELOW ↓
Current NCT U members
1. Osaki Shotaro: Dancer
Shotaro is one of the newest members added to the line-up of NCT back in 2020. Since he doesn't have an official sub-unit yet, he is considered a member under NCT's main group after he participated in the "Make A Wish" (2020) and "Universe" (2021) comeback. He is the second Japanese member of NCT and was scouted after an SM Entertainment agent saw one of his dance covers in his now-defunct TikTok account. Fun fact: He is actually an NCTzen before officially joining a group! In one of his fan calls, he shared that he was encouraged to try and audition after he watched one of NCT 127's concerts in Japan!
ADVERTISMENT - CONTINUE READING BELOW ↓
2. Jung Sungchan: Rapper
Sungchan is the second latest member to be added to NCT's lineup. Just like Shotaro, he doesn't have an official unit yet, though he has participated in NCT U's 2020 comeback with the songs "Misfit," "Light Bulb" and "'90s Love." He is a talented soccer player before he joined SM Entertainment where he trained for about four years. He also was cast as one of the hosts of the music show Inkigayo from 2021 to March 2022. Though the third youngest in the group, he is one of the tallest of the members at 185 cm (6'1 ft)!
ADVERTISMENT - CONTINUE READING BELOW ↓
NCT 127
NCT 127 is the second sub-unit that debuted (July 7, 2016) under the NCT main group. It originally had seven members (Taeil, Taeyong, Yuta, Jaehyun, Mark, Winwin, and Haechan) who released the single "Firetruck." The group has 127 on their name to stand for the longitude coordinate of the city of Seoul where they focus on terms of promotions. The group now has a total of 10 members who have been gradually added since their debut date.
Current NCT 127 members
3. Moon Taeil: Main vocalist
Taeil is the main vocalist of both NCT U and NCT 127. He is the eldest of the group and was discovered by SM Entertainment's talent scouts in 2013 when he joined a Youth Singing Contest. He was actually already admitted to Hanyang University's Music Department (notorious for being a program that's very difficult to qualify in!) when he was invited to join the company but he made the ultimate decision to pursue being a trainee after realizing that being an idol can give him the chance to do what he loves the most. Now, Taeil is well-loved among the members and the whole fandom for his vocal talents and chill personality.
ADVERTISMENT - CONTINUE READING BELOW ↓
4. Johnny Suh - Lead dancer, sub-vocalist, sub-rapper
Johnny, who is born and raised in Chicago, United States, officially joined SM Entertainment as a trainee back in 2008 after passing the Global Audition held in his city. He is actually one of the members who trained the longest in NCT, but only because he would go back and forth between his hometown and Seoul during his school breaks while training under the company. He even had the experience to train with EXO—their senior group in the company for some time! Johnny often acts as the group's main speaker every time the group would promote overseas. Oh, and did you know that he is one of the few Kpop stars who have had the chance to attend the Met Gala?
ADVERTISMENT - CONTINUE READING BELOW ↓
5. Lee Taeyong: Leader (NCT and NCT 127), main rapper, main dancer, visual, center, sub-vocalist
Taeyong is considered the overall leader of the group as well as the NCT 127 sub-unit. He was popular even as a trainee for his stunning visuals though he had since made a name for himself for his standout talent in dancing, rapping, and even composing. A funny story: Taeyong was actually cast without even knowing that he was being scouted as a future K-pop idol! In one of his interviews, he shared that the talent scout invited him to try and audition for one of the big three companies, though he only knew MBC, KBS, and SBS back then—which are all television networks! He also shared that he decided to try because the scout offered him toast as a gift, LOL. In 2019, Taeyong also debuted in the group SuperM, a unit created by SM Entertainment with some of its best male idols. The members included artists from fellow K-pop groups EXO and SHINee.
ADVERTISMENT - CONTINUE READING BELOW ↓
6. Nakamoto Yuta: Lead dancer, sub-vocalist, sub-rapper
Yuta, also fondly known as the Osaka Prince, is the first Japanese member of NCT. He was a big fan of fellow SM Entertainment senior group TVXQ, who was actually his inspiration to try and join the company. After he moved to SouthKorea, Yuta made sure that he explored Seoul while training, which helped him a lot in learning the language and adapting to the city's culture. He is very good at soccer, a sport which he cheekily shared he tried to learn to impress his crush (Awww!). He is set to debut as an actor this year in the Japanese movie High & Low (The Worst X).
ADVERTISMENT - CONTINUE READING BELOW ↓
7. Kim Doyoung: Main vocalist
Though popular for his vocals, Doyoung is also known for being one of the most versatile members of NCT. Not only has he modeled for several magazines, he has also acted in TV dramas like the Midnight Cafe Season 3 - The Curious Stalker (2021) and the musical theatre production of Marie Antoinette. He is set to be the main lead in a new drama To X Who Doesn't Love Me in 2022, too. Fun fact: He is brothers with fellow Korean actor Gong Myung. Oh, and can we just say he has such a good Instagram feed, too?
ADVERTISMENT - CONTINUE READING BELOW ↓
8. Jung Jaehyun: Main vocalist, lead dancer, sub-rapper
Jaehyun is another well-known visual in NCT. He was scouted back in high school after he stayed late because he was on cleaning duty. As a trainee, he admitted that he was a very stiff dancer at first, a fact that is almost hard to believe given his lead dancer position now. Jaehyun is also fluent in English, having stayed in Connecticut, United States for five years when he was young. Fun fact: His birth name is Jaehyun but he had it officially changed to Yoonoh in middle school out of his grandmother's wish. He did, however, adopt the stage name Jaehyun again once he debuted!
ADVERTISMENT - CONTINUE READING BELOW ↓
9. Kim Jungwoo: Lead vocalist, Lead dancer
Jungwoo is the newest member to be added to the NCT 127 lineup. In 2018, he debuted as a member of the NCT U unit that promoted the song "Boss" before joining NCT 127 the same year. He is actually one of the most popular trainees before among fans, having been dubbed as the "mystery trainee," "the mask boy," and "SM Rookie #9." In one of his live broadcasts, he also shared that he entered SM Entertainment after passing the company's legendary Saturday Weekly Auditions which is well-known for being particularly hard for idol hopefuls. To date, only eight SM idols have passed the audition.
ADVERTISMENT - CONTINUE READING BELOW ↓
10. Mark Lee: Main rapper, dancer
Mark is one of the three members of NCT that has more than one unit, being also the leader of NCT Dream. Born in Canada, he moved to South Korea in 2012 after he passed the Global Auditions held in his city. Ironically, Mark wasn't originally planning to join the audition—instead, it was his older brother who wanted to try! However, he decided to tag along because his school classes were postponed because of a strike (LOL). After becoming a trainee, however, he was quickly considered one of the most promising talents in SM because of his rapping skills. He also debuted in the group SuperM with Taeyong back in 2019.
ADVERTISMENT - CONTINUE READING BELOW ↓
11. Lee Haechan: Main vocalist, lead dancer, maknae
Haechan is the second NCT member who also has multiple units in the group. Also a part of NCT Dream, Haechan is considered one of the strongest vocalists of NCT because of the unique color of his voice. He is also one of the eight legendary SM trainees who passed the company's Saturday Auditions together with Jungwoo. His real name is Donghyuck, but SM Entertainment founder and former CEO Lee Sooman himself gave him the stage name Haechan (which means "full sun") for his bright and lively personality.
ADVERTISMENT - CONTINUE READING BELOW ↓
NCT Dream
NCT Dream is the third sub-unit to debut under the main group in August 2016. Unlike NCT 127 which is location-focused when it comes to their activities, NCT Dream was first planned to be a rotational team featuring the teenage members of the group. The original set-up is that members who reach 20 years old (Korean age) will graduate from the sub-unit and new members that fit the age range will be added to it. Luckily, in 2020, SM Entertainment announced that the current members will be turned into a permanent unit and added Mark again who has then graduated after turning 20. In 2021, NCT Dream became the certified youngest triple million sellers from SM Entertainment with their first full-length album Hot Sauce.
ADVERTISMENT - CONTINUE READING BELOW ↓
Current NCT Dream members
12. Renjun Huang: Main vocalist, lead dancer
Renjun is one of the foreign Chinese members of NCT Dream. While he is born in China, some sources say that he is ethnically Korean, meaning that his ancestors were originally Korean before they moved to China. Renjun has not officially confirmed this, though he did grow up in Jilin, a city in China that is close to the North Korean border. Because he has been immersed in Korean culture early on in his childhood, he is already quite good at using the language when he joined SM Entertainment as a trainee. He originally passed SM's global auditions by dancing, but he was given a vocal position upon his debut for his dreamy tones.
ADVERTISMENT - CONTINUE READING BELOW ↓
13. Lee Jeno: Lead dancer, lead rapper, sub-vocalist, visual
Jeno is not exactly new to the limelight when he became a trainee under SM Entertainment. He had actually worked as a child model and was featured in numerous commercials including his iconic milk TVC! In 2013, he was introduced as a part of the company's pre-debut training team SM Rookies together with future NCT Dream members Jaemin, Haechan, Mark, and Jisung. During the short time Mark left the group when he graduated, he stepped in as the captain of their sub-unit. He retains the same position in the group every time they promote without Mark.
ADVERTISMENT - CONTINUE READING BELOW ↓
14. Na Jaemin: Lead dancer, sub-rapper, sub-vocalist, visual, center
 Unlike the other members, Jaemin was scouted by SM Entertainment while he was doing volunteering work with his mother when he was a child. He entered the company as a trainee the same day as Jeno, though he had hilariously admitted in some interviews that he initially wasn't serious about being an idol. Instead, he wanted to be a surgeon thanks to a television show that he loved watching as a child. Even as an adult, Jaemin retains his penchant for volunteerism—he was once sent as a youth representative for Unicef in 2018 and continues to give donations to charities.
ADVERTISMENT - CONTINUE READING BELOW ↓
15. Chenle Zhong: Main Vocalist
Chenle is the second Chinese member of NCT Dream. Similar to Jeno, he is already used to the limelight before starting to train as an idol, having performed in different television shows and concerts in China before. He became the youngest singer to be invited to perform solo at the Golden Hall of Vienna at age nine and he has also released three solo albums by the time he was 14. He only trained for two months before he officially debuted under NCT Dream. Fun fact: Unlike the other members who mostly live together in dorms, Chenle lives alone in a house his parents bought for him in Seoul.
ADVERTISMENT - CONTINUE READING BELOW ↓
16. Park Jisung: Main dancer, sub-vocalist, sub-rapper, maknae
The forever baby of NCT, Jisung is one of the youngest idols to ever debut after he was added to the pre-debut lineup of SM Rookies when he was just 12 years old. Like Chenle, Jisung has also participated in several entertainment programs when he was still a child. In fact, the two have been coined as "soul mates" by fans because they have already previously met as solo performers at an International Children's Concert before meeting again as trainees. He is known in NCT as one of its best dancers—his popping and locking moves are unmatched!
ADVERTISMENT - CONTINUE READING BELOW ↓
WayV
WayV is the fourth sub-unit of NCT that debuted in January 2019. Just like NCT 127, the concept of the group is location-centered, with their activities and promotions mostly focusing on China. The group is specifically being managed by Label V which is a China-exclusive label under SM Entertainment. Though the newest sub-unit to be formed, WayV has already won a few awards including Favorite Asian Artist at the 2020 Mnet Asian Music Awards and Best Dance Performance (Chinese category) at the Asian Pop Music Awards.
Current WayV members
17. Kun Qian: Leader, Main vocalist, sub-rapper
Kun was one of the earliest members of WayV to be introduced in 2016 as part of SM Rookies. His official NCT debut, however, was in 2018 even though he has previously participated in 2016 in the Chinese version of NCT U's song "Without You." While Kun is well-loved for his soothing vocals, he is also popular in the fandom for being one of the most well-rounded members! He is a very active music producer, a trained pilot, and even an amazing cook! Fun fact: Kun is the first in NCT to earn a degree. He graduated from the Beijing Contemporary Music Academy with a degree in Pop Vocal Performance.
ADVERTISMENT - CONTINUE READING BELOW ↓
18. Ten Lee: Main dancer, main vocalist, sub-rapper, center
Ten's nationality is Thai even though he is ethnically Chinese. Similar to Kun, he is also one of the earliest members of NCT to be introduced—having been part of the first lineup of NCT U. Before becoming a trainee, he had already made a name for himself in Thailand after he competed in the show Teen Superstar under the stage name TNT. Ten is well-known in the group for his multi-lingual prowess, too. Not only does he know Korean and Japanese on top of his native language, he also learned Chinese for his promotions with WayV. He is also a part of SuperM together with Taeyong and Mark.
ADVERTISMENT - CONTINUE READING BELOW ↓
19. Winwin (Dong Sicheng): Lead dancer, lead rapper, sub-vocalist, visual
Winwin is the third NCT member that belongs to more than one sub-unit. Before his debut in WayV, he actively promoted as a member of NCT 127. While still considered an official member of the group, he has temporarily stopped promoting with the sub-unit to focus on WayV. Winwin has one of the most standout scouting stories in NCT because he originally rejected the offer from SM when he was scouted during his freshman year in high school. However, he did change his mind after talent scouts relentlessly pursued him—they were said to have taken multiple round trips between China and South Korea just to convince him! In 2021, he established his personal studio for his China promotions where he is currently working as an actor and model.
ADVERTISMENT - CONTINUE READING BELOW ↓
20. Lucas Wong: Lead rapper, sub-vocalist, visual, center
Lucas was born in Hong Kong and is half Chinese (father) and half Thai (mother). After his initial debut in NCT in 2018, he also debuted as a model when he walked the runway for the Kye brand, a project that seemed very natural for him because he actually passed the SM Auditions by only doing three poses! Lucas also pursued other projects in China such as Running Man and promoted in the US as the last member of SuperM from NCT.
ADVERTISMENT - CONTINUE READING BELOW ↓
21. Xiaojun (Xiao Dejun): Main vocalist
Xiaojun, together with Yangyang and Hendery was first introduced as part of SM Rookies in 2018. Before becoming a trainee, he participated in the Chinese survival show X-Fire and several theatre productions. His impressive vocals actually run in his blood with a well-known singer for a father and a musician brother. Xiaojun was accepted into the Shanghai Theatre Academy's Music Department but ultimately chose to pursue being an idol when he auditioned in SM Entertainment in 2017.
ADVERTISMENT - CONTINUE READING BELOW ↓
22. Hendery Wong: Main rapper, lead dancer, sub-vocalist, visual
Hendery was born in Macau and has three older sisters. Before becoming a trainee, he studied acting in Beijing, China because he wanted to become a comedian. This was also where he was scouted by SM Entertainment agents who spotted him on the streets. While very popular for his prince-like visuals, Hendery is also loved by his members and the rest of the fandom for his wacky and funny personality. Fun fact: He is the first-ever Macanese idol in SM Entertainment.
ADVERTISMENT - CONTINUE READING BELOW ↓
23. Yangyang Liu: Main rapper, main dancer, sub-vocalist, maknae
Yangyang hails from Taiwan, Republic of China though he lived in Germany for six years, making him fluent in the language. Yangyang has one of the most unique audition stories in NCT because his idol journey started from a literal dream. After getting an arm injury where he received anesthesia for his treatment, he dreamt of performing on stage. While he wasn't professionally trained in dancing and singing back then, the dream stuck with him and gave him the push he needed to give it a try. Two weeks after, he came upon SM Entertainment's announcement for a global audition in Taipei. Though it sounded crazy, he decided to fly from Germany back to his home country to participate and the rest, as they say, is history.
ADVERTISMENT - CONTINUE READING BELOW ↓
MORE GUIDES ON K-POP GROUPS:
Everything You Need To Know About ENHYPEN
Everything You Need To Know About The Members Of The K-Pop Boy Group, BTS
Everything You Need To Know About The Members Of The K-Pop Boy Group, SEVENTEEN