Roughly two weeks ago, TV series Prison Break entered Netflix Philippines' Top 10 most-streamed shows. On April 15, it overtook Crash Landing On You and Itaewon Class (Sorry, Hyun Bin and Park Seo Joon!) and claimed the #1 spot.
The 2005 TV series starring Wentworth Miller is about a very hot (!), very smart structural engineer named Michael Scofield who comes up with an escape plan to bust his sibling out of prison. His brother was wrongly convicted of murder, so Michael stages his own crime to get incarcerated and eventually break out of prison using the tattoos on his body (which detail the jail's blueprint).
The show was added to Netflix Philippines in July 2018. But why did it randomly pop up again?
It isn't as random as you think.
We did some sleuthing and got in touch with Netflix to figure out the streaming service's recommendation system. The algorithm, or "set of rules" Netflix follows, does not include demographic information like your gender or age, but it does use your behavior WHILE using the streaming service. Here's how it works.
From the moment you subscribe to Netflix, you are already telling it the kind of shows you want to watch.
When you create your Netflix account, you're asked to choose a selection of titles that you like. Your picks actually form the base of what will be recommended to you moving forward. And if you skip this part upon signing in, the system will start you off with a diverse mix of popular selections to jump-start your viewing experience.
Continue reading below ↓
Recommended Videos
As you continue watching, your selections will outrank any initial preferences you provided. So if you didn't select K-dramas initially but you binge-watched Goblin and What's Wrong With Secretary Kim?, you'll start seeing more Korean dramas popping up on your homepage. 
The recommendations on your homepage are determined using a ~*complex*~ algorithm based on your viewing history.
Netflix guesses you're more likely to watch a particular show based on:
what you watched or how you rated other titles
what other viewers with similar tastes selected
information about the titles, such as genre, categories, actors, or release year
So if you just watched Money Heist, a Spanish TV show about eight thieves who take hostages and lock themselves inside the Royal Mint of Spain, you're probably going to get recommendations that involve criminal masterminds or ex-cons, like Breaking Bad, Ozark, Itaewon Class, or ta-da!—Prison Break!
Interesting tidbit: Money Heist started out in 2017 as a two-season show that aired on a Spanish TV channel. People lost interest in it until Netflix picked it up as part of its international catalog with no heavy marketing or promotions. Before long, the cast members started to wonder why their social media accounts were exploding with followers. The show was apparently given a new lease on life thanks to Netflix! Soon, seasons 3 and 4 were born.  
With season 4 premiering in the Philippines on April 3, we can intelligently guess that people binge-watched it and clicked recommendations that led them to Prison Break. The dates make sense too: Prison Break entered the Netflix charts shortly after Money Heist trended. 
Did you know that Netflix also personalizes its recos based on how long you watch a show?
Aside from judging how long you Netflixed and chilled, the algorithm even looks into the time of day you watch, or the devices you're watching on! If you have a habit of only viewing one-hour concerts or documentaries, you're essentially telling Netflix that you're not much of a TV series binge-watcher, so it'll recommend just the shorter shows to you—or the opposite, perhaps, so you can try something new.
Netflix ranks items in a way that's "designed to present the best possible ordering of titles that you may enjoy."
Look at your Netflix homepage now. Do you see themed Top 10s or "rows" like "Comedies," "Because You Watched," or "Romantic TV Shows?" In each row there are three layers of personalization:
the choice of row (e.g. Continue Watching, Trending Now, Award-Winning Comedies, etc.)
which titles appear in the row
the ranking of those titles
The most strongly recommended rows go to the top (mine: "Romantic Korean TV Shows"). Per row, the top ones go from left to right, "unless you have selected Arabic or Hebrew as your language, in [the] system, in which case these will go right to left."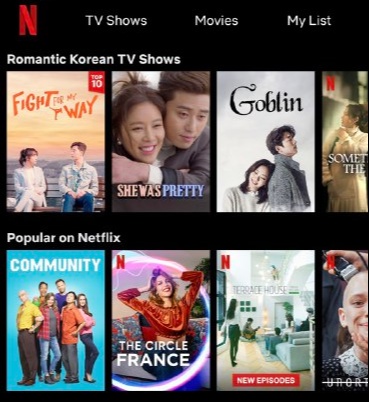 When you search for keywords, the top results are NOT random.
They're based on the actions of other members who entered the same query. It kinda works like any search engine: If people type "Park Seo Joon" and majority click Fight For My Way, the chances are higher that the title would be shown first.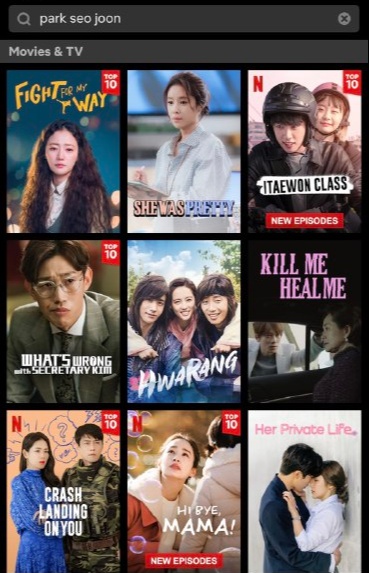 As you can see, NOTHING IS "by chance" on Netflix. So if you start getting weirded out by your homepage's recommendations, tbh, you're the only one to blame!
Source: Netflix
Follow Jillian on Instagram.