Lately, it feels like every movie has us thinking, "What the fuck did I just watch?" In this series, we will break down exactly what happened in all those wild, mind-bendy, and just plain strange flicks...in a way that's much easier to understand than the actual film. 
***This post contains spoilers for Netflix's Falling Inn Love.***
You may be wondering, "Why is this quaint lil rom-com getting the What the F*ck You Just Watched treatment?" Well, my friends, this sleepy feature about renovating a bed-and-breakfast in New Zealand is both easy viewing and somehow the wildest Hallmark—I mean, Netflix—movie of the ages. So many puns! So many tropes! An actual house fire!
Anyway, did you know Netflix likes to create genres that don't exist and are completely unnecessary? Well, this is what they call an "opposites attract" rom-com. More on that later. Let's get into it.
Falling Inn Love—I will never get tired of typing this—opens with Gabriela Diaz (Christina Milian) preparing for the pitch of her life at her San Francisco design firm. You know she's corporate because she goes from her morning Peloton ride to a business meeting with her insufferable boss Chad (the most Chad Chad to ever Chad) to a yoga class with her bestie, where they get yelled at for talking! Such a modern working woman!
Continue reading below ↓
Recommended Videos
Unfortunately, things keep going wrong for Gabriela. Her boss won't listen to her cost-effective, eco-friendly design pitches, which causes the firm to go belly-up. On top of that, she dumps her boyfriend of two years, Dean (Jeffrey Bowyer-Chapman), because he's not ready to commit and she's 100% That Bitch.
Over the course of, like, five seconds, Gabriela enters and wins an online contest to "win an inn" on the New Zealand countryside. But when she gets to The Bellbird Valley Farm, it's a scam. The place is in despo need of renovations and there's a wild goat that won't leave her alone! Good thing she keeps insulting the only contractor in town, who also happens to be the hottest of all Kiwi men (sorry, KJ Apa).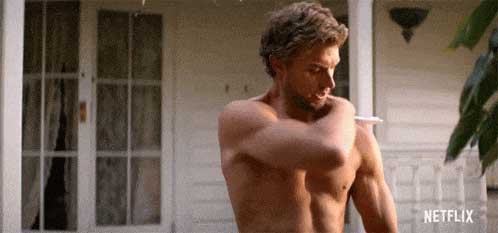 Let me take a sec to introduce you to everyone that Gabriela meets:
A literal goat named Gilbert.
The husbands who run a restaurant in town and keep giving her free coffee.
Norm (William Walker), the hardware store owner who never wants Gabriela to pay him.
Shelley (Claire Chitham), Everyone's Best Friend who lives to give advice and runs the local flower shop.
Charlotte (Anna Jullienne), the Uptight Bitch who runs a competing bed-and-breakfast. You know she's terrible because she gets mad when Gabriela runs over her prize-winning, irreplaceable roses! How dare she care about her property. Maybe I just like her because she wants to buy The Bellbird so she can have an "inn-pire." Frankly, I wish there were more inn puns in this movie.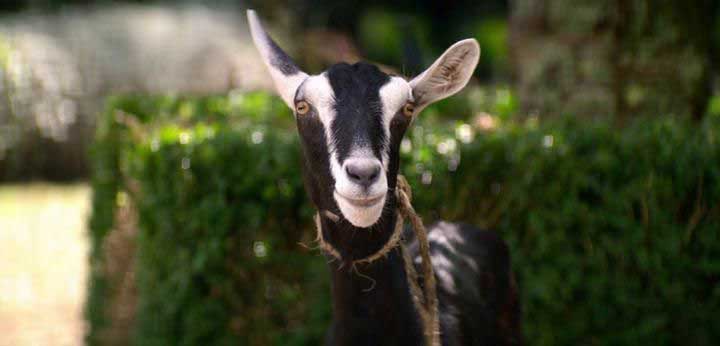 Then, of course, there's Jake Taylor (Adam Demos), who also gets a last name because he's the main love interest. All you have to know about him is that he's hot, the perfect amount of snarky, and a contractor/volunteer firefighter.
That's where the "opposites attract" genre comes in. Despite her initial dislike of Jake (for literally no reason), Gabriela decides to make him her partner in renovating the inn. They'll go 50/50 on everything: from work to costs to the profits of selling the place when it's all fixed up. But here's the catch: She wants to make the inn completely eco-friendly and modern, while he loves its timeless, old-fashioned charm. See, opposites! Ignore that they both love architecture, have the same sense of humor, and are very attractive.
Once they partner up, you can feel free to tune out for a bit. They do a lot of cute bonding over housework, Charlotte schemes to get Gabriela out of the picture by stealing her phone and texting Dean to come to NZ and try to win her back, and the goat runs amok. That's pretty much it.
The rest is all rom-com tropes: Jake's wife passed away because—tragic backstory! There are love letters hidden in the walls that Gabriela and Jake read together during a picnic. Gabriela almost falls off the porch, so Jake grabs her and she falls on him instead (adorable). They even have my favorite part of any romance movie: that moment when the woman looks dreamily at something—in this case, a fireplace—and says, "It's beautiful." The man, who is staring intently at the woman, says very wistfully, "It is."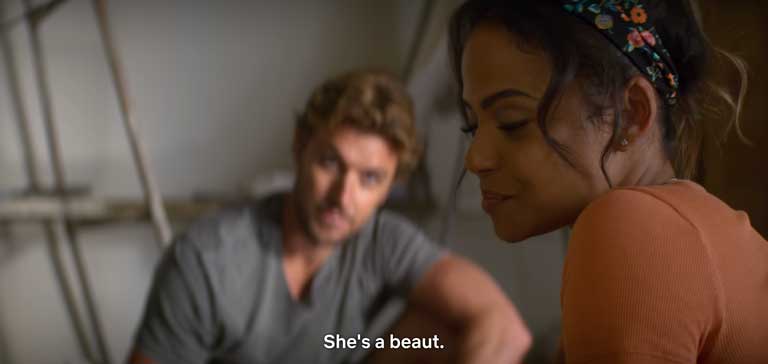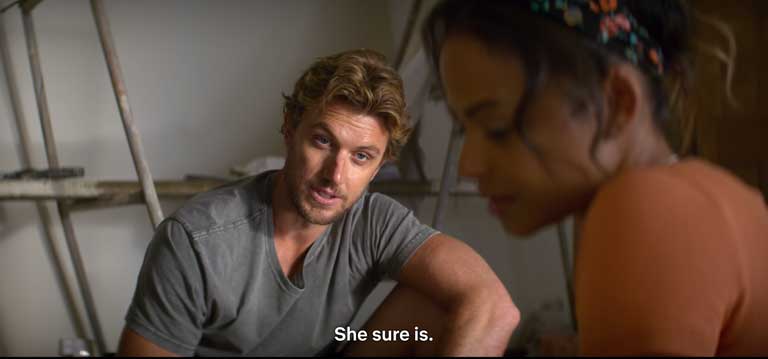 It's all going great...until Jake realizes Gabriela is still planning on flipping the inn and returning to the States. Then, like all man-children, he gets pouty and surly even though she's been upfront with him the whole time. Even worse, on the day of the grand opening, Dean shows up and brings an interested Aussie buyer along with him. Gabriela hesitates, but Jake agrees to sell and storms out.
Luckily, Everyone's Best Friend chases after him and tells him to stop being a whiny baby. But before he can Go Get Her™, there's a fire at Charlotte's inn! The entire town rushes over and Jake saves someone's life! It is wildly dramatic and completely random, but I loved it. Gabriela also thinks it's hot and chooses to stay in New Zealand with Jake and keep the inn (hopefully her entrepreneur visa holds up). That's it. Nothing too groundbreaking...lol, get it?
The most WTF moments of Falling Inn Love:
The title of this movie is Falling Inn Love. I cannot stress this enough.
Everything with Gilbert the goat. Does that lil dude have all his shots?
At the carnival, Gabriela is handed a hot dog on a piece of white bread. WTF?
In the middle of painting the stairs—and I mean it was, like, two paint strokes—Jake says they should stop for the day. Can't you at least finish that one step? Who does that?
This last one's actually big. When Gabriela goes to get the original specs and blueprint of the inn, she jokes that she thinks the place is haunted. A little old woman says a tragedy happened on the property but she doesn't want to "speak of such things." We never find out what the hell she's talking about! It can't be the letters, because the soldier came back from the war alive! Frankly, I hope there's a horror movie sequel called Trapped Inn Hell and Gabriela and Jake have to fight to survive.
***
This article originally appeared on Cosmopolitan.com. Minor edits have been made by the Cosmo.ph editors.