You've heard of the Marvel Cinematic Universe, now get ready for the interconnected world of Netflix holiday movies! Because yup, as it turns out, the streaming site's franchise of Christmas movies are actually connected one way or another. 
The most recent proof of a Netflix Holiday Cinematic Universe came with the release of Vanessa Hudgens' The Princess Switch sequel. Near the end of The Princess Switch: Switched Again, Aldovia's Queen Amber (Rose McIver) and King Richard (Ben Lamb) from the Christmas Prince movies both appeared for cameo roles during Margaret Delacourt's coronation ceremony as the Queen of Montenaro. They even brought their baby girl, Princess Elleri with them!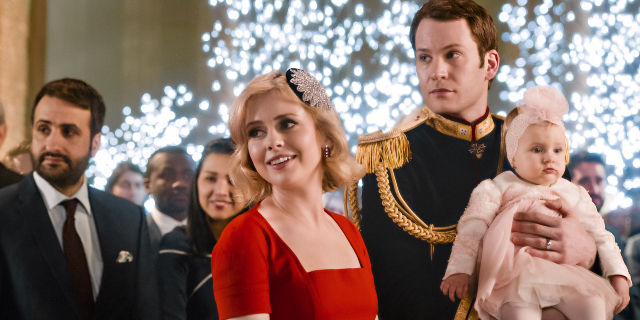 As for other direct references that you may have missed out on, in the 2019 film The Knight Before Christmas, which also stars Vanessa, the line "Your grandma and grandpa picked this up on their trip to Aldovia" was mentioned in the film. Yet another confirmation that the main setting for TKBC exists in the same world as A Christmas Prince. Meanwhile, in the third installation of A Christmas Prince, a map was brought out showing Aldovia and The Princess Switch's Belgravia as neighboring countries.
That said, some of Netflix's other Christmas films have less of a direct connection to its peers, but nevertheless, overarch with them in some way. For example, a scene from the 2017 film The Christmas Inheritance pops up on a TV screen in both The Princess Switch and the 2018 movie The Holiday Calendar.
Check out the infographic below for the full picture so far!
Continue reading below ↓
Recommended Videos