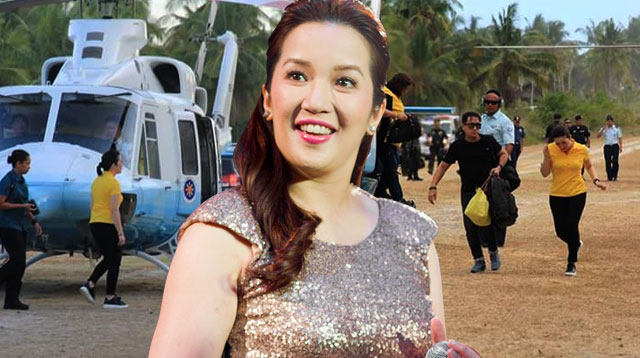 PHOTO: (KRIS) Mike Dee, (SCREENSHOT) Facebook/Seth Munoz
President Benigno Aquino III's sister, actress-host Kris Aquino, has been getting flak from the public after photos of her using the presidential chopper for the Liberal Party campaigns made the rounds online.

Netizens observed that based on the photos, Kris might have illegally used government property for partisan politics.
[fb:https://www.facebook.com/seth.munoz.161/posts/663985977072887:fb]

Others pointed out that her move might be giving some candidates undue advantage over their rivals.

The photos were apparently taken during a stopover at the Casay airstrip in Cebu as part of the president's personal campaign for their bets in Visayas.

For their part, the Malacañang defended Kris who is currently on showbiz break to support administration bets Mar Roxas II and Leni Robredo.

Presidential Spokesperson Sonny Coloma explained that direct relatives are allowed to use the choppers as long as they are with the president, Manila bulletin reported.

"Members of the President's immediate family are allowed to ride with him in official government vehicles," Coloma said.
Continue reading below ↓
Recommended Videos