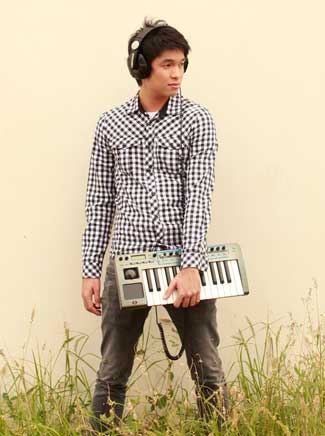 We've grown up with OPM (original Pilipino music) that's either from our favorite Pinoy rock bands, balladeers, concert queens, or even boy bands. But, just as our tastes in fashion, men, and movies evolve, so do our taste in music, of course. Don't you sometimes find yourself wishing there's a different OPM sound you can listen to—one that doesn't fall in any of the aforementioned categories?

Enter this new breed of OPM music—one that sounds refreshingly different to be considered a new indie sound, but friendly enough to be blasted on all radio stations, regardless of the target listener. This fresh new sound you should be listening to this summer comes from a cutie with boy-next-door charm called Somedaydream, a.k.a. Rez Toledo, pegged as the Philippines' own Owl City.

The 20-year-old Atenean's first single, "Hey Dreamer," has struck radio airplay gold: DJs around the country are thrilled to be playing a song that's of international quality that they can proudly say is Filipino-produced. His mentor and producer is a hottie you love, too: Cosmo Centerfold Champ Lui Pio, who's already a household name in the local music industry.

So, if you're looking for new songs to pop into your summer playlist, keep in mind Somedaydream's catchy electro pop song "Hey Daydreamer," which is an LSS shoo-in. If you're wondering where you can get the song, along with the rest of Somedaydream's tracks, it will be sold online as Digital Music. After all, what seems to be the most important thing to this hot young music talent is that his music is heard. And what better way to spread music than through the Internet, right?

Watch for news about Somedaydream's music in his Facebook fanpage. Follow him on Twitter, too: Sdrez.
Continue reading below ↓
Recommended Videos