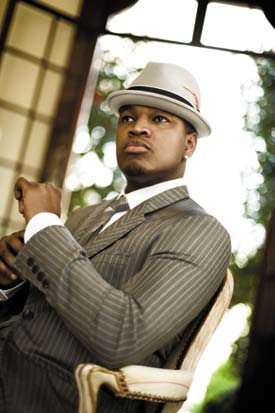 He has captured the hearts of women all over the world with his sexy brand of R&B stylings, oozing from the hits "Closer," "Mad," "Miss Independent," "Sexy Love," "So Sick," and "Because of You." He has also penned heart-melting tunes for female superstars, such as "Irreplaceable" sung by Beyonce, "Bleeding Love" belted by Leona Lewis, and "Take a Bow" by Rihanna.
With his wealth of insight into the mad world of romance (not to mention his impressive songwriting skills), what girl wouldn't want Billboard chart-topper and superstar Shaffer Chimere Smith, more popularly known as
Ne-Yo
, to be her man?
So for all Cosmo chicks who dig this crooner: we were able to get a glimpse of this beefed-up gentleman when he was in town on January 9 for his concert entitled "The Gentleman is Back: Ne-Yo Live in Manila" at the Mall of Asia concert grounds, held to promote his latest record,
Year of the Gentleman
. This is Ne-Yo's second time on our shores, as his first visit was in 2008 to promote his sophomore album
Because of You
. He came back to the Philippines simply because of "the level of love the last time [he] was here."
Cosmo got to spend time with the Grammy-winning artist hours before he went onstage, and he revealed his five all-time favorite love odes. Read on to find out what they are!
1. "Lost Without You" by Robin Thicke
"Classic, classic, classic. Simple, to the point, fantastic." Ne-Yo even said that he listens to Thicke's album to get kinks off from the night before and to get moving in the morning.
2. "The Lady in My Life" by Michael Jackson
Ne-Yo was fortunate enough to have worked with Michael Jackson before the latter's unfortunate passing. He describes those moments as something he will never forget.
3. "Suddenly" by Billy Ocean
4. "Joy in Repetition" by Prince
"If you don't know that one, you should really look it up. It's a really, really good one."
5. "I Will Always Love You" by Whitney Houston
Heads-up for all Ne-Yo fans: You'll get to see him on the big screen in 2011, in the movies
Red Tails
, which is about the first African-American fighter pilots in the US Air Force, and
Battle: Los Angeles
, a sci-fi war flick. Can't wait for Ne-Yo's foray into film? Line up to see Disney's animated flick
Princess and the Frog
, where you'll hear Ne-Yo's original composition "Never Knew I Needed," coming to Philippine theaters on February 3, 2010.
Continue reading below ↓
Recommended Videos