Once upon a time, Cardi B and Nicki Minaj showed up at the Harper's Bazaar ICONS party. Everything was going fine! People looked super fashun-y! And then all of a sudden wigs were being snatched, elbows were being thrown, Cardi was being escorted out of the party wearing only one shoe, and hark, a meme was born:
We can all agree that their brawl was instantly iconic, but why did their feud even start in the first place? In the interest of fully understanding Nicki and Cardi B's beef, we're taking you back to the beginning. Starting with...
JULY 31, 2017
A simpler time when Nicki and Cardi B seemed to be on good terms. Or at least on "I'll bop around to your song at the club" terms. See? Here's Nicki dancing-ish to Cardi's hit "Bodak Yellow."
Continue reading below ↓
Recommended Videos
AUGUST 13, 2017
Cardi performs at MoMa PS1 and decides to call out a ~mystery woman~, telling the crowd, "You know this bitch, right? She never f*cking liked me and now all of a sudden she wants to be friends with me. No, bitch. I still don't like you bitch."
AUGUST 24, 2017
Nicki raps the following verse on the song "No Flags," which many think is an obvious reference to Cardi:
"Lil' bitch I heard these labels tryna make another me
Everything you getting little hoe is cause of me."
But then, in a somewhat surprising (and pretty unbelievable) twist, Nicki totally denies that the song is about Cardi:
SEPTEMBER 25, 2017
Suddenly, everything seems to be cool and fine! Nicki even congratulates Cardi on "Bodak Yellow" being so bomb, and Cardi responds super nicely.
DECEMBER 7, 2017
Migos comes out with "MotorSport," which features both Cardi and Nicki. Consequently, everyone is hungry for drama, but Nicki promptly shuts down "the conspiracy theories" in a series of tweets captured by The Shade Room:
Guess things are fine? Yay!
APRIL 12, 2018
Update: THINGS ARE NOT FINE! Cardi accuses Nicki of trying to one-up her by re-recording her verse on "MotorSport," which makes Nicki feel "ambushed." Here's Nicki in conversation with Apple Music's Beats 1 about their collab:
"The first interview [Cardi] did after 'MotorSport' came out, it just really hurt me 'cause she looked so aggravated and angry. I kind of felt ambushed. That really, really hurt me because I really fully supported [Cardi]. And up until this recent interview she did, I had never seen her show me genuine love in an interview. And I can only imagine how many girls wished they could've been on a song with Nicki Minaj. I'm not saying it in a cocky way …I'm saying it, like, the first thing out of your mouth when somebody asks you about a Nicki Minaj feature is, 'She changed her verse.' Excuse me?"
MAY 7, 2018
Cardi and Nicki are seen talking at the Met Gala, causing everyone to think their feud is officially buried. HA HA HA, how wrong we were.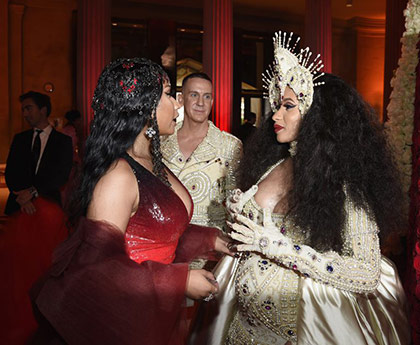 MAY 9, 2018
Cardi denies ever feuding with Nicki, telling Howard Stern, "I never was feuding with anybody, there was a misunderstanding. I think she felt a certain type of way about something. I definitely felt a certain type of way about something. I didn't wanna ever talk about it in public because I felt like we gonna see each other again and we will talk about it, and it's always, like, little issues. The thing is, it's always little issues, but you know, fans are always gonna make it a big thing."
Okay! So, like, things seem tense but fine?
AUGUST 10, 2018
Nicki kinda-sorta-maybe trashes Cardi on her new song "Ganja Burn." Please see the lyrics below:
"They done went to witch doctors to bury the Barbie
But I double back, kill bitches, bury the body." 
Now as you can see, technically Nicki says "bury the body," but fans are convinced she's saying "bury the Bardi," which is one of Cardi's nicknames.
Fans also think Nicki is taking shots at Cardi for not writing all her own lyrics thanks to the verse: "Unlike a lot of these hoes whether wack or lit, at least I can say I wrote every rap I spit."
EARLY SEPTEMBER 2018
Nicki allegedly likes a series of tweets that call Cardi out for supporting the rapper Kodak Black (who was indicted on criminal sexual conduct charges), especially given the fact that now Cardi's a mom:
SEPTEMBER 7, 2018
The place? New York City. The event? The Harper's Bazaar ICONS party, where sources say Nicki (who was taking a picture with Kelly Rowland and La La Anthony at the time) steps on the train of Cardi's dress. Was it intentional? Who knows—but regardless, it was the catalyst. In a video obtained exclusively by Cosmopolitan.com, Cardi can be seen taking off her shoe to throw at Nicki. 
Cardi is later seen leaving the party with a very painful looking bump on her head: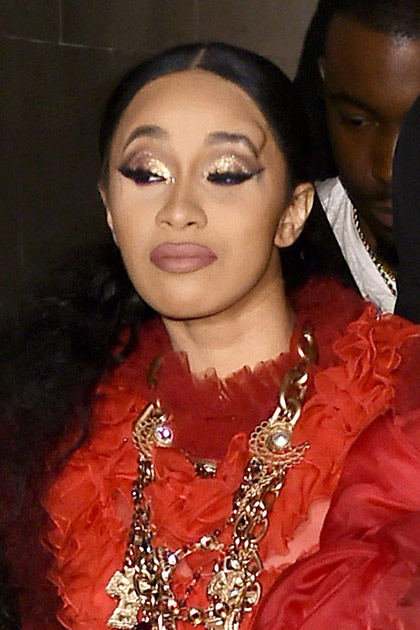 And only wearing one shoe: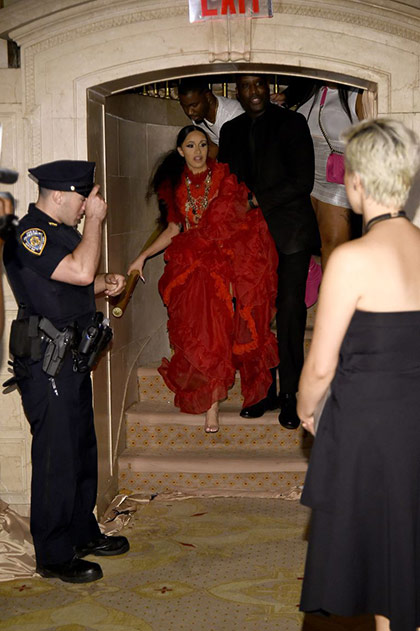 LATER THAT NIGHT: 12:14 AM
Cardi wastes no time speaking out; she releases a statement mere hours later at 12:14 a.m. In it, she accuses Nicki of lying, f*cking up the way she eats, trash-talking, sabotaging her career, and talking shit about her parenting skills.
Even Later That Night: 1:00 A.M. ish
Nicki, in a mission to prove she truly has no f*cks to give and is fully unbothered, posts a series of photos of herself from the party. She doesn't even mention the drama, and by not mentioning the drama, she is FULLY MENTIONING THE DRAMA.
Even more shadily, she posts a picture of herself, Kelly, and Lala, which was presumably taken moments before the fight went down.
SEPTEMBER 8, 2018
An image of Cardi's discarded wig is exclusively obtained by Cosmopolitan.com, and as you can see, it's tangled up with her earrings and what appears to be a fingernail.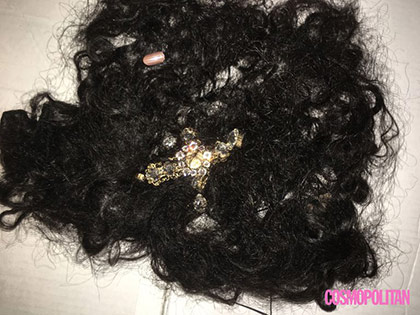 But WHOSE fingernail, you ask? No confirmation, but um, here's what Nicki's nails looked like at the event: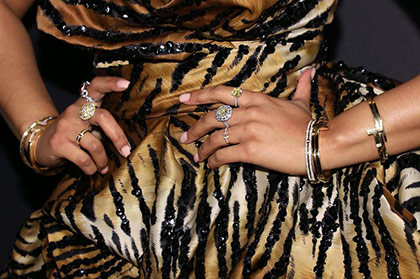 SEPTEMBER 10, 2018
While Nicki doesn't tweet directly about the brawl, she does like a few tweets from fans defending her against Cardi's accusations. Here are two of the tweets Nicki liked:
Obviously, this is a lot of information to digest and who knows what will happen in the aftermath of Cardi and Nicki's brawl. Stay tuned for updates and hopefully a resolution because can't we all just get along?!
***
This article originally appeared on Cosmopolitan.com. Minor edits have been made by the Cosmo.ph editors.