Nicki Minaj took to Twitter to announce she retired and wants to start a family.
She recently renewed her marriage license to Kenneth Petty.
Update: September 6
I've got good news and bad news. The bad is that it still sounds like Nicki's retirement tweet is no joke. But the good is that Nicki promised to talk through it all on her Queen Radio show and apologized for the abruptness of that first tweet.
After a devastated fan reached out to her, Nicki tweeted, "I'm still right here. Still madly in love with you guys & you know that. In hindsight, this should've been a Queen Radio discussion & it will be. I promise [you] guys will be happy. No guests, just us talking about everything. The tweet was abrupt & insensitive, I apologize, babe."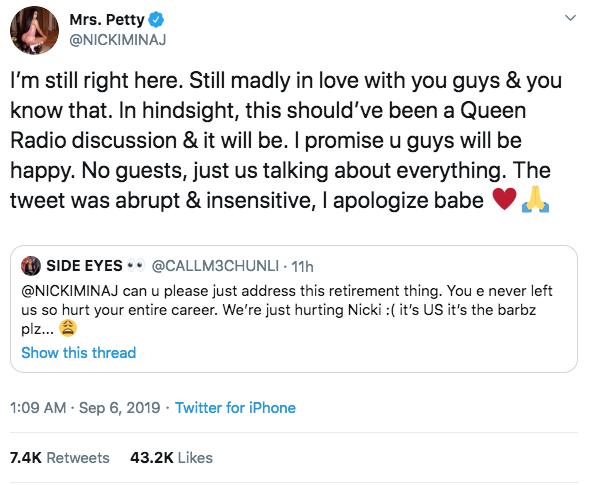 And she promised she'd clear things up for any other shaken Barbz out there.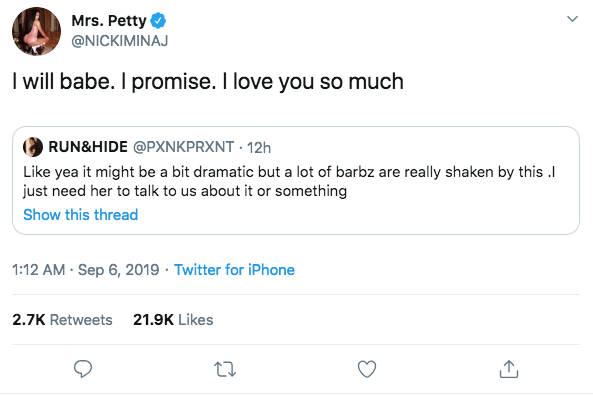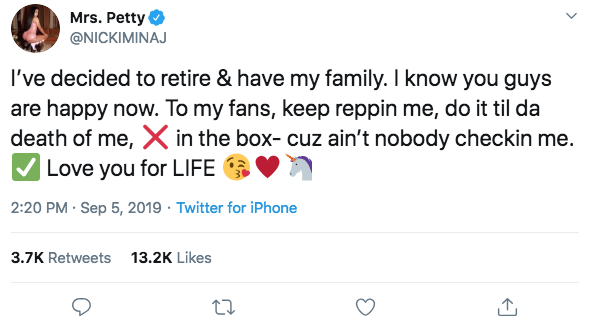 There's no telling what she meant when she tweeted, "I know you guys are happy now," but hopefully she's not letting the trolls get to her.
As for the "family" bit, Nicki hasn't announced that she's expecting a baby or anything, so she could just be talking about getting married to partner Kenneth Petty. Earlier in August, she went on Queen Radio and said she and Kenneth recently renewed their marriage license, so they have a couple of months to finalize it.
But here's something interesting: When she was talking on Queen Radio, she also told listeners she's going to have a big wedding later because she's working on a new album. Hmmm. Maybe we'll get an album before she calls it quits for good? Lots to ponder here.
***
This article originally appeared on Cosmopolitan.com. Minor edits have been made by the Cosmo.ph editors.
Recommended Videos