Brad Pitt's maybe-ex girlfriend Nicole Poturalski responded to breakup reports.
Nicole told a supportive fan that "hateful words never don't scratch you even if you have a thick skin."
Hiiiiiii, if you're incredibly invested in Brad Pitt's relationship status due to a slightly deranged and unrealistic hope that he gets back together with Jennifer Aniston (guys...it's not going to happen), you might be interested to know that he *reportedly* broke up with his model girlfriend, Nicole Poturalski.
READ MORE
Page Six claimed that these two were "totally over" a few days ago, adding that the relationship "was never all that serious as it was cracked up to be." And now Nicole has broken her silence in classic post-split celeb form: with a cryptic Instagram post.
Nicole actually posted not one, but two, photos of herself lounging in bed, along with the caption "Hang in there just for a little bit longer."
View this post on Instagram
As you can expect, followers immediately started speculating about what it all means, and there were unfortunately some less than kind comments. To the point where Nico ended up responding to a kind fan who reminded everyone that the internet basically knows nothing about her and Brad, saying "thank you so much for those words. I have to admit hateful words never don't scratch you even if you have a thick skin."
Continue reading below ↓
Recommended Videos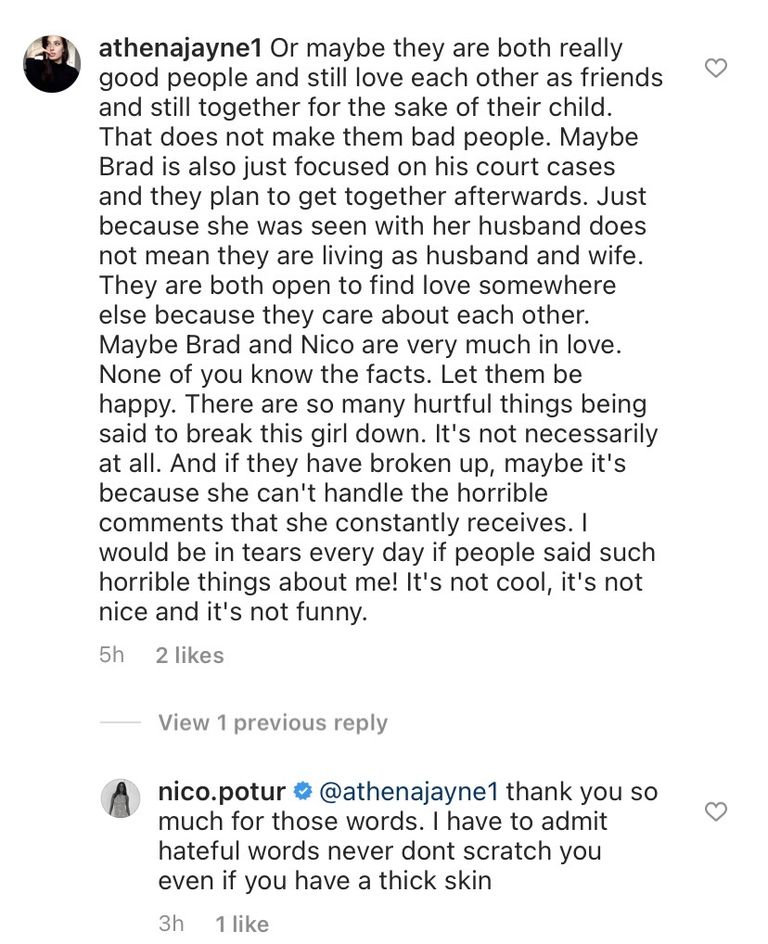 In other words: we don't know their status 'til they tell us. Which they prob never will, so!
READ MORE
***
This article originally appeared on Cosmopolitan.com. Minor edits have been made by the Cosmo.ph editors.