Korea is known for its well-produced K-dramas, LSS-inducing K-Pop, delicious Korean barbecue, and more recently, the Oscar-winning 2019 film Parasite. The latter might have sparked your interest in other Korean films, and if you've been looking for more Korean movies but didn't know where to look, we have good news for you: The Korean Film Archive's library of old flicks is available to stream for free on their official YouTube channel. The best part? All the videos come with English subtitles!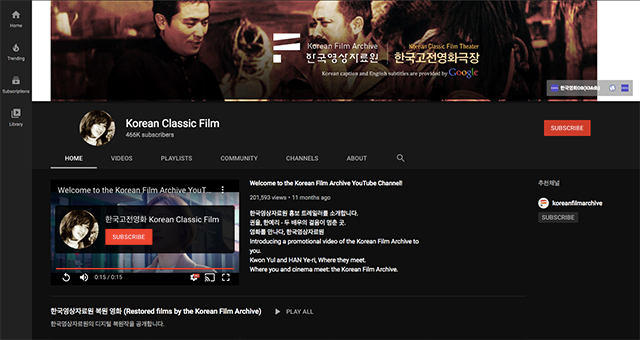 ADVERTISMENT - CONTINUE READING BELOW ↓
The Korean Film Archive or the Korean Federation of Film Archives (KOFA) is a non-profit organization founded in Seoul in 1964 and serves as South Korea's sole film archive where you can find motion pictures not just from Seoul, but also from the provinces of Daegu, Busan, Gangwon, and more. It aims to collect, preserve, and restore old Korean films while making them accessible to the public. Their offices and branches in South Korea have their own cinemas and physical archives, but their online database can reach interested viewers all over the world.
You'll see films from as far back as 1940 like Tuition, or more recent ones like the 1996 film A Petal. Each video also links you to the Korean Movie Database should you want to read more about your movie of choice. While the channel houses old films, you can also find digitally restored films minus all the haze and noise in one playlist. If you prefer browsing by year, there's also a section that categorizes films by decade.
Don't know where to start? Add these Korean films to your queue:
Eunuch (1968)
Brimming with political ambition, a man surrenders his daughter (Yoon Jung Hee) to become part of the royal harem. Unable to let go, her lover (Shin Song Il) enters the palace as a eunuch with the hopes of continuing their relationship in secret. 
The Surrogate Woman (1986)
During the Joseon dynasty, nobleman Shin Sang Gyu (Lee Gu Sun) and his wife worry about the family's future, as they have no heirs to take on their name. His family enlists the help of surrogate mother Ok Nyeo (Kang Soo Yeon), but things get complicated when a seemingly simple mission sees them falling in love.
Sopyonje (1993)
A man (Oh Jeong Hae) in his early thirties visits a small tavern and is moved by a performance of pansori, a traditional style of Korean storytelling that utilizes a drummer and a singer. He drowns in memories of his youth, and revisits the time of his first brush with pansori.
ADVERTISMENT - CONTINUE READING BELOW ↓
You can watch more videos on the Korean Film Classic YouTube channel.
***