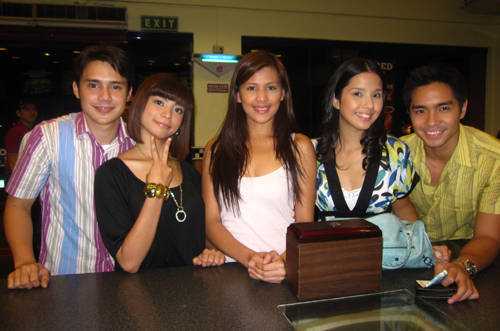 With my co-stars Patrick Garcia, Glaiza de Castro, Rich Asuncion, and JC Tiuseco

This week, our afternoon drama
Kung Aagawin Mo ang Lahat sa Akin
(which I shall now call
KAMALSA)
aired its finale and I can't believe how much I'm already missing everything about it. I never thought I would enjoy taping a heavy drama so much! This is the first show I ever did wherein I had to cry in almost every scene.
Ever since I began acting, I always had a problem with shedding tears, and it's a known fact that any actor worth his salt can cry on cue. Despite being in the business for so many years now, I was only able to do this when I became part of
KAMALSA
, with the help of our brilliant
acting coach Ms. Anne Villegas
and, of course,
the bitter and sad memory of losing papa just months before I had to do the show
.
Later on, I realized that it wasn't just those factors that helped me emote. That's because when I became very good friends with everyone on the set, I was able to act more naturally and let out real emotions. I learned how
building solid relationships with your co-workers could make your job a lot easier and so much more fun
.
[readmore]
In my whole career as an actress, this was the only time I'd grown very close to my co-actors as well as the show's production, staff, and crew. Every taping day didn't even feel like work anymore because we all had so much fun on the set. We laughed all the time, cracked jokes, and even played pranks on each other. Every scene that we shot was just so dramatic and emotionally tiring, which is why we'd immediately smile and laugh whenever the cameras weren't rolling. I used to dread going to work, but this time, I couldn't wait to see everyone on the set. I even began ignoring the long working hours! Then again, when it came to work, we were dead serious.
Because our scenes were so dramatic, with all of us crying all the time, we knew we had to focus so we could give the show's story justice. And we didn't have a hard time doing the scenes because ever since we became very good friends, interacting with one another just couldn't be easier.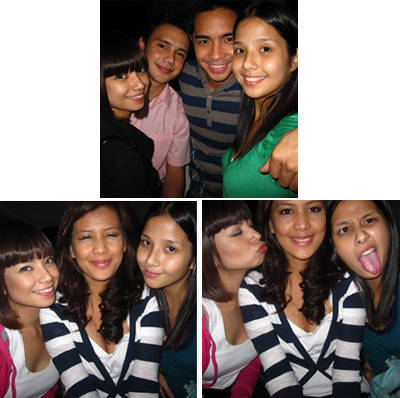 I developed friendships with everyone on the set but the ones I grew closest to were my co-actors
JC Tiuseco, Patrick Garcia, Rich Asuncion,
and
Glaiza de Castro
. We became such good friends that even when there was no taping, we'd meet up and hang out wherever. We'd eat out, have coffee, shop, and watch movies together. Every day with them was a blast!
That was when I suddenly noticed the change in our emotions when we would shoot scenes together. We were more vulnerable, affected by each other's emotions, and things just flowed naturally. You could say that because of our new-found friendships, we learned to feel affection for each other, which made it easier for us to connect. Every scene was filled with natural emotions, real tears, and sincere feelings that would transcend the limits of television and tug at the heartstrings of devoted viewers.
I loved being part of
KAMALSA
not only because it garnered very high ratings, but also because
it brought me wonderful memories and new best friends
.
Meeting true friends (especially in showbiz) doesn't happen often so I make sure that when I do, I keep them for life
. Now, even after our show ended, we still see each other and hang out as much as we can. And I like that we learn to keep our friendship alive and real, not just something shallow and trivial.
Thank you to everyone who supported our show from start to finish. It's nice to know that all our hard work paid off. Everything we did on
KAMALSA
was for you.
Continue reading below ↓
Recommended Videos