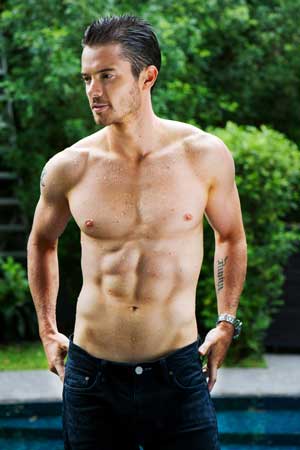 When it comes to celebrities, the idea of finding a devoted male partner seems impossible, given that the most beautiful people in the world surround them.

Temptation is more blatant, if you will. They are even encouraged to refrain from admitting their involvement in any kind of romantic relationship as this supposedly "lessens" their market value amongst the singles that are wishing and hoping.

Until this lad came along and proved that the words fame, love, and loyalty can actually make for a successful threesome--and we mean the kind where everyone turns out a winner! Just ask AXN's Cash Cab host, Oli Pettigrew…

PROFESSION: Professional talker

BEST KNOWN FOR: Talking a lot on TV

YOU WISH YOU WERE KNOWN FOR: Talking even more on TV. Oftentimes, hosts or actors usually take on a persona, which is normally unlike who they truly are when the spotlights are off.

Share with us three surprising things people don't know about you.

I would totally disagree with the initial statement. To be a good host, you HAVE to be yourself. The audience isn't stupid. What you see of me onscreen is exactly what you get. The biggest compliments I have ever received have been when people tell me, "You're just like you are on TV"; it means I am doing my job right. However, a lot of people don't seem to know that:

1. I'm married to Linda Black (TV host for HBO).

2. That I have 2 kids (Ewan and Tia…. and yes I know what ewan means in the Philippines).

3. That I have tattoos for both my kids (ambigrams of their names).
Continue reading on the next page.[nextpage]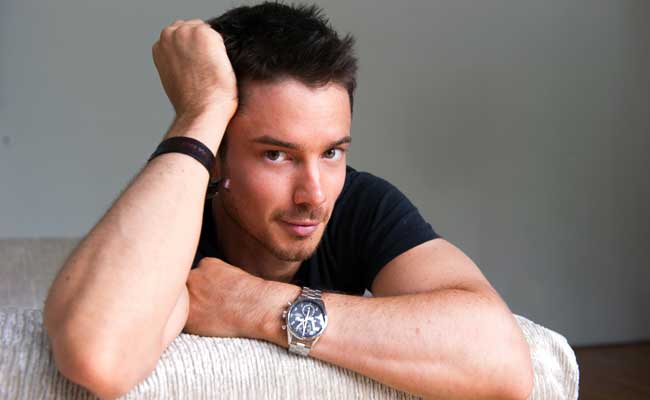 What is the biggest misconception about you? Why do you think is this so?

That I'm gay! Hahaha. To be honest, I just take that as a compliment. I've never really figured out why people think it so much...

When it comes to hosting, your quick wit and wicked sense of humor would have to be your claim to fame. How important is sense of humor when it comes to women?

Have you seen or met my wife? Let it be known, gents: Funny guys get the ladies. But don't try too hard...don't go out and read joke books and try those as a pick-up tactic. A willingness to joke and make fun of yourself shows confidence. And women love confident men. I said confident. Not arrogant.
Having lived and traveled around Asia for some time now, you obviously have much love for the various cultures. How have Asian cultures rubbed off on you, and in what ways?

My soul has always been Asian. Sometimes it annoys me when people ask where I am from after I tell them "Hong Kong". They ask, "Yeah, but where are you from?" as if insinuating that a white boy can't be from Asia. I usually then go on to inform them that my kids, my brothers and sisters, my father, my grandfather, and my great-grandfather were born in Asia.
My house is in balance for feng shui; you better leave your shoes outside when you visit. I like to cook with chop sticks and all over my house are little trinkets from my travels. Asia is my home. And I'm proud of that, white boy or not.
As the host of AXN's Cash Cab, would you consider yourself a backseat driver? 

I suck. I'm the worst backseat driver. I can admit that because my wife has told me that a fair few thousand times. Maybe I'm a control freak… To be honest most of the time I want people to slow down!
Speaking of driving, what's the one thing you've done that has made a woman go crazy about you? Would you consider yourself a romantic? How so?

I'm a hopeless romantic--I'm hopeless at being romantic. Just kidding. I'm a total romantic, and love surprising Linda with something--a night away in a hotel, a bunch of flowers, and breakfast in bed. I think the winner was when we were in Boracay for Marc Nelson's birthday. It was three weeks short of five years from when we had been married on the same beach. I surprised Linda with a renewal of vows on the beach with all our friends on the last night. It was pretty special. 
Continue reading on the next page.[nextpage]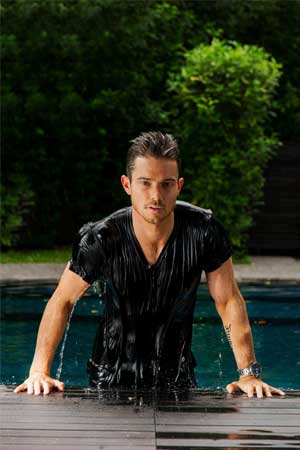 What is an ideal date for you? 
Just me, the missus, and a trip to "Gold Class" at the cinema. We watch a great movie, drink a lot of wine, and have a ball. We're total movie nerds…we love it.
What would you consider deal-breakers with regards to women?

High-maintenance, superficial, self-absorbed women--Good Lord, I detest them. My wife is so low-maintenance, I thank the universe every day. I'm also very wary of women that refer to, or compare their cats to children. It's like a nuclear warning sign of crazy.
What is your dream hosting job? Why?

Top Gear… I mean, come on! Just look at how much fun they get to have. It's basically just three man-children coming up with ridiculous ideas, backed with a monster budget. I would do anything to be a Top Gear Host!
What do you love about Filipinas? Explain.

That you're all so nice… I have yet to meet an angry Pinoy. Your default setting is "smile".
What can we expect from you in the coming months? 

You can catch me on AXN with a new small project, as well as re-runs of Cash Cab. Plus, I have a new show coming up on Discovery Kids where I get to be a mentor; it's really fun, actually. On the side of that, I have a few new projects looking like they might get off the ground soon; 2013 could be pretty busy… fingers crossed!

Launch the gallery to view more photos of Oli Pettigrew!
Catch Cash Cab on AXN Asia every Friday at 7:10PM.
2187
Recommended Videos