Let's face it: Awards season is awkward in a normal year. But this year? Even more so. Obviously, the COVID-19 pandemic made hosting ceremonies in-person, with hundreds of people squeezing in next to each other, basically impossible. Which meant a season full of Zoom acceptance speeches, tech problems, and weirdly glitchy celeb interactions. But! The Oscars tried to remedy that by having as many people in person as possible. Still, there were some awkward moments. Here were the most awkward.
Regina King tripping after she got onstage.
Okay, so Regina looked incredible tonight, but when she got on the stage to present the first award of the night, she tripped a little bit. It's almost unfair to put it in the awkward moments category because when Regina trips, it still looks damn good. I mean, she had wings!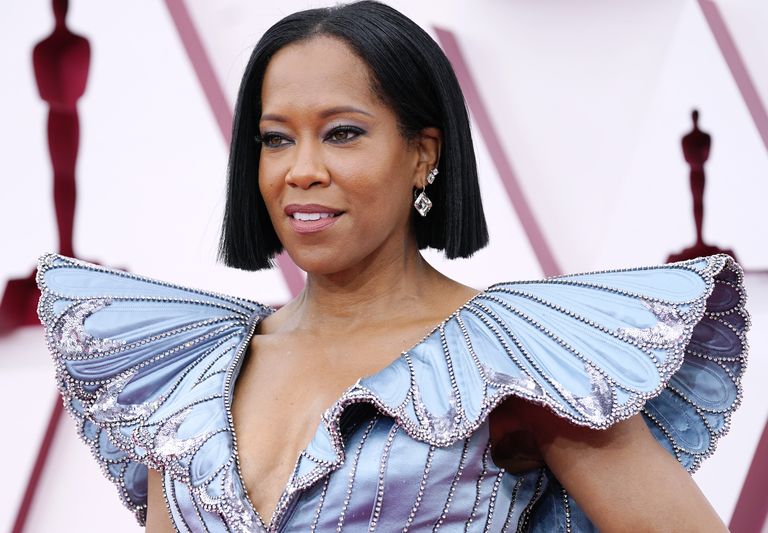 Daniel Kaluuya talking about his parents having sex in his acceptance speech.
There was a surprise twist at the end of Daniel's acceptance speech when he won for Best Supporting Actor. He was talking about fate basically, and how it's wild that we're all here living on this earth, breathing, etc. etc. And then he took a little turn and thanked his mom and dad for having sex all those years ago. His mom's reaction via the livestream was...incredible.
Continue reading below ↓
Recommended Videos
One of the winners for Soul saying, "I'm not supposed to be talking" during her acceptance speech.
When Dana Leigh Murray went up with Soul co-director Pete Docter to accept the award for Best Animated Feature, Pete was the one who was designated to do the talking. But Dana went up to thank a few of her family members, and she kept talking and then quickly said, "I'm not supposed to be talking!" It was cute, if a little awkward.
Marlee Matlin presenting an award in ASL (good) but the broadcast cutting away from her to show a graphic (bad).
So basically, the Oscars had Marlee Matlin present an award in American Sign Language. That's great, but the issue is that while she was signing, the broadcast cut away from her to show a graphic on the screen, so you couldn't actually see her signing! People are rightfully upset about it.
Brad Pitt mispronouncing Maria Bakalova's last name.
Brad Pitt? A person we love. His butchering the pronunciation of Maria Bakalova's name while introducing her as a nominee? A thing we love a lot less. I think it came out like Ba-la-ka-va, or something.
Andra Day and Glenn Close getting bleeped during the music game.
First, I'm not totally sure why a game of Oscars music trivia was necessary, but when Andra Day was asked a trivia question, she swore and the broadcast had to bleep her. Glenn Close got bleeped during the same segment, when she was asked a question.
And Glenn twerking on camera.
Glenn tried to twerk right after getting bleeped, and it was honestly...chaotic good.
Anthony Hopkins winning the last award of the night but not being there to accept it.
A few awkward things here. First, many awards experts predicted Chadwick Boseman would posthumously win Best Actor. That category was saved for last this year, which is atypical. But when it came time to announce that award, it actually went to Anthony Hopkins. Anthony was not there to accept it. So not only did Chadwick not win, but the ceremony basically also ended with an "Okay, Anthony Hopkins won, good night!" It was...very weird.
***
This article originally appeared on Cosmopolitan.com. Minor edits have been made by the Cosmo.ph editors.