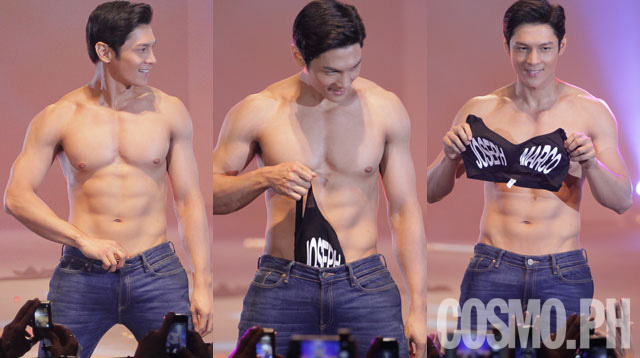 Joseph Marco
What he pulled out: Three customized bras with "Joseph" and "Marco" written on the cups! 
What inspired your gimmick? "I was part of the Cosmo Bachelor Bash two years ago, and I gave away panties then. So now it's a complete set! Haha!"
Were you nervous when you pulled out those bras from your pants? "This year's walk was so surreal! The screams were earsplitting—I loved every second of it! That made me feel comfortable and really confident. I wouldn't have been able to pull off my stunt without [the fans'] support."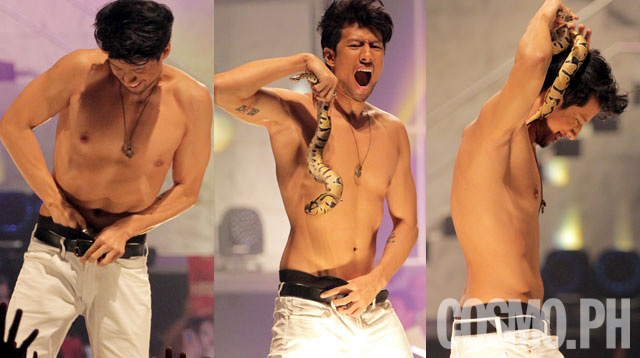 John James Uy
What he pulled out: A lot of people thought it was a rubber snake, but it was ALIVE! You can even follow it on Instagram: @HendrixTheSnake. Yes, the Ball Python John James shares with girlfriend Jessica Yang has a social media account!
Continue reading below ↓
Recommended Videos
How'd you do it? "No one knew I even brought Hendrix. He was just in my duffel bag all along. And yes—I really placed the snake in my underwear. I wasn't scared, because I've had him for two years."
Editor's Note: Ball Pythons are non-venomous snakes known for their ability to curl into a tight "ball" when stressed. They're pretty harmless, but that doesn't change the fact that John James had a SNAKE IN HIS CROTCH. A+ for COURAGE!
What inspired your gimmick? "Jessica said, 'Why don't you place Hendrix in your pants?' And I said, 'That's not a bad idea!'"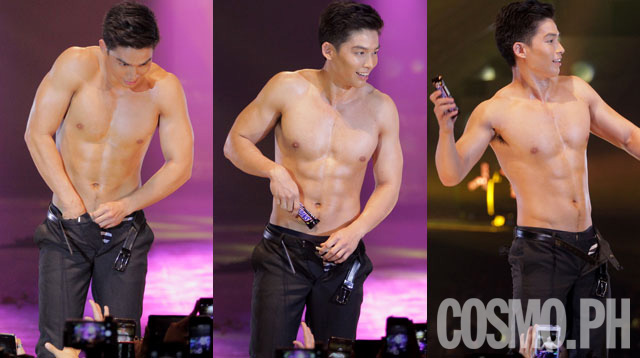 Daniel Velasco
What he pulled out: A handkerchief and Snickers bar!
Why Snickers? "I was supposed to give roses, but they didn't make it on time. I also found out that Gerard Garcia will be using flowers, so I didn't want to ruin what he was going to do. But then former Cosmo Centerfold Mauro Lumba offered to give me the Snickers bar, which was what he was intending to distribute to the crowd. I was really thankful for that!"
What inspired your gimmick? "I really wanted to get the audience involved. I remember at 7107, I was able to get a drumstick from the Red Hot Chili Peppers, and it was such a great experience. Aside from the hanky and chocolate, I also gave away my belt; I just really wanted to give what I could!"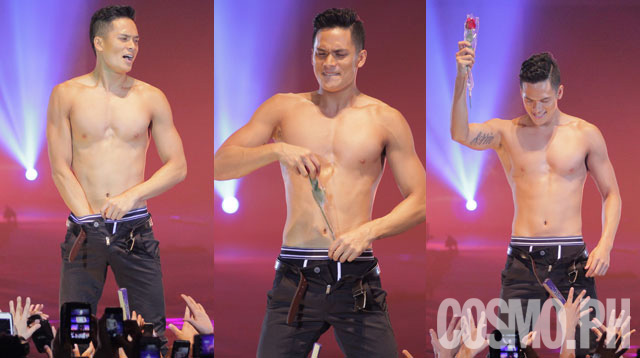 Gerard Garcia
What he pulled out: Three red roses! "I wanted something romantic and sweet."
How'd you do it? "To be honest, I was afraid of the friction, so I wore two pairs of underwear—and wedged the stems in between them!"
What inspired your gimmick? "I checked out Magic Mike clips on YouTube to pick up some moves. Then I put on music at home, and asked a lady friend to come over and get her seal of approval!"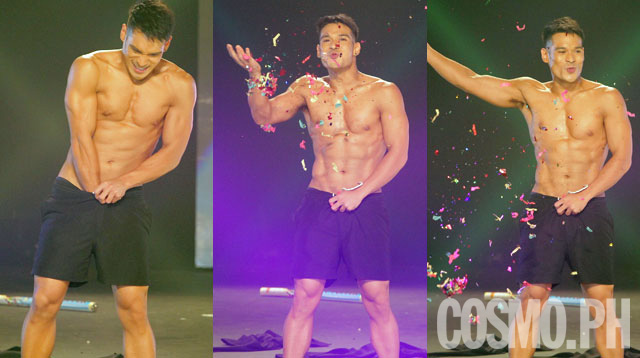 Pancho Magno
What he pulled out: Confetti!
How'd you do it? "I had two briefs: a thong and a boxer brief. And also I had six poppers with me—I popped one backstage to get the confetti inside and stuffed my boxer brief with it. Hehehe."
Your confetti popper malfunctioned during your entrance. What were you thinking during that moment? "Actually, my original plan was to pop four poppers in every corner of the stage. I even asked the security guards to hand them to me when I'd pass. But when the first one didn't work, I told myself not to use the remaining poppers and just use the one in my brief!"
What inspired your gimmick? "I got the idea from my sister's fiance's birthday a few days ago. They used confetti as a surprise!"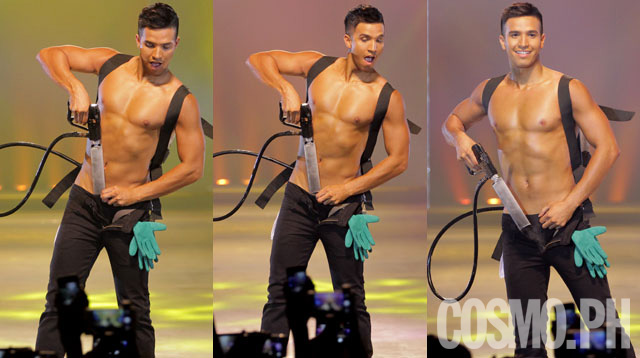 Markki Stroem
What he had: "Nope, that wasn't a leaf blower or a fire extinguisher ladies, it was a cryogun, which basically has dry ice that is blown out. It's the same white smoke you see on stage or at parties." P.S. Markki didn't pull the prop from his underwear, but he did tease the crowd and pretended to place the gun inside his crotch!
How'd you do it? "I spoke to the director and he told me that we can try the cryogun—it was a collaboration."
What inspired your gimmick? "I wanted to do something different, so I did the cryogun. See, you don't have to be too sexy to be memorable."
Were you scared? "I made sure my finger wasn't on the trigger. Although there was a bit of residue when I put it down, so I hurt a bit. But it's okay."
Follow Jillian on Instagram.
RELATED:
Cosmopolitan Philippines Official Statement: James Reid Bachelor Bash Incident 
FULL SHOW IN PHOTOS: Cosmopolitan Bachelor Bash 2014
#Cosmo69 Centerfolds Doing Naughty Things!
Best Bulges At The Cosmo Bachelor Bash 2014
Cosmo Bachelor Bash 2014: Best Chests 
Cosmo Bachelor Bash 2014: Best Abs