Most people will remember Park Hae Soo as Cho Sang Woo (or Player 218) in Netflix's Squid Game but it was the dark comedy series Prison Playbook that made me a fan of him. In his portrayal of baseball-superstar-turned-inmate Kim Jae Hyuk, Park Hae Soo's acting chops shined the most and I believe that he deserves an award for his role! If you want to know more about his character here and see more of him, check out our list below (he's booked and busy this year!):
Early projects
1. Legend Of The Blue Sea (2016)
The cast: Jun Ji Hyun, Lee Min Ho, Lee Hee Joon, Shin Hye Sun, Sung Dong Il
Once upon a time, a mermaid named Shim Cheong and a swindler named Heo Joon Jae crossed paths. Little did they know that they had already met in the past and were childhood friends. Legend Of The Blue Sea is inspired by Korean folklore and in between the fantasy elements and romantic storyline, you'll find yourself laughing out loud because of this rom-com. Park Hae Soo plays detective Hong Dong Pyo who handles Joon Jae's scams.
The Legend of the Blue Sea - Trailer 2 | Lee Min Ho & Jun Ji Hyun 2016 Korean Drama
2. Prison Playbook (2017)
The cast: Jung Kyung Ho, Krystal Jung, Jung Hae In, Lee Kyu Hyung
It's not every day that we get to see a K-drama about prisoners and Prison Playbook showed their lives realistically. This series marks Park Hae Soo's first leading role where he plays Kim Jae Hyuk, a famous baseball player who's set to his Major League Baseball debut abroad. Unfortunately, he ended up behind the bars after *saving* his sister from a sexual attack. Jae Hyuk is too innocent for words and is a bit naive, but his heart is always in the right place. Inside the jail, he meets people from different walks of life who either has plans to stab him or get him out of prison.
ADVERTISMENT - CONTINUE READING BELOW ↓
Prison Playbook | Official Trailer
3. By Quantum Physics: A Nightlife Venture (2019)
The cast: Seo Ye Ji, Kim Sang Ho
In this crime movie, Park Hae Soo makes a complete transformation as nightclub owner Lee Chan Woo. When he discovered that a drug scandal party is happening in his establishment which involves big names, Chan Woo called policeman Park Gi Hun and asked for help on how he can resolve it. It turns out, politicians and prosecutors are also part of the scandal.
Seo Ye Ji and Her Fellows Pull A Crazy Move to Fight Bad Guys | Title: By Quantum Physics
4. Time To Hunt (2020)
The cast: Lee Je Hoon, Choi Woo Shik, Ahn Jae Hong
What happens in a dystopian Korea when a murderer chases after four outlaws? Time To Hunt is a Netflix Korean Original movie that explores a ~different~ world and features a heist. Park Hae Soo portrays policeman-turned-killer Han who is dead set to end the lives of a quartet after they stole money.
Time to Hunt | Official Trailer | Netflix [ENG SUB]
Recent projects
5. Squid Game (2021)
The cast: Lee Jung Jae, Park Hae Soo, Jung Ho Yeon, Wi Ha Hoon, Lee Byung Hun
Park Hae Soo rose to fame after he was cast in the psychological thriller, Squid Game. The drama starts with traditional childhood games that were often played in South Korea. Cash-strapped players—which includes Park Hae Soo—initially thought that it would be all fun and games until they were shot one by one. You could say that this Netflix Original puts the old adage "survival of the fittest" to the next level.
Squid Game | Official Trailer | Netflix
6. Chimera (2021)
The cast: Lee Hee Joon, Claudia Kim
Distributed by OCN, aka the TV network that's known for its must-watch thriller dramas, Chimera follows a serial arsonist who started setting things on fire 35 years ago and is back with his killing spree. Park Hae Soo leads the series as violent crimes detective Cha Jae Hwan.
[Trailer] Chimera starring Park Hae Soo, Claudia Kim & more | Coming exclusively to Viu on 31 Oct
7. Yaksha: Ruthless Operations (2022)
The cast: Sol Kyung Gu, Hiroyuki Ikeuchi, Yang Dong Geun, Lee El, GOT7's Jinyoung
Looking for Park Hae Soo's most recent project? Then you should watch Yaksha: Ruthless Operations which just aired this month! Netflix describes it as an action spy film where "a merciless man known as "Yaksha" crosses paths with a prosecutor on a special inspection mission in Shenyang, a city in China notorious for espionage."
Yaksha: Ruthless Operations | Official Trailer | Netflix [ENG SUB]
Future projects
8. The Accidental Narco (2022)
The cast: Ha Jung Woo, Hwang Jung Min, Jo Wo Jin, Yoo Yeon Seok, Chang Chen
Park Hae Soo will add another Netflix Original to his growing portfolio this year and it's the drama The Accidental Narco (formerly known as Suriname). It tells the story of an entrepreneur who had to join a group of government agents in their plan to arrest a Korean drug lord. Not much is revealed yet about this series but did you know that it's...based on real-life events? *GASPS*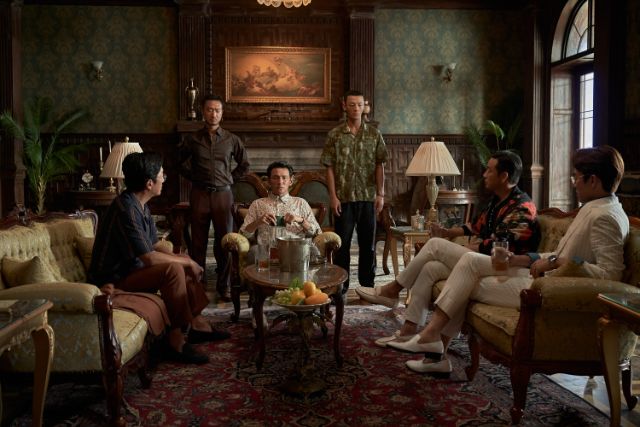 ADVERTISMENT - CONTINUE READING BELOW ↓
9. Money Heist: Korea - Joint Economic Area (2022)
The cast: Yoo Ji Tae, Jeon Jong Seo, Kim Ji Hoon, Park Myung Hoon, Lee Hyun Woo
Park Hae Soo is indeed a Netflix *fave*! He's set to lead another series produced by the streaming platform and it's the Korean remake of Money Heist. The adaptation will have 12 episodes and it's going to revolve around a gang recruited by a professor, their hostages, and a task force team. If you've enjoyed the OG Money Heist, you have to watch this once it's released!
Money Heist: Korea - Joint Economic Area | Official Teaser | Netflix [ENG SUB]
MORE K-DRAMA ROUNDUPS FEATURING YOUR FAVORITE ACTORS:
8 Yoon Chan Young Dramas And Movies That You Can Stream Right Now
8 K-Dramas To Watch If You're A Fan Of Nam Yoon Su
8 Kim Sung Cheol K-Dramas To Watch Because We Know How Much You Love Him