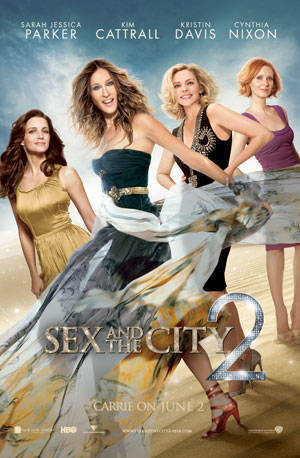 Whether on the streets or high-rises of New York or the deserts of Morocco, one indelible component of the
Sex and the City
phenomenon is the work of costume designer
Patricia Field.
The Oscar nominee and two-time Emmy Award winner, who worked on both the TV series and the first
Sex and the City
film, designed and selected a huge variety of looks for Carrie, Samantha, Charlotte, and Miranda in Warner Bros.' and New Line Cinema's upcoming sequel
Sex and the City 2
as they move half way across the world on their adventure.
In the following interview, Field discusses her work in the second movie and tells why her involvement in the iconic TV and film series "was and still is an experience of a lifetime."
Has being involved in Sex and the City all these years been a fun ride?
Patricia Field:
It's something that you can't even imagine unless you live through it—and it happened to me; I had this experience. It has been going on now for not quite 15 years, from the TV show and then a movie and now another movie. And it has evolved. We're kind of like family, in a way, and making this movie is like when you get together with your family on the holidays. You get to see everybody and catch up. I mean, it's kind of like
Star Wars
for women all over the world. It's unimaginable.
Wherever I go in the world, people come up to me and tell me all their experiences with
Sex and the City
. It doesn't matter if it's China or South America, wherever I am, all the women say the same thing. It's kind of a worldwide exclusive club of billions of females, and they all tell me the same thing. They get together with their girlfriends; they go for cocktails; they get dressed up; they get a limo; they go out; they go to the movies—it's part of their social world. And it's so fantastic to hear that. The reality is that I, as well as everybody that is visible from
Sex and the City
, have connected with billions of people. It's an amazing experience. And that's the most thrilling thing to me about having worked on this project, and how it has unfolded.
Are there more expectations now in wardrobe, with all these women watching all over the world?
Field:
People always ask me, "Oh, how are you going to outdo yourself next?" So, there is some pressure because of the anticipation. But that is not my reality at all. If I had some kind of consciousness of the people's expectations, it would freeze me up, make me miserable, and not allow me to be creative and have fun with it. I would be worrying about what everybody thinks, and that is not part of the process for me.
One of the most important things for me, the first thing that I could bite down into, is the script. I get a huge part of my inspiration from the script. And I had a lot of fun with this last movie, I'll tell you, because it took us away on a magic vacation. It also allowed me to step up a level. The girls are going away to this magical place. I know my experience in life, if I'm going some really special place, I get my clothes together. It's the fantasy of it, and this script had that. So, for me, it was especially fun to do because I could use that as a jumping board to really make it gorgeous. I didn't have to worry about reality so much, but I could stay in the fantasy of a woman going on this fantastical vacation.
Can you talk about the family aspect of working on Sex and the City 2?
Field:
At this point, after 15 years, it's definitely a family. But as in all families, you earn your credibility. So, now, after this time, our relationships have been developed based on experience with one another. And, as with all families, there's a certain closeness.
The show was a hit, so from the beginning we were doing something right. But then, as time goes on, it just becomes like a family. I mean, Michael Patrick King or the four women, they know me. I know them. If we don't trust each other by now, it would have never happened. So, it does make things go more smoothly. Just as with a family, you know your brother, you know your sister, you know your aunt—you know them and their history.
[nextpage]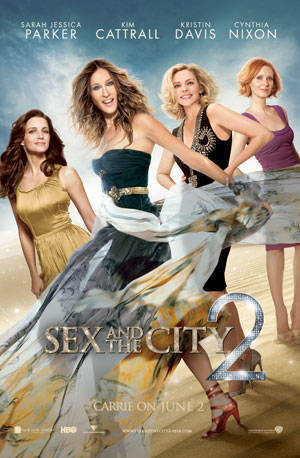 What is your overall process in putting together the wardrobe for this movie?
Field:
I'm very often asked about my process of designing a wardrobe for the film, for
Sex and the City
or any other film that I might do. I do a lot of films involving contemporary fashion. I guess I've become known for it, so I'm sort of in that slot. As for my process, some costume designers sew things. I don't usually, especially because the type of movies that I do are contemporary movies; they're fashion movies. It's about today's fashion, and then, of course, invigorated with my ideas. But I make very little. The only time I make something is when it's a special situation. It could be a costume, or it could be some kind of a special effects garment, like a tuxedo that rips apart and you become a showgirl. I don't really make that much because the world is out there—all the fashion designers, all the clothes. There are so many combinations. The stories are basically about modern women shopping and going on with their lives. My job is really the selection and coordination of the wardrobe; that is my work.
Can you talk about each of the four girls and their wardrobes?
Field:
I'd like to start with the concept first and then go to each one. With this film, it's two years later and it's our second movie. We have sort of reacquainted ourselves in the time zone from the last movie. So, I would say the New York situation was more in continuity with the first movie. It was two years later, so of course things are different, but they're not as different if the film was set five or six years later. And then when it came to the Middle East portion of the movie, what I found myself doing was thinking, "Well, who would
Miranda
be in the Middle East?" Well, she would be sort of like Katharine Hepburn or like the character from
Out Of Africa
, whereas with
Charlotte
and her dark hair, I could get inspired by Cleopatra. And
Sarah Jessica Parker
, also, she was sort of that fashionable lady in the Middle East. And then, of course,
Samantha
, who is not linear. She's kind of like light or sound. She's much more constant in my mind. She really just gets bigger, more outrageous, and is crazy in a good way. That was the way I saw them when they went to the Middle East because I wanted them to get dressed up and go have fun. So, I had to think of who they would be out there. And it's an organic process. You can't make up something and slap it on someone. You have to find what's there and build it.
Talk about Chris Noth, Mr. Big. He's a guy's guy; how did you go about dressing him?

Field:
When you dress people for film, you have to dress them appropriately, meaning organically. The first thing you have to do is you have to have the essence of the person. That's your beginning. You cannot, as I said before, slap something on someone like they're a cutout doll. They're not. They're people; they have a style. They could be charismatic; they could be quiet; they could be tall; they could be short. It's something real. You cannot ignore it. You must take it and find what it is, and go from there. And Chris is the quintessential Mr. Big. He's just got it. It's in him. All I could do is recognize it and work it for him. I didn't invent it for him, I just respected it. I basically have dressed him very similarly throughout the whole experience, because he stands for Mr. Big. He's not changing. He's tall, dark, and handsome, and that's how he dresses, period. And it works.
Were there special items that caught your eye?

Field:
Well, for the camel-riding outfits, I drew on my own experience. I had been on a camel years before, and a friend of mine had made me this beautiful hat. It was a leather hat with a side panel, a type of curtain. It was a kind of burgundy brown leather with brass grommets. I love that hat. I used to wear it all the time. I took it with me to Egypt the time that I did ride the camel. So, when we were doing this camel thing, I said, "Okay, I'm going to call my friend Horst and have him make a hat for one of the girls for the camel-riding sequence." I asked him to make me one in white. And, in the end, Samantha wore it. So, it was fun to see that hat on a camel a second time in its second life.
Do you get involved with the shoes in Carrie's closet?

Field:
Carrie's closet and other set-oriented clothing areas are basically the responsibility of the set designer. However, when it comes to the wardrobe sets, we collaborate. If they need something special, it's there for them, but they basically design the sets and the ideas of it.
Do you have any idea how many pairs of shoes you have on this show in total?

Field:
I can tell you, I don't know how many shoes. We had hundreds and hundreds of shoes. On
Sex and the City 2
, there was so much clothing. At the beginning, when I first came on the film, my assistants had already been having clothing shipped in. I walked in and said, "I am never ever going to know everything."
We have a huge space in Long Island City. There was so much clothing. We had a shoe room with just shoes; a room with just bags—shelves and shelves of bags; and racks of clothing in a huge space, like a gymnasium, really. We had two rooms for jewelry—fine jewelry and costume jewelry. Oh, it was insane.
I have really great assistants who love to shop and brought the whole world in there. The world of fashion was in that room, and lived there with us. It's like going into a department store.
Can you talk about Michael Patrick King and what it was like working with him on Sex and the City 2?

Field:
Doing
Sex and the City 2
with Michael Patrick was joyful. There was something that he really enjoyed about it. He was comfortable, calm, and secure. And in that, he created a calm environment for everybody. He trusted me, for example. I felt his trust. And that environment was really so nice to work in because when I make a decision or a selection, it's best for me to make that selection based on what's coming out of my head. I didn't want to be second-guessing what this one is going to say and whether they're going to like it or if someone's not going to understand it. Because when you do that, you become inhibited and then it flattens.
So, I really enjoyed working with Michael on the film. We had fun together. We joked about things. He would say things like, "I knew you were going to do that" or "Oh, now I got what you were thinking." And it was great when I heard him say that because I felt good. He understands me. He is totally enjoying it. That was one of the nice things about this movie.
Is there anyone else that helped make your job easier?

Field:
In general, the fashion industry has been and continues to be very supportive of
Sex and the City,
to a point that sometimes I'm like, "Oh my God, this is crazy." I mean, sometimes they're flying over with a carrier with some hat for a member of the cast.
The American and European designers—the French and Italians—they've always been so supportive. So, I just want to give them a shout out because I do owe it to them. It's just a worldwide thing and that is really the thrilling part.
Opening across the Philippines on June 2, "Sex and the City 2" is distributed by Warner Bros. Pictures in association with New Line Cinema.
ADVERTISMENT - CONTINUE READING BELOW ↓
ADVERTISMENT - CONTINUE READING BELOW ↓
Recommended Videos
EXPLORE COSMO