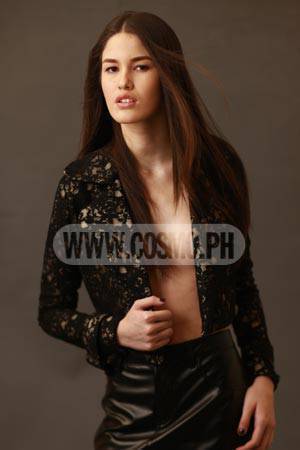 She may not be your typical gorgeous model, but there's something simply irresistible about Pauline Prieto. At only 19, she's already won over celeb stylist Liz Uy, Cosmo fashion director Ana Kalaw, and even the scouts of the Paris-based Elite Model Look competition (she represented the Philippines in China last year). Now, Cosmo's giving the Filipino-Spanish model props for being such an inspiration to girls everywhere with her unconventional beauty and edgy attitude, as we name her one of "Cosmo's 8 Sexiest" in our special fashion editorial this November.

During the shoot, she fearlessly donned a bold faux-leather and lace ensemble without a trace of self-consciousness or insecurity--something she says she struggled with in the past.

She opened up to us in our exclusive interview at the Summit Studio, revealing that she didn't fit in and was often bullied when she was younger. Despite her image issues growing up, she has learned to love and accept her unique characteristics, which have paved her way to success. Read her candid interview below, then launch the gallery to view behind-the-scenes photos from her shoot.

How did you get into modeling?

I was doing a mall show for Collezione and Liz Uy was styling the entire show. She just found me, and I guess she kind of endorsed me to Preview Magazine. Then Preview [had] me [for] a couple of editorials. People started associating me [with the magazine], like "Oh, you're the girl from that issue!" That's basically how everything kicked off for me.

Who or what inspired you to become a model?

Honestly, I wanted to be a model but I never really thought I could. I idolized everyone under the sun, from Coco [Rocha] to Kate Moss. It was always something that I wanted to do. You know, I wanted to be that girl who gets to ramp the runways in New York or whatever, but I never really thought I could do it 'cause I was being bullied. But things turned for the better in my favor, and I got to do want I wanted to do since I was young.

What was your biggest insecurity and how did you overcome it?

I was always picked on about my ears being big, and my skin, and my curly hair. I won't forget [how] in grade school, I used to curl my hair backwards so it'd be straight. Those are my insecurities. I'm the white girl, I'm taller than most, I'm curly-haired...but people like it now. I also just came to terms with myself in high school. I can't change who I am. This is natural, my genetics, this is me. I wouldn't be like this for no reason. You just have to accept everything about you 'cause if you can't even accept yourself, how can somebody else accept you?

Do people treat you differently now that you've become a model?

True, that actually happens. Like I said, I was bullied all throughout grade school and partially pre-school. I honestly don't know why. When I think about it, I guess our interests never jived. It makes you stronger, so I don't think of it exactly as such a bad thing. I mean, at that point when you're 14 and everyone's giving you crap, you think, "I wish this could all go away." But now [that] I'm older, [I've realized that being bullied] taps into a different part of you that you wouldn't have tapped if you were accepted. All the girls who used to bully me in my Catholic school now are all being friendly, and that's total BS. In grade school, you would block off my desk from everyone and put me in the corner, and now you wanna be my friend? What the hell? I guess I have a radar for BS now.

What advice can you offer girls who want to pursue modeling?

There's a lot of rejection in this kind of thing...not everyone can take it. But it's when you persevere [despite] the rejection that you [get] better at your craft. Don't be afraid of rejection 'cause sometimes rejection can close one door and open a better one. Everyone has their own look--I don't believe in only pretty girls modeling or awkward girls modeling--everyone has their own specific look that caters to different kinds of projects and clients. I'd like to see more local girls, actually, [because] usually there's more halfies and foreigners. I'm a halfie, but since we're here in the Philippines, I'd like more Filipina girls achieving, growing, and being ahead of the pack.

What's been your favorite modeling experience so far?

My favorite modeling experience would have to be going to China. I mean, I love everything I've done here, but I guess going to China sealed the deal. It really made me understand how the industry works abroad. I loved it. You just wake up in the morning, wash your hair, no makeup, go to the casting, finish that, then go home. It's not that it's easy; believe me, sometimes [the hours are] really stressful. But I just found it really comforting, like it's something I know I want to do for as long as I can. I know I'm going to probably venture on to something else, but for now it's really something I'm passionate about.

Which type of modeling do you prefer--ramp or print?

I can't say I'm the best at print. I'm comfortable when it comes to print [but] I'm still trying to understand my face, my posing, you know, everything in general. Right now, I've been doing a lot of ramp. It's something new to me, it's something I enjoy doing. That feeling when you've got to go out and do that one big show, then you come home and you're like, "Oh, my god!"--it's like a home run. I guess I like the hype, the adrenaline rush that comes with it. When you step out, everything goes away. All you think about is just finding ways to sell the clothes and do honor to the designer.

What for you is the biggest misconception about models?

That [we] don't eat--that's the biggest lie. I guess there's so much at stake, everyone wants to be skinny--that's the pressure of it. [But] we eat a lot. I can have a plate, and half of it is rice. But nobody realizes it, they're like, "Oh, you're skinny, you're probably anorexic..." No! We know we're small! (Laughs.) I guess being tired and fatigued kicks everything out of you.

What's the top beauty secret you've learned from modeling?

You have to moisturize in the morning and at night. Not just your face but even [down] to your toes. The moment your skin is dry and tired, it's not good.

What's your favorite fashion trend right now?

Wide-leg pants and platform wedges, the samurai sandals. Together [they're] immaculate. It's vintage but it's new.

What five things should every woman have in her closet?

Black pants, a white button-down top, a leather jacket, a denim polo, and a white v-neck.

Who are your fashion icons?

Audrey Hepburn and Madonna. Audrey Hepburn has that timeless effect, and Madonna is just totally accepting of herself in every possible way. Every girl should try to be a little bit of both.

What are your plans for the next five years?

I'd like to have my interior design license and I'd like to be practicing, probably part of a firm. But, [I want to] still be a model on the side. I wanna have both parts of my life coexist in peace.


Launch the gallery to see photos of Pauline at her "Cosmo's 8 Sexiest" shoot! Watch behind-the-scenes footage of her shoot here. Don't forget to grab a copy of Cosmopolitan Philippines' November 2011 issue with Carla Abellana on the cover to see the entire fashion editorial!
ADVERTISMENT - CONTINUE READING BELOW ↓
1629
ADVERTISMENT - CONTINUE READING BELOW ↓
Recommended Videos
EXPLORE COSMO