Netizens are clamoring for Pinoy Big Brother contestant TJ Valderrama to be force evicted amid the circulation of clips showing him touching his fellow housemate Shanaia Gomez.
"FORCE EVICT TJ" has been a trending topic on social media, with people calling out to the producers of PBB to take action.
Clips making their rounds on social media show that on several occasions, TJ was seen touching Shanaia's hips, hugging her from behind, and even kissing her on the cheek while she was brushing her teeth.
There was also an exchange between housemate Madam Inutz wherein she asks fellow housemate Chie Filomeno if she was drinking because her chest was all red. TJ jokingly reacted about Madam Inutz making them boys take a look at Chie's chest to check it out.
Madam Inutz: "Chie, umiinom ka ba? Ba't ang pula ng dibdib mo?" 
TJ: "Madam, 'wag mo naman kami patinginin doon."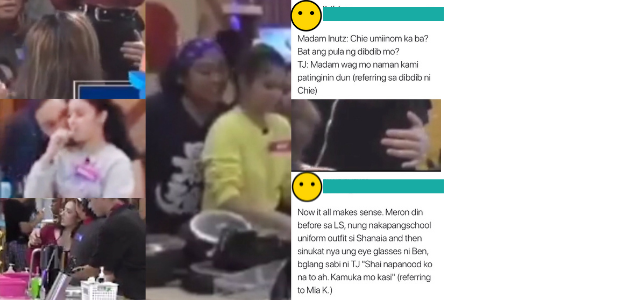 "This is no longer a friendly touch," said one netizen. "This, ladies and gents, is harassment."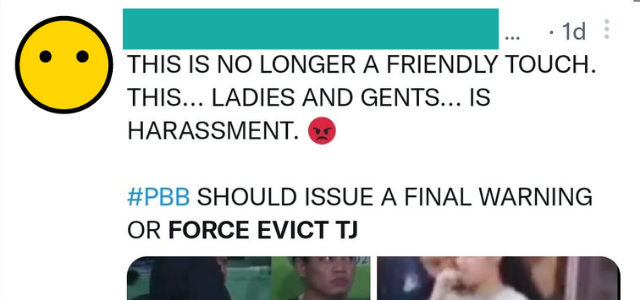 Continue reading below ↓
Recommended Videos

"This is below the belt attitude of a person inside of a house that they should not do," reacted another netizen. "STOP TOLERATING AND NORMALIZING SEXUAL HARASSMENT ON A TV SHOW, IT [MAKES US] CRINGE."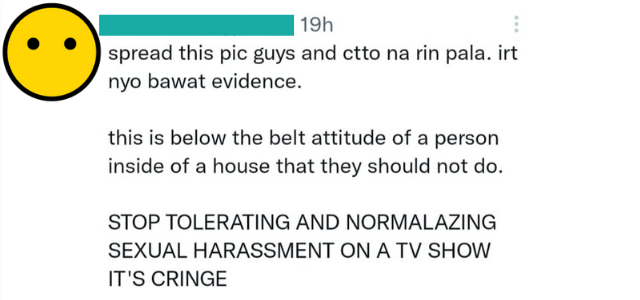 Another netizen shared how she went through a similar encounter.
"This is making me sick. I've experienced being touched by someone like this when I was young; I really felt uncomfortable. I don't want people to look at us and can't find the right words to tell him to get away from me. I remember crying so hard after..."

Women's issues group Gabriela Women's Party has also pointed out that such clips can be used as grounds for sexual harassment.
"We have taken note of several photos and videos related to the 'FORCE EVICT TJ' trend," read Gabriela's post. "A reminder that unsolicited touching and physical contact, even in the context of friendship or even relationship, can be a form of sexual harassment."
As of this writing, PBB has not yet issued any statement with regard to the matter.