PENTAGON is back with their 12th mini-album, "IN:VITE U"! With more sophisticated music, they *invite* fans to a new world (or should we say universe? *wink*) where they quickly fell in love. Through this latest album, the K-pop group showed a definition of love that grows and changes with time, yet highlights the importance of creating precious and sincere moments together. One could say that this reflects the group's bond and teamwork which have been strengthened throughout the five years since their debut.
We got invited to PENTAGON's media launching show last January 24 ahead of the album's release. The members—Jinho, Hongseok, Shinwon, Yeo One, Yan An, Yuto, Kino, and Wooseok (Side note: Leader Hui is in the military)—came out one by one in chic black outfits showing their serious sides. Their fierce poses didn't last long, however, as the members gathered together and started goofing around with funny poses.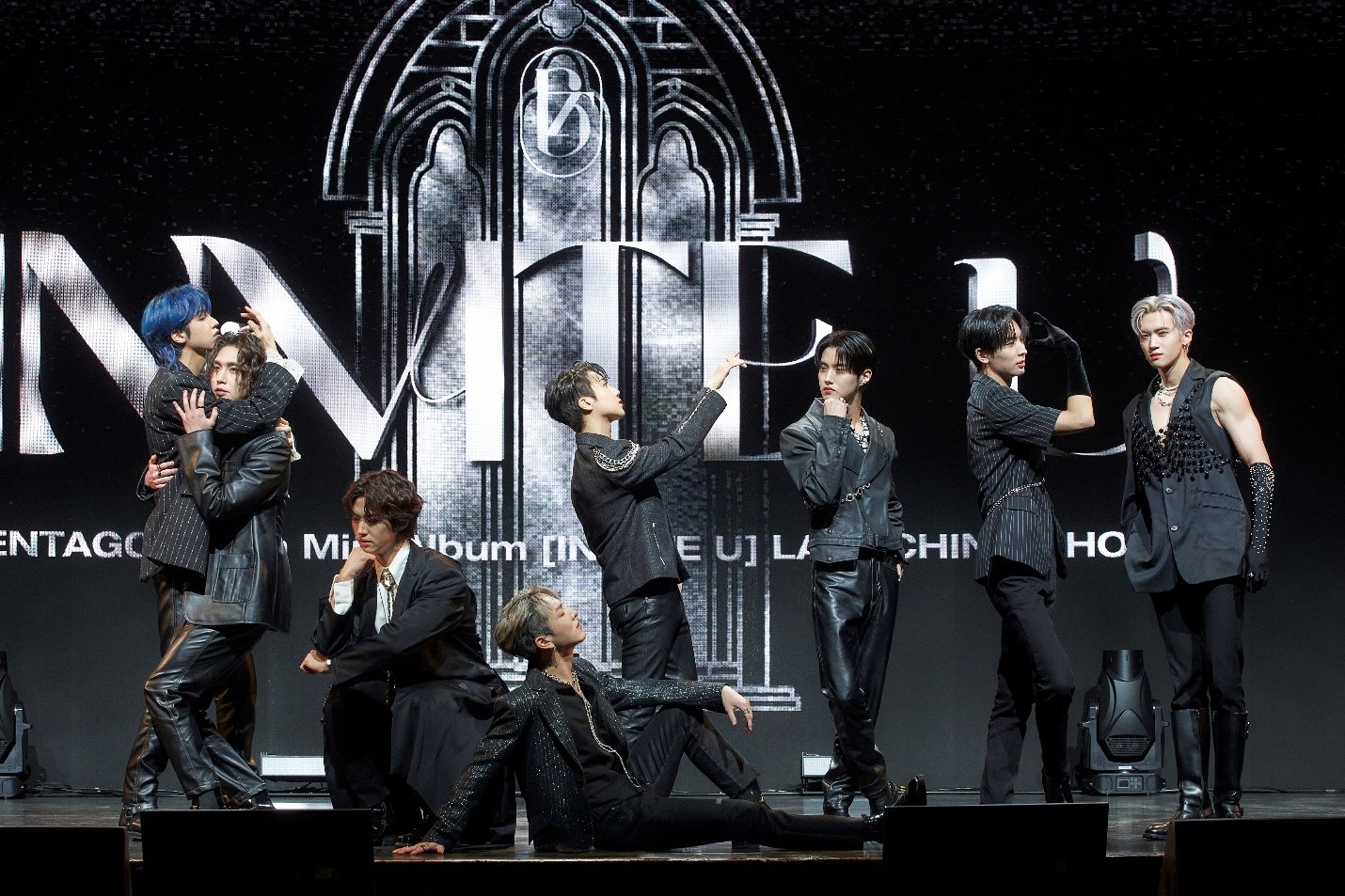 ADVERTISMENT - CONTINUE READING BELOW ↓
MC Gong Seo Yeong congratulated main vocalist and eldest member Jinho for his military discharge. PENTAGON also expressed their desire to get a music show win with "Feelin' Like" now that Jinho is back. Vocalist and visual Yan An got compliments for his muscular arms which fans will get to see in the title track's official music video. Main dancer Kino also demonstrated the point dance of the "Feelin' Like" choreography which definitely piqued everyone's interest.
The PENTAGON members were also involved in all six tracks of the EP, illustrating the group's diversified music and giving their own authentic colors to each song. The group introduced each track during the media launching show.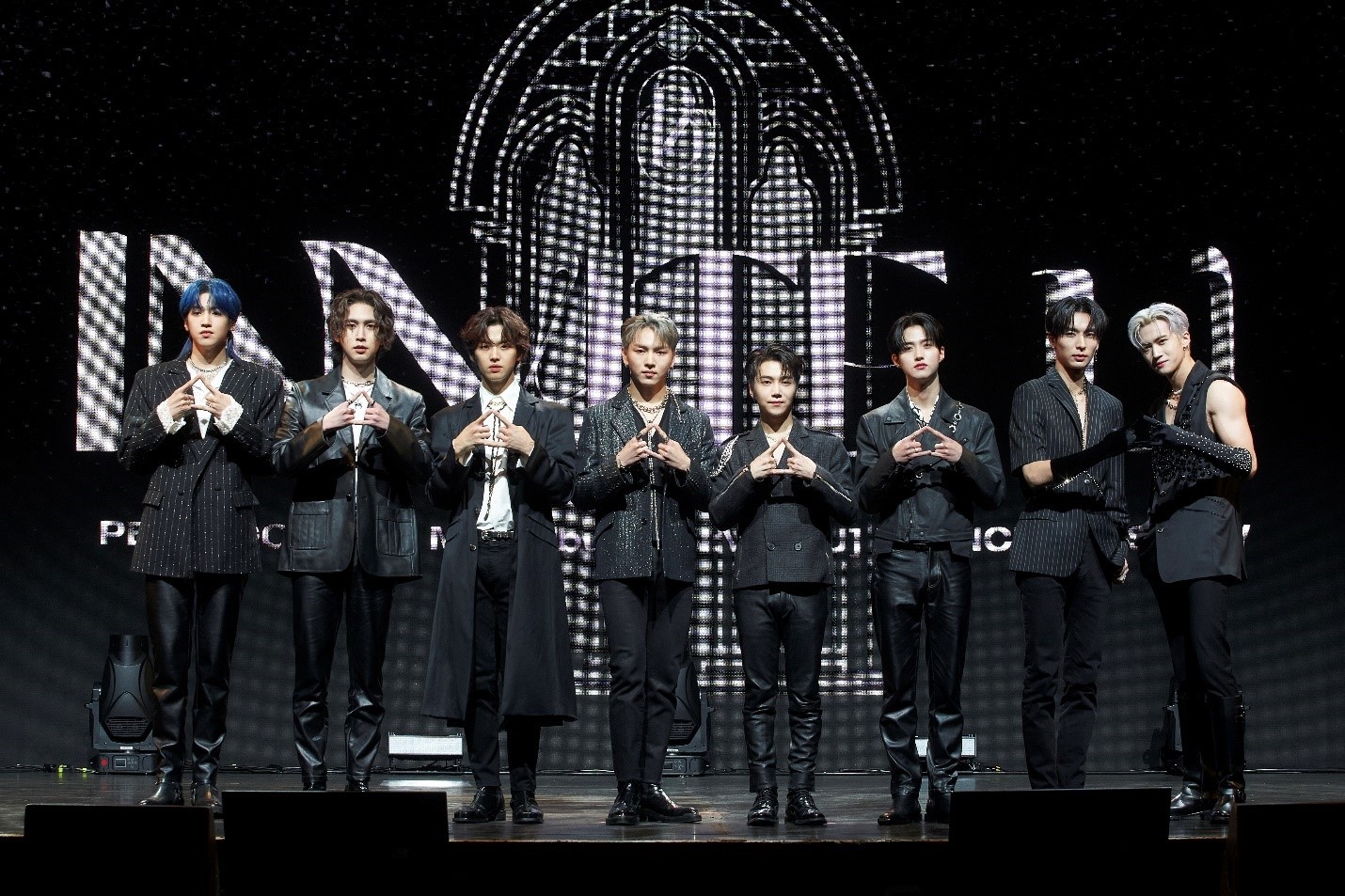 "Feelin' Like" is an energetic pop and powerful R&B song which catches listeners' ears immediately. The chorus is so catchy that it'll make you want to learn the choreo so you can dance along! No wonder it became the title track after careful selection among 500 songs. Jinho, Kino, and Wooseok participated in writing the lyrics which describe "the moments of awakening, pleasure, realization by using their own words, to present PENTAGON's new way of loving." The music and performance have a classy and upscale vibe that the group wishes to tell a story of their own through this song.


(PENTAGON) - 'Feelin' Like' Official Music Video



(PENTAGON) - 'Feelin' Like' @ MEDIA LAUNCHING SHOW
"One Shot" is an alternative rock genre song which Wooseok and Shinwon took part in composing and lyrics writing. The song is "an uplifting track with blasting energy that figuratively describes the desire to fearlessly go on a spree in a situation when there is only one last shot left to our lives." Depending on the listener, the song can be interpreted with different meanings which makes it so much more interesting.
"The Game" is a sensational glitch synth sound and rock sound added electronic genre song. This b-side track is arguably the most experimental and unique song in this album due to the use of operatic elements in different parts of the song that gives it a musical-like color. Wooseok participated in composing the song and he also wrote the lyrics himself. The lyrics "compare happenings full of tensions in our life to a game to illustrate PENTAGON's relaxed and humorous attitudes despite whatever situation they are in."
"Call My Name" is another song produced by Kino and producer Kim Zion. It's another catchy dance track that uses "voice" as a motif and "describes the friction of the lips while calling my name, that overwhelming tension at the specific moment." The track has a sexy and slightly seductive vibe that suits PENTAGON's concept and image for this comeback.
"Sparkling Night" is a nostalgic and emotional song with a warm and serene melody that "portrays a Ferris wheel at the center of a theme park on a beach where millions of stars are flowing in the sky. [It] metaphorically illustrates the wistful feeling of when your time is up and have to get off at the end of the ride from a Ferris wheel but can't step off easily because of the beautiful scenery in front of [you] with meeting and breaking up in the context of a relationship." For fans who are into earnest lyrics, this would be a favorite. Kino participated in composing the song and he also wrote the lyrics together with Wooseok.
ADVERTISMENT - CONTINUE READING BELOW ↓
"BAD" is a track with a simple but concise guitar riff and catchy melody with a classic and minimal sound source as the main rhythm. It's an emotional song about a bad breakup but still wishing for happiness for the other person. Composed and written by Wooseok, this song is meant to "comfort and empathize with everyone who is facing a breakup or going through a heartbreaking breakup."
Lastly, PENTAGON answered some questions by the media. They shared how deeply involved the members were in the conceptualization and making of this album. They thought it would be a great chance to show their mature side and take on this new challenge to present a legendary album to K-pop fans all over the world.
With the release of "IN:VITE U" and their live stage performances in the days to come, the group continues to showcase their talents in creating music, singing, rapping, and dancing. This all-around K-pop group is one to keep an eye on if you haven't yet. They're not only known for their vocal and songwriting capabilities but also for their group chemistry which translates to a fun atmosphere. We can't wait to see more PENTAGON content and music show stages for their comeback promotions!