I had been warned: 2012 would be a bad year for my sign. Like a self-fulfilling prophecy, while the year was off to a great start, it seems Lady Luck has turned her back on me for now…and negativity started hounding me.

Funny how the universe works. It's when everything comes crumbling down, when every wall, every foundation you painstakingly built turns to rubble around you, that you see light so bright, you can see everything so clearly. When nothing else is obstructing your view, you see that one thing you needed to do—that one thing left to do: start building from the bottom and work your way up again.

We all learn something new from every downfall, every pain. And, the foundation would hopefully be stronger and sturdier, and tempered with experience. Never be afraid to fall then build again, because it's precisely this capacity to build that makes us invincible.

Being invincible is not about never being destroyed or defeated. It's about always, always doing all you can to rise after every fall. It's about knowing no one can defeat you but your lack of faith in yourself, so if your spirit is intact, then nothing can break you.

I can go on and on about how to be stronger and how to make something good out of every bad event in your life, but we have to be real: it starts with our own little ways of coping. Mine is through music, as I'm sure it is for millions of other Pinays and people the world over. There are five songs that automatically go on LSS mode in my head whenever I'm feeling down and out. They are actually rather random (and from different times in my life), but all of them have lines and melodies that instantly make me feel good, hopeful, and more importantly, stronger.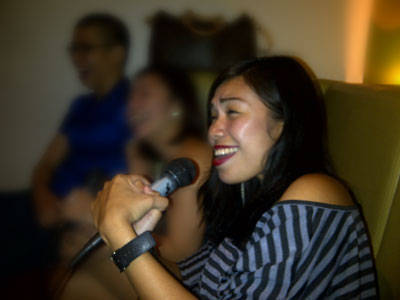 Check out my list, and share yours with us—we all need new songs to add to our own lift-me-up playlists. Let's sing our hearts out at a videoke sesh soon, k?
[readmore]
1. "Invincible" by Christian Bautista


Continue reading below ↓
Recommended Videos


("I was damaged by the fall / Got the wind knocked out of me / To be standing here at all / I must be invincible / I thought that I would break / But now I have come to see / Something strong and beautiful
Inside of me / I must be invincible")


2. "Collide" by Howie Day




"Even the best fall down sometimes. Even the stars refuse to shine..."


3. "Follow The Sun" by Regine Velasquez




("There's a little good in everyone / And sometimes it takes a little work to see the sun / If you try, you may find your life has just begun / Don't you run / If you're feeling lost / And you wanna be free / And you feel like your world is tearing up at the seams / Remember there's light / If you wait 'til the dawn / You may walk through the clouds / But to carry on / You've got to follow the sun")

4. "High" by Lighthouse Family




("When you're close to tears remember / Someday it'll all be over / One day we're gonna get so high / Though it's darker than December / What's ahead is a different color / One day we're gonna get so high / And at the end of the day remember the days / When we were close to the end / And wonder how we made it through the night")

5. "Better Days" by Goo Goo Dolls




("I wish everyone was loved tonight / And somehow stop this endless fight / Just a chance that maybe we'll find better days / So take these words / And sing out loud / 'Cause everyone is forgiven now / 'Cause tonight's the night the world begins again")