Piolo Pascual's newest film My Amanda has dropped on Netflix, and it got us reminiscing about his previous projects! From rom-coms to dramas, Piolo's filmography has been *flourishing* since the early 2000s. He also starred opposite some of THE BEST leading ladies of the generation, including Judy Ann Santos and Bea Alonzo.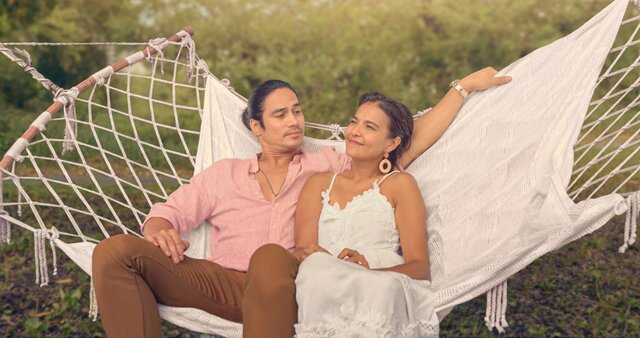 ADVERTISMENT - CONTINUE READING BELOW ↓
Here's a list of Piolo Pascual movies you can stream on Netflix and iWantTFC: 
1. Bakit 'Di Totohanin? (2001) 
Watch it on: iWantTFC 
Desperate to recover her family's boxing gym, Katong (Judy Ann Santos) asks Paul (Piolo) to teach her how to box. When he finally agrees, old feelings and issues start to crop up. 
2. Dekada '70 (2002) 
Watch it on: iWantTFC
In this adaptation of Lualhati Bautista's novel, Piolo played activist Jules Bartolome. Fun fact: Jericho Rosales was supposed to play Jules, but because he also landed Pangako Sa'yo, the role was then given to Piolo. Piolo actually tried to back out of the movie three times because he was scared he wouldn't be able to deliver! 
3. Till There Was You (2003) 
Watch it on: iWantTFC 
"What if you find the one you were never looking for?" Single dad Albert (Piolo) enlists the help of Joanna (Judy Ann) to pretend to be his daughter's mom. Their little charade gets more and more complicated...especially when they start developing feelings for each other. 
4. Milan (2004) 
Watch it on: iWantTFC 
The plot: "Just after a month of marriage to his dream girl, Lino finds himself in the middle of a nightmare as his wife leaves him to move to Milan. In a desperate attempt to get his wife back, Lino finds himself in Milan as well after selling all his possessions. Loneliness and sorrow find Lino, but these all fade away once he meets Jenny, a fellow Filipino who helps him can back on his feet and find love once again." (via iWantTFC) 
5. Dreamboy (2005) 
Watch it on: iWantTFC 
Cyd (Bea Alonzo) dreams of finding the *perfect guy* when she meets three identical-looking men—Philip, Eboy, and Jaime (all played by Piolo)—with wildly different personalities.
6. Paano Kita Iibigin? (2007) 
Watch it on: iWantTFC 
"Terminated from her job and evicted out of her own house, Martee (Regine Velasquez) decides to move to Zambales to work as a manager for a resort with her son. Once there, Martee clashes with resort owner, Lance (Piolo), a handsome young man with a wild streak, but when Martee and Lance begin developing feelings for one another, will Lance be willing to give up his old ways?" (via iWantTFC)
ADVERTISMENT - CONTINUE READING BELOW ↓
7. Kahit Isang Saglit (2011) 
Watch it on: iWantTFC 
Yes, it's another Juday + Piolo movie! When Annie's (Judy Ann) boyfriend Dexter (Leandro Muñoz) falls into a coma, Michael (Piolo) is there to comfort her. The movie delves into what happens when Annie and Michael begin falling for each other, while Annie struggles with the guilt of betraying Dexter's memory. Yes, this where the line "Mahal kita hindi dahil 'yon ang tama, kundi dahil 'yon ang totoo" came from.  
8. Starting Over Again (2014) 
Watch it on: Netflix, iWantTFC 
Marco (Piolo) and Ginny (Toni Gonzaga) DID NOT have an amicable breakup. Years pass and Ginny is hopeful they could be together again...only to find out that Marco's already with someone else. 
9. The Breakup Playlist (2015)
Watch it on: Netflix, iWantTFC
Not gonna lie, after watching this movie, the catchy theme song was stuck in my head FOR DAYS. When exes and former bandmates Gino and Trixie (Sarah Geronimo) team up for a reunion concert, their unusual situation reopens old wounds. 
ADVERTISMENT - CONTINUE READING BELOW ↓
10. Last Night (2017) 
Watch it on: iWantTFC 
According to iWantTFC, this movie tells the story of Mark (Piolo) and Carmina (Toni Gonzaga), two people who have given up on life. "As they spend time together and in every failed attempt of leaving this world, both Mark and Carmina fall in love for each other but they can't seem to turn away from their initial goals." 
11. My Amanda (2021) 
Watch it on: Netflix 
BFFs TJ (Piolo) and Amanda (Alessandra De Rossi) navigate life, love, and friendship together through the years. But here's the ultimate question: are they really just best friends, or will they take their relationship to the next level?  
Whats YOUR fave Piolo movie? 
***
We're officially on Viber! Be part of our growing community and subscribe to Cosmopolitan Philippines now!
Follow Lily on Instagram.