Priyanka Chopra accidentally got Nick Jonas' age wrong in an Instagram post shouting out his new tequila brand.
Nick is 26 and Priyanka said he's 27.
Update:
LOL, Nick just posted a Batman meme to describe his take on the whole thing. In short: Priyanka def knows his birthday.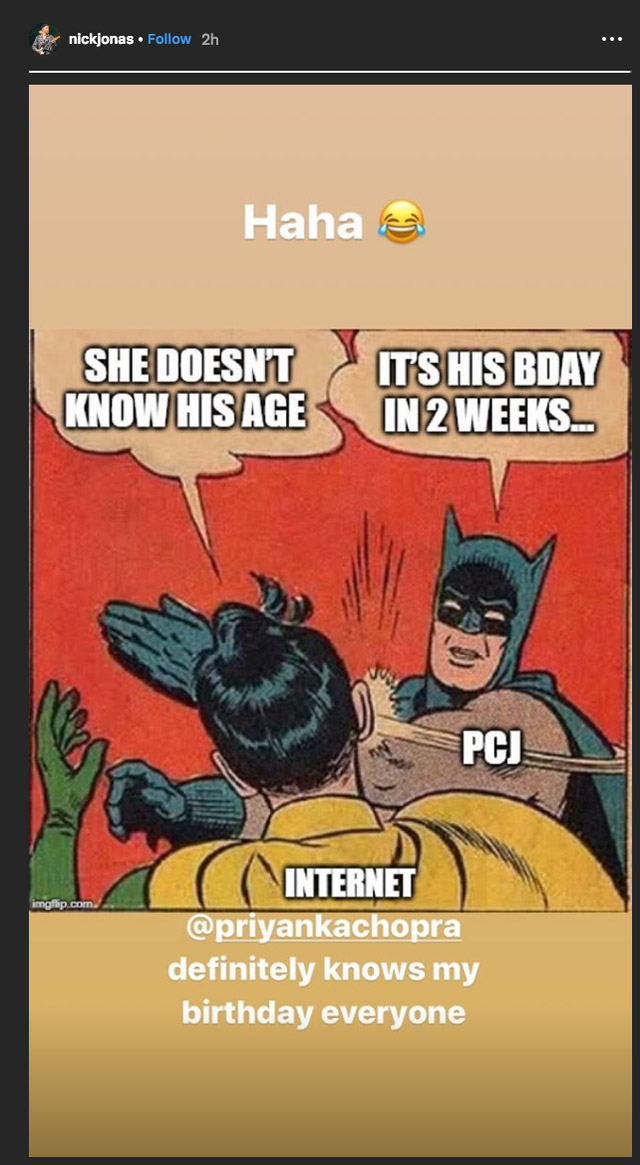 Glad that's settled!
Original:
You'd think most married people would, ya know, know how old their husbands/wives are, right? But apparently not. Priyanka Chopra proved that age really is just a number by failing to remember how old Nick Jonas is while attempting to dedicate an Instagram post to him.
Continue reading below ↓
Recommended Videos
The post in question is in celebration of Nick's new tequila brand Villa One, and Priyanka's caption says, "So proud. When you own your own tequila at 27!" The thing is, Nick's birthday is most definitely September 16, 1992, making him 26. Awkward.
Naturally, no one is willing to let this go, and the comments on the post are basically full of people trolling poor Priyanka. Behold, a smattering:
"26* for 14 more days."
"Uh isn't he still 26...just saying."
"He's actually 26 not 27."
"Gf, he's 26."
"When you don't know how old your own husband is...he's a tequila owner at 26 actually...guess his age really doesn't matter."
"Isn't he 26"
Also, cute that instead of correcting her, Nick was just all, "My beautiful forever date."
Priyanka hasn't updated her post to reflect Nick's actual age, probably because she's too busy living her best life and not giving a f*ck about trolls dragging her on Instagram. Either way, gonna force us all to listen to this now:
***
This article originally appeared on Cosmopolitan.com. Minor edits have been made by the Cosmo.ph editors.