ICYMI: Alex Gonzaga is once again the subject of headlines after a video of her smearing cake on a service crew's face during her 35th birthday party circulated online. Aside from the viral clip, the actress is stirring more online drama for her alleged ill-mannered professional reputation, with several showbiz insiders and production staff speaking up about their experiences with her on Twitter.
Below, here's what they have to say:
An industry creative John Mark Yap talked about his experience working with Alex in her first role as the lead star, saying that she was always the cause of delay in shooting. ICYDK, a similar claim was allegedly made by veteran actress Dina Bonnevie, who starred with the actress on a TV5 series in 2011. John Mark added that the actress was also rude to another actor on set.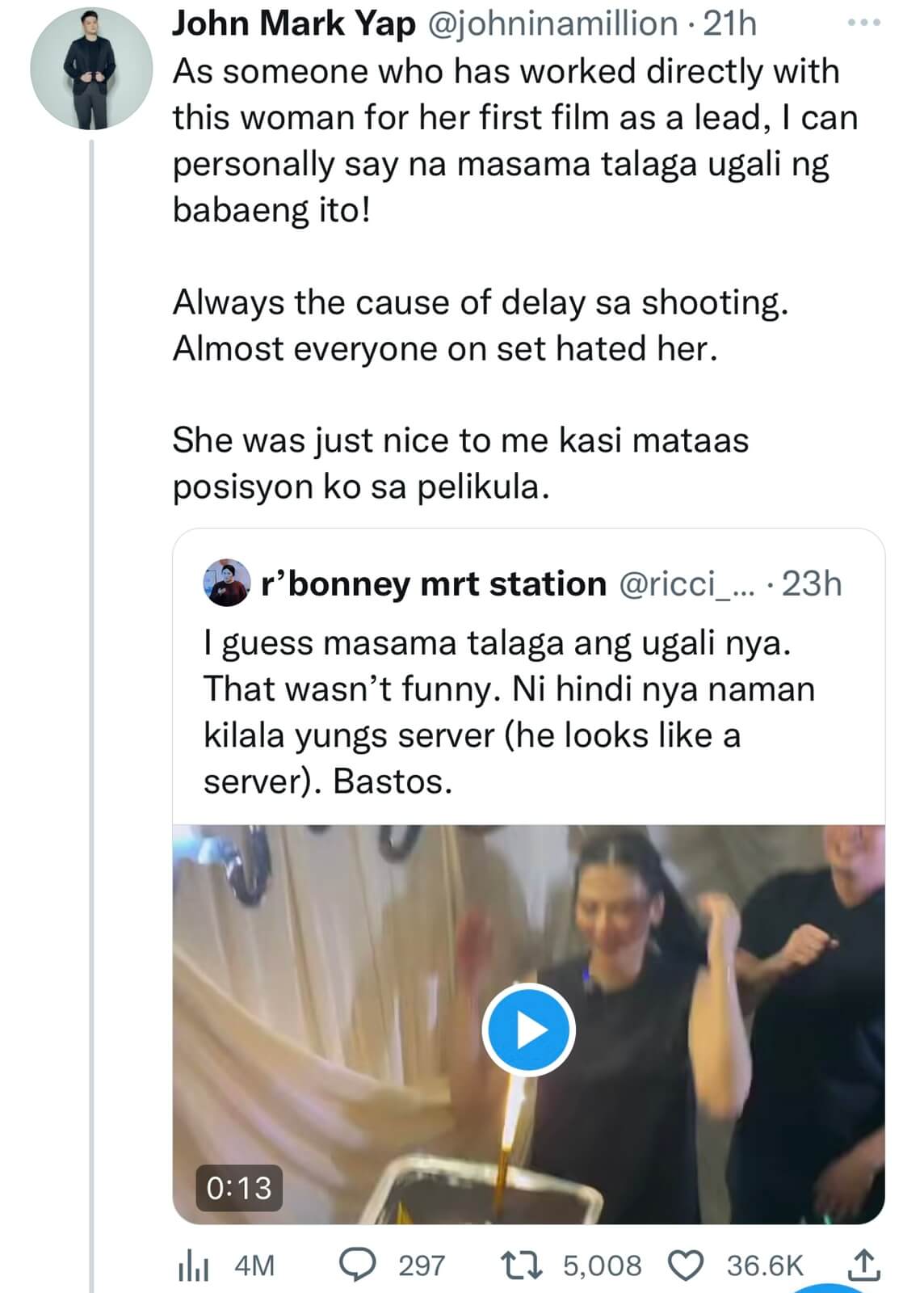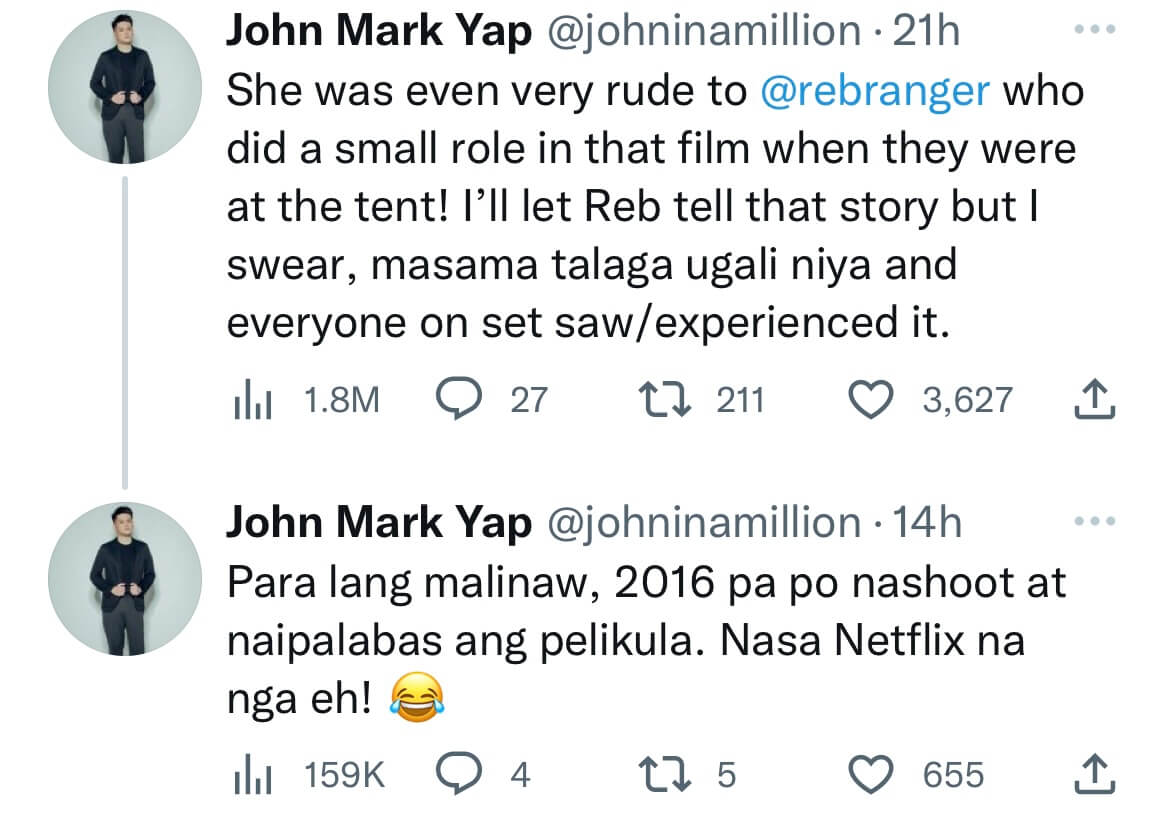 ADVERTISMENT - CONTINUE READING BELOW ↓
Photographer Christian Tuzon also had something to say about Alex violating a contract's terms when she posted a competitor brand in a campaign that they worked with together.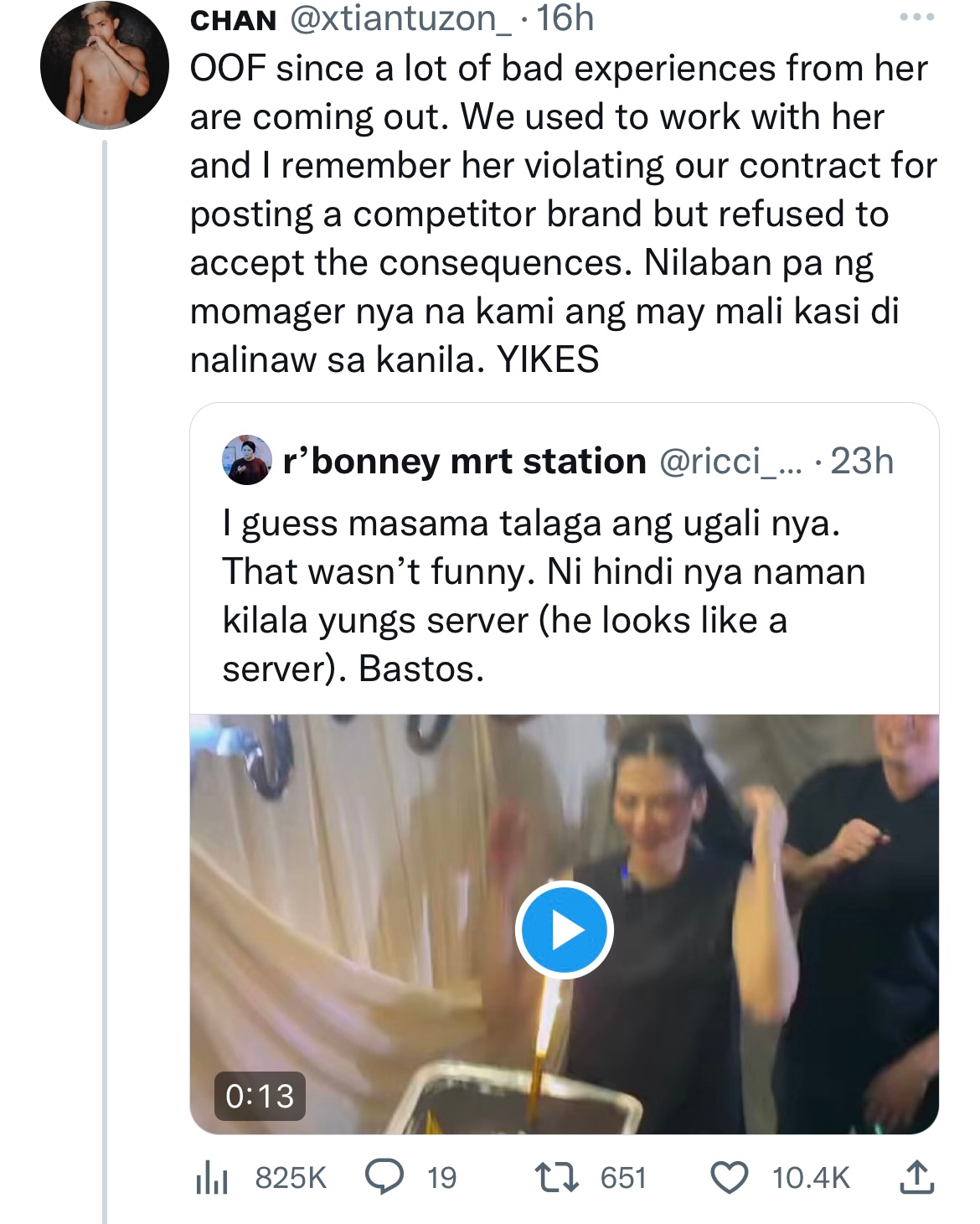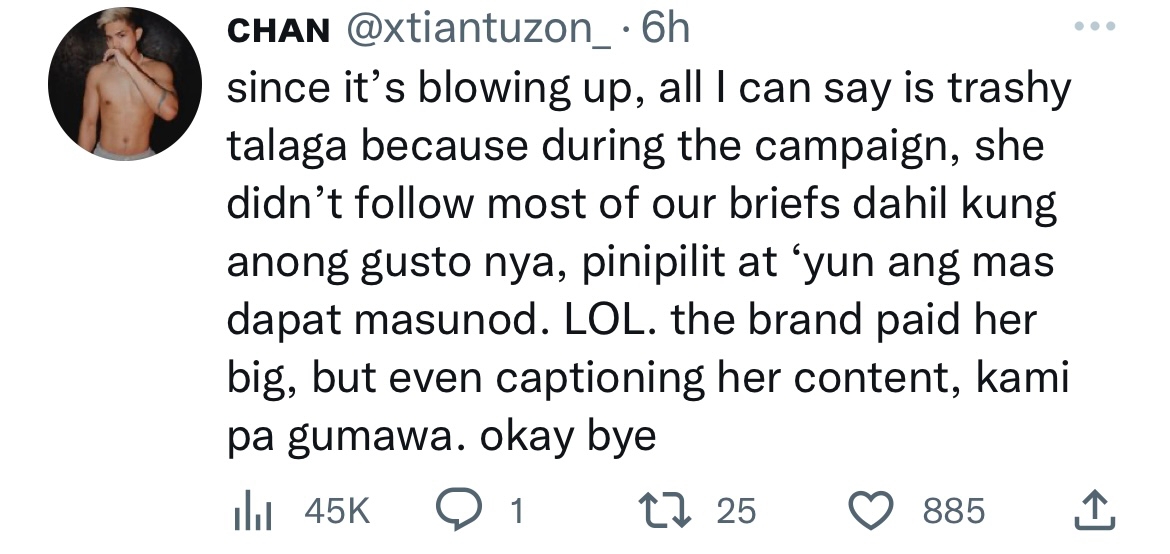 Podcaster and columnist Ceej Tantengco also chimed in with her own story, sharing one experience when the whole production crew of a TVC adjusted to Alex's schedule only to be met with a lousy excuse that she's "not a morning person."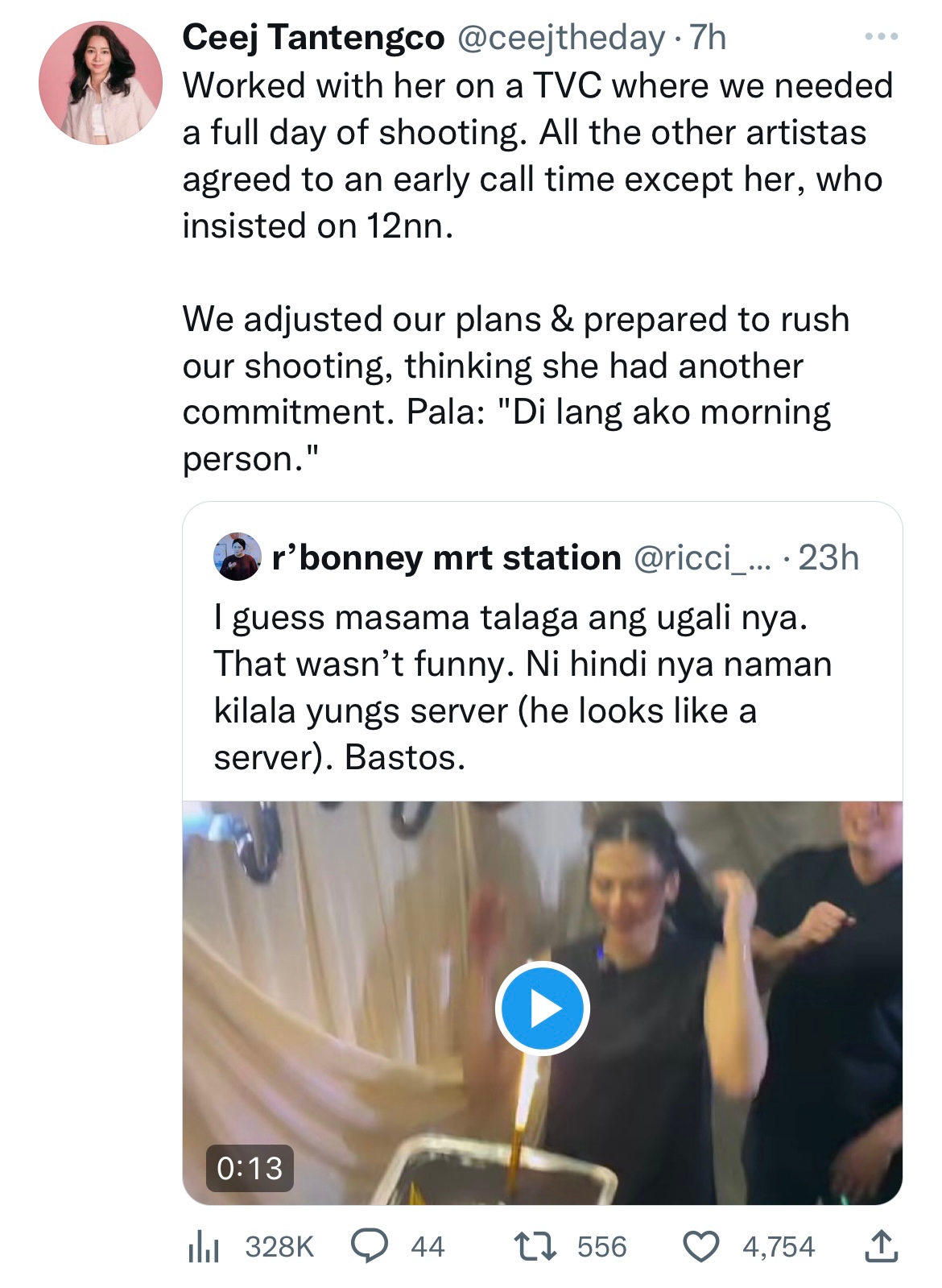 P.S. It's impossible to verify the accuracy of the stories from the tweets alone, so these statements should always be taken with a grain of salt. Alex has yet to issue a statement regarding these claims.
Circling back to the issue between her and the waiter, other celebrities, including influencer Janina Vela and DJ Tin Gamboa, couldn't resist airing their thoughts on the matter. Janina said it best: "Service workers are our equals. It's their job to serve, but it's our job to give them the respect they deserve."

ADVERTISMENT - CONTINUE READING BELOW ↓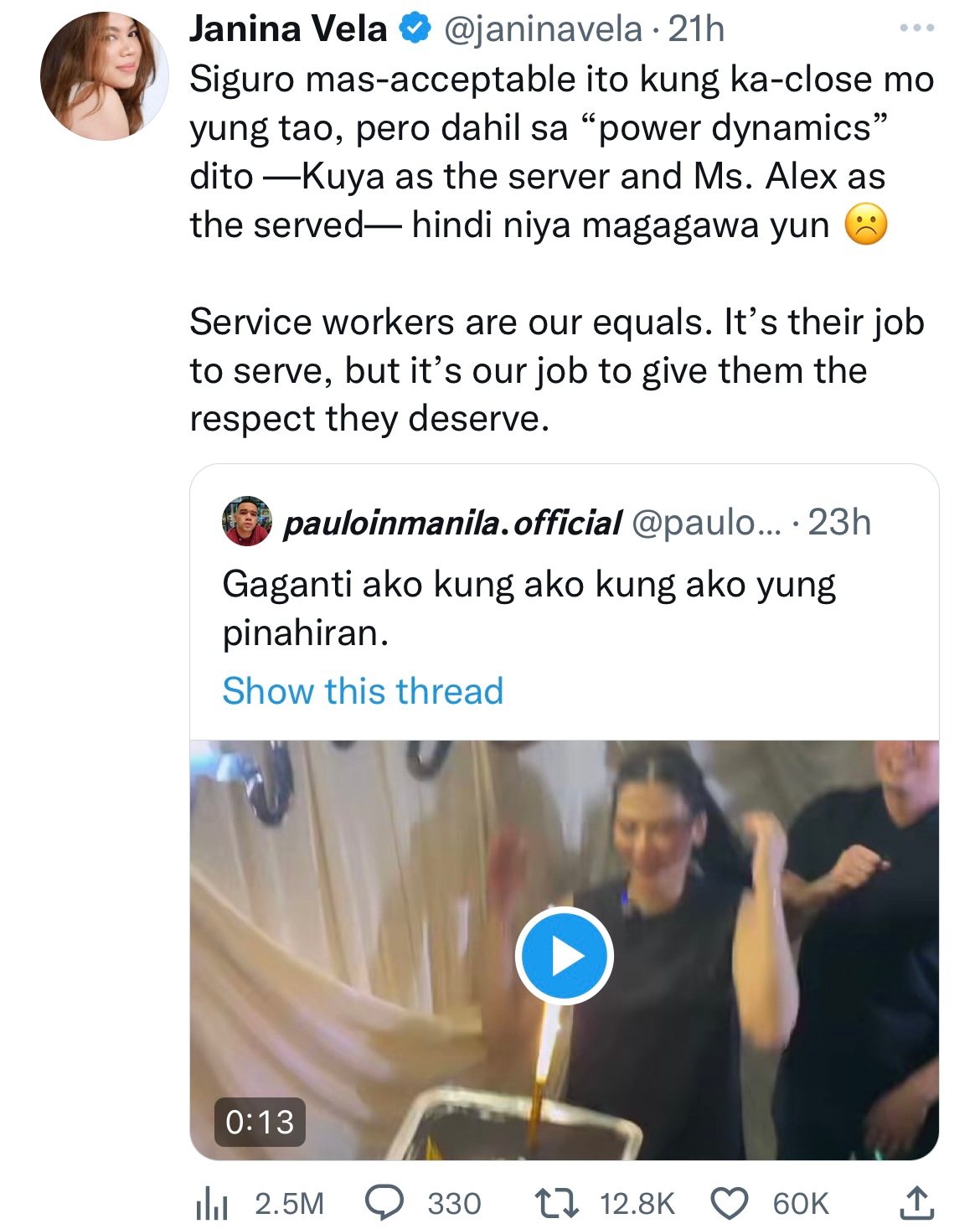 MORE FROM COSMO:
ICYDK, Megan Young Only Bought One Designer Bag *Ever* And Used It For 10 Years
Oh No! A Filipina Gets *Mocked* By Netizens After Calling Charles & Keith A 'Luxury' Brand
Yikes! Netizens Slammed Alex Gonzaga For Smearing Icing On A Waiter's Face At Her Birthday Party