It's no secret that Sandara Park *really* loves the Philippines. She can speak fluent Filipino and even taught some of her 2NE1 members how to speak our language when they were here in 2014. On her social media accounts, you'll be seeing proof that our pambansang krung krung has never changed and is a true Filipina by heart.
TBH, it never fails to make us kilig whenever she talks about the Philippines every chance she gets. She did grow up here, of course, but it's still so heartwarming to hear her speak fondly of her humble beginnings before she became a Hallyu superstar. 
We rounded up some of the best moments when Dara showed her love for the Philippines that will make you *so* proud of her:
1. When she featured the Philippines in a Korean travel show.
In an episode of Battle Trip, Dara brought her friend Kang Seung Hyun to the Philippines and they had fun exploring Metro Manila, Laguna, and Coron, Palawan! The K-pop star even got to reunite with her Star Circle Quest friends, Joross Gamboa and Ryan Bang.
ADVERTISMENT - CONTINUE READING BELOW ↓
2. When she defended the Philippines from negative comments.
Dara doesn't just present our country to her chingus, she puts it in a good light, too. In another episode of Battle Trip, she mentioned the reason she chose the Philippines: Apparently, a lot of people would ask her if the Philippines is a dangerous place, as what's shown in the news. Dara said that she decided to showcase the Philippines because she wanted to prove that it's actually pretty safe here. Awww!
3. She's almost always present when a labelmate goes to the Philippines for a concert.
Count on Dara to give full support to her fellow YG artists! She would usually tag along when they hold concerts in the Philippines and even have a stage performance. For example, she went to the country last year for WINNER, and in 2018 for former BIGBANG member Seungri's concert. She was also here as a special guest for the solo concert of BIGBANG's G-Dragon in 2017.
ADVERTISMENT - CONTINUE READING BELOW ↓
Recommended Videos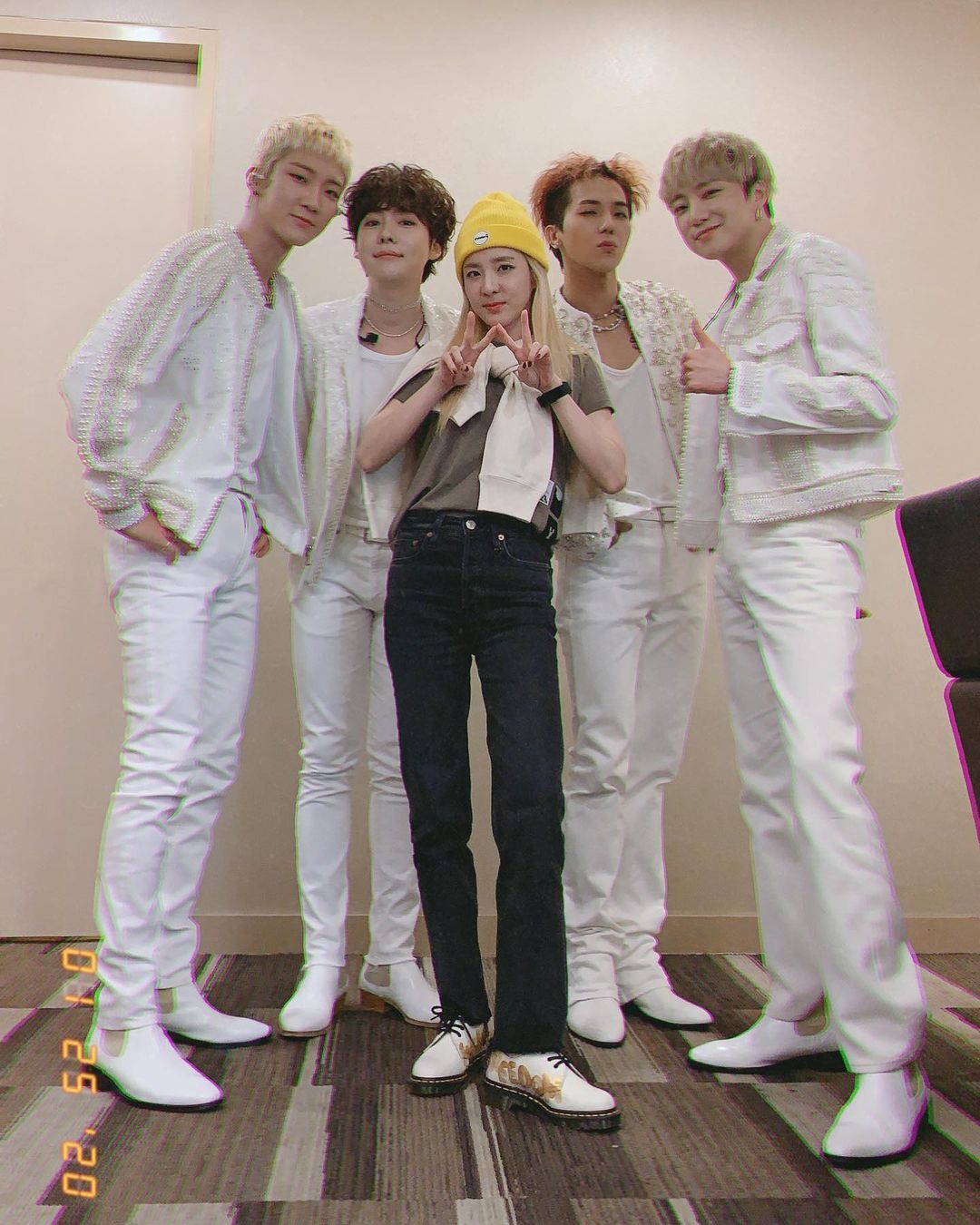 4. She loves Jollibee, just like us!
Only a true-blooded Pinoy will crave Jollibee and visit its branches available in other countries! In 2013, Dara tweeted a photo of her with the famous bee and captioned it with: "Nakapunta ako sa Jollibee sa New York!!! Akala ko sa [Philippines] ako, nag-order ako in Tagalog. 'Di niya ako naintindihan!" LOL! In another Instagram post, she uploaded a different photo of her with the bee in LA.
ADVERTISMENT - CONTINUE READING BELOW ↓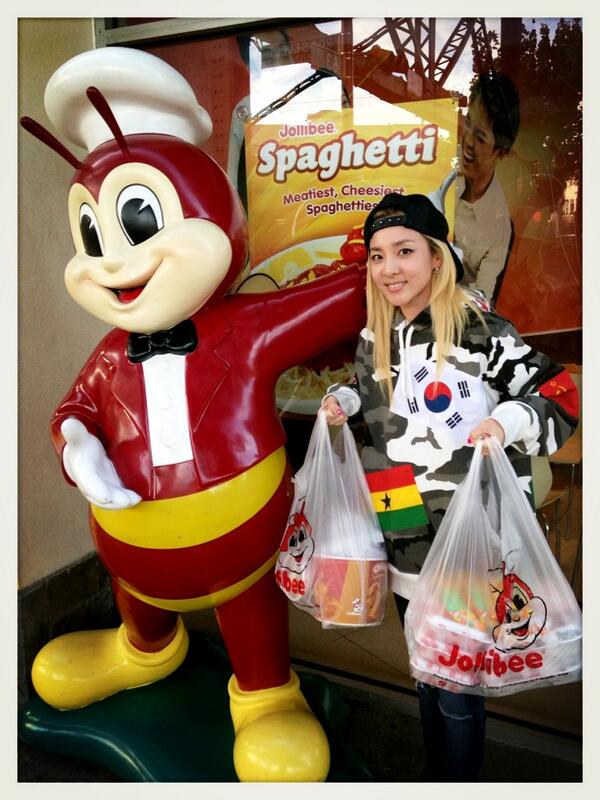 5. When she spoke in Filipino in a 2NE1 song.
The K-pop girl group's first mini-album features a track titled "Let's Go Party," and in the intro, you'll hear the members asking the people to "go to a party" in different languages. When Dara said "Punta tayo sa fiesta!", we can't help but smile! Kayo rin ba?
ADVERTISMENT - CONTINUE READING BELOW ↓
6. When she visited a Filipino market in Seoul.
Dara loves Pinoy food sooooo much and she will absolutely find ways to eat her fave dishes. In one of her vlogs, the 36-year-old went to a Filipino market in Hyehwadong to buy some goodies and eat adobo, rice, and Pinoy-style spaghetti! She also mentioned that Mang Tomas is the national sauce, and corned beef is best cooked with onions and peppers. Her favorite breakfast food? Tocino!
7. When she introduced Pancit Canton to her 2NE1 members.
If there were a Filipino equivalent to South Korea's ramyeon, that would be the instant noodles called Pancit Canton. Did you know that the girls used to consume this a lot when they were still trainees? But they had to secretly eat it because they were trying to lose weight at that time. During their visit to the Philippines for their concert, Dara hoarded packs of Pancit Canton so she can bring them to SoKor! You guys, this is what you call true love.
ADVERTISMENT - CONTINUE READING BELOW ↓
8. When she shares her PH adventures on Instagram.
Whenever Dara is in the PH, she makes sure that she takes a tour of various destinations. It looks like Bohol's Chocolate Hills is included in her must-visit list because she captioned one of her photos with "achieved"!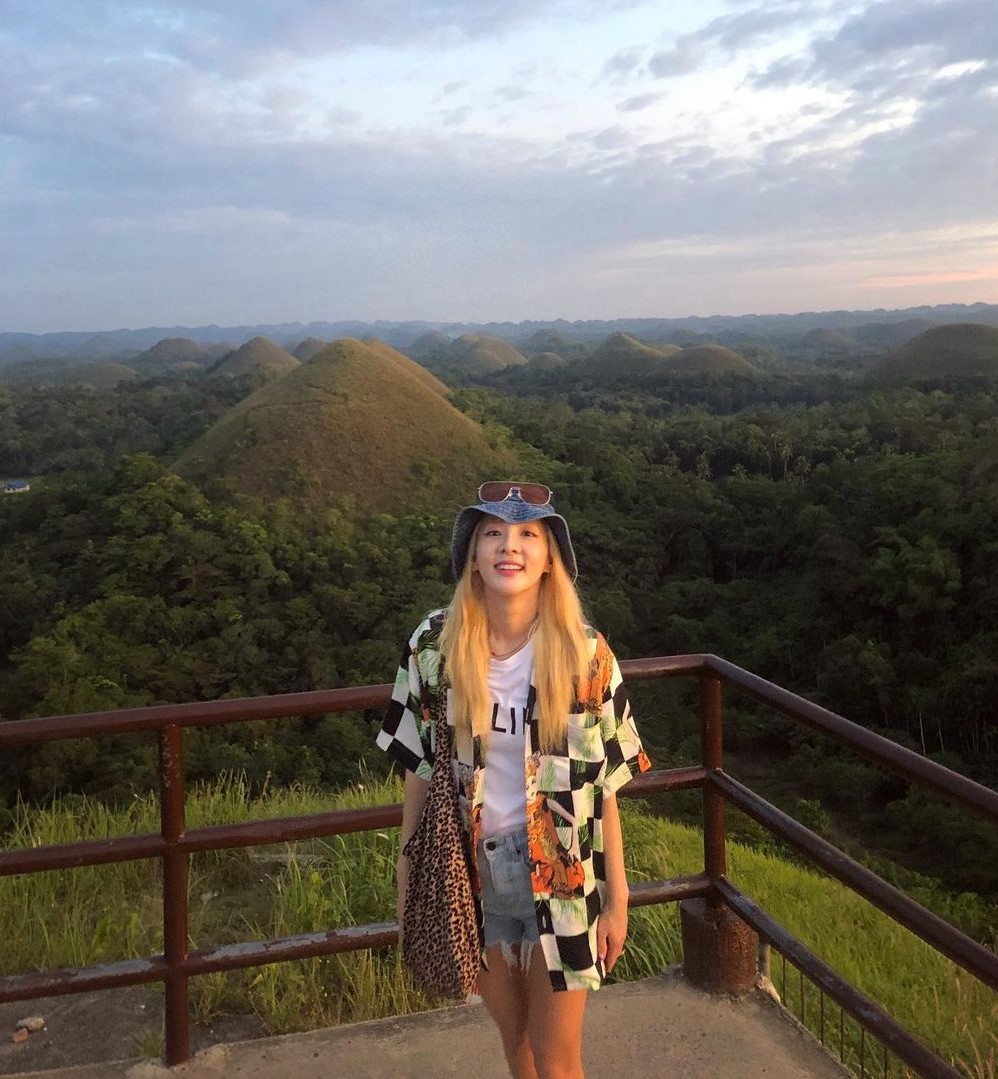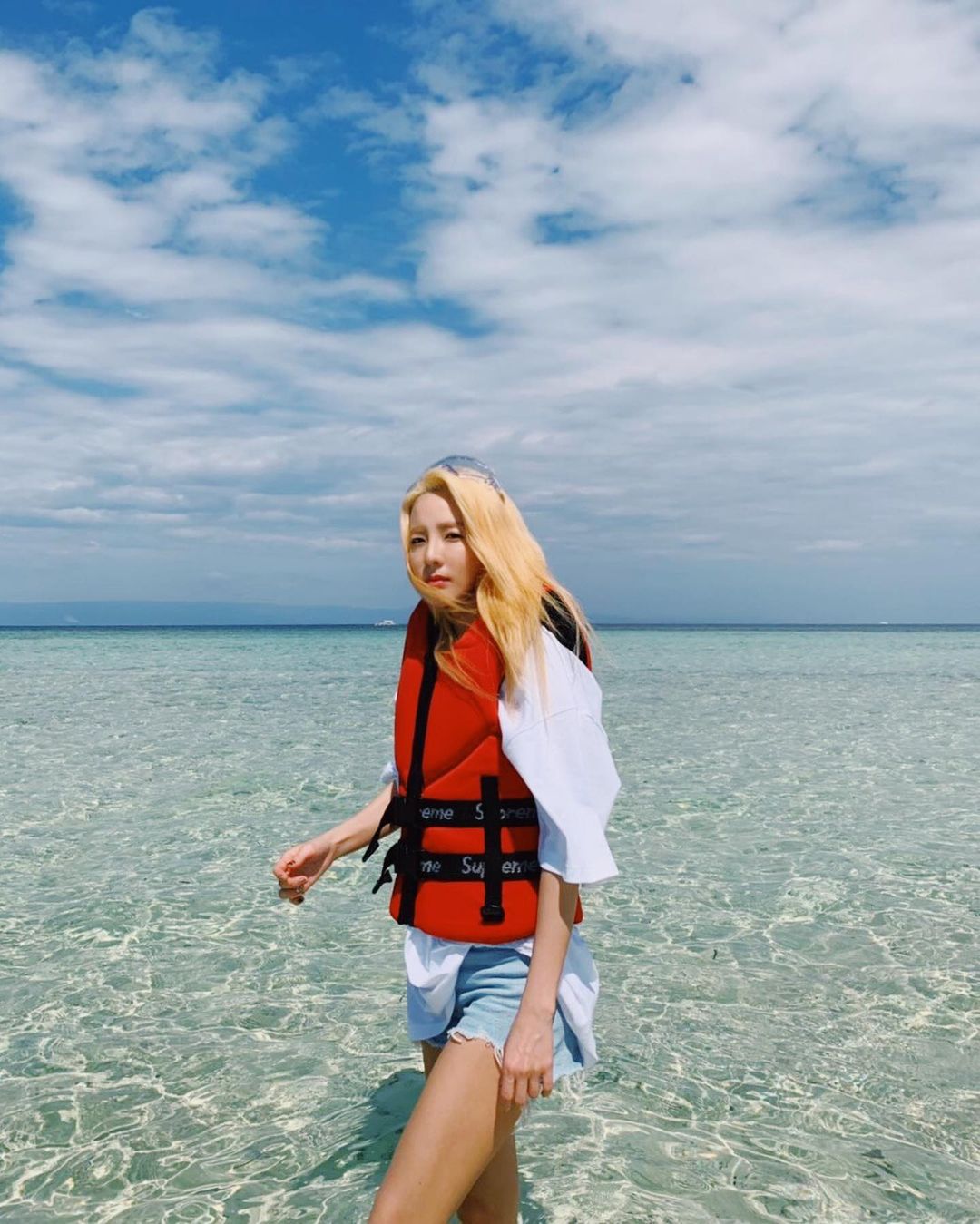 ADVERTISMENT - CONTINUE READING BELOW ↓
9. When she posed in front of her billboards.
IDK about you but I don't see a lot of celebrities who would gamely strike a pose near their billboard ads, and Dara's adorable photos just make my heart so, so warm. I mean, she would even stop the car to take a pic and if she can't do that, she would post her ad on social media! An example is her endorsement with local clothing brand, Penshoppe, where she said in her caption: "Wow!!! Ang laki ng billboard ko sa EDSA!!! Gusto ko rin makita!!! I love it!!!" Now here's our krung krung with her Bonchon billboard: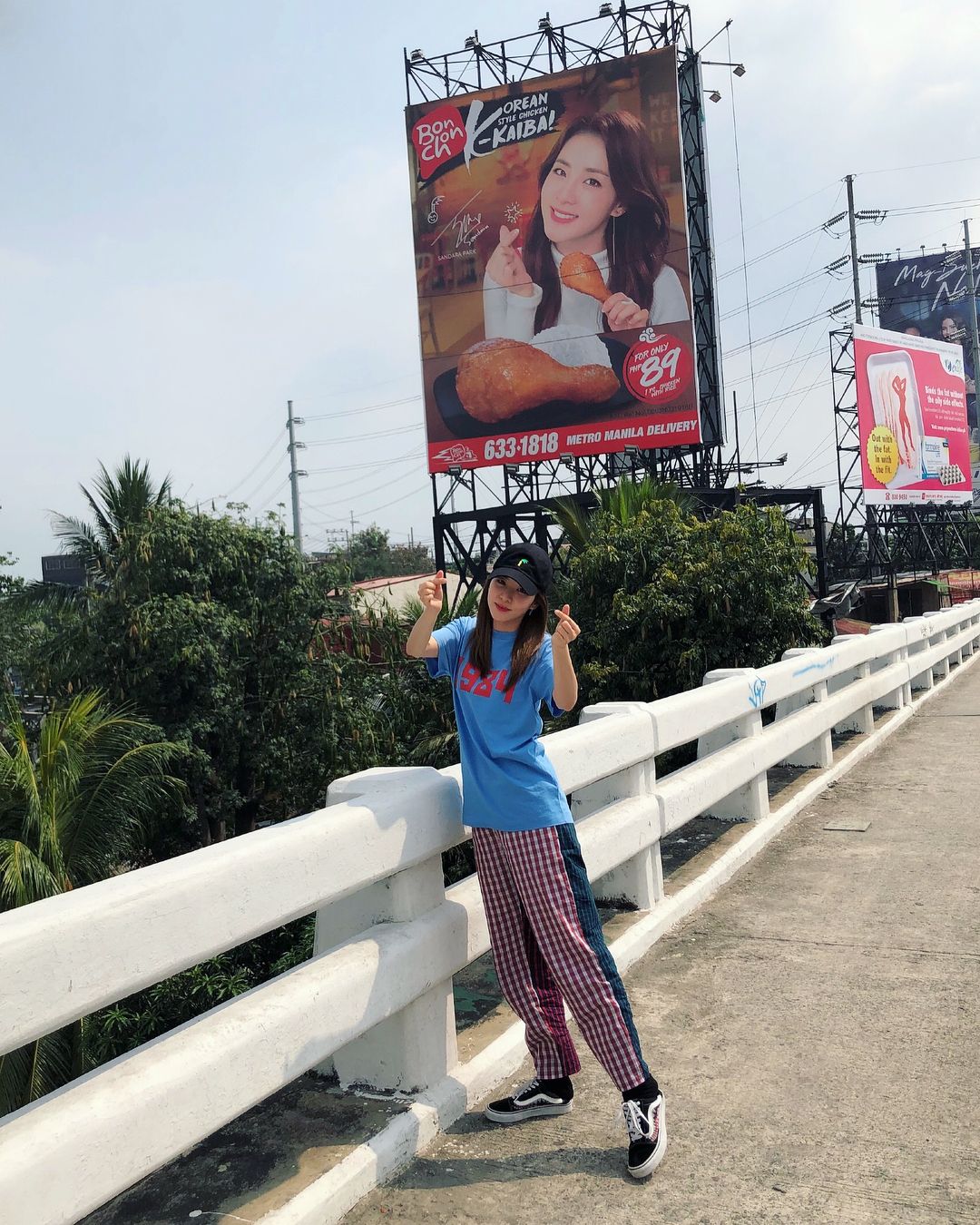 ADVERTISMENT - CONTINUE READING BELOW ↓
10. When she declared her love for the beer brand, Red Horse.
Dara's tweet in December 2020 had us all shooked when she posted a photo of her dinner on her Twitter account consisting of sisig, kangkong, and garlic rice. Do you know what she paired it with? Red Horse! How Pinoy is that? She shared that she was *super* happy to finally find a Pinoy resto in Seoul. To add to her love for Pinoy food: In Jung Il Woo's vlog, Dara tried cooking beef caldereta and seafood sinigang with him. Eonnie, you're the best!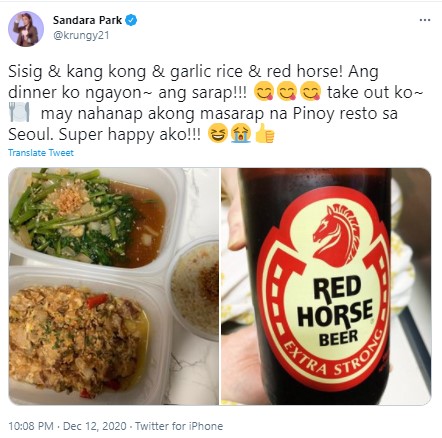 ADVERTISMENT - CONTINUE READING BELOW ↓
11. When she did an OPM collab iKON's Jay.
The two K-pop idols gave us a very merry Christmas with their rendition of Inigo Pascual's "Dahil Sa'yo" back in December! I think I replayed this video too many times, LOL. More Filipino song collabs, please!
12. When she spoke Filipino in variety shows.
Dara went even more viral in 2020 when a clip from Video Star, a variety show she hosts, showed her transitioning from speaking Korean to Filipino! She did an acting challenge with actress Choi Soo Rin where she played the role of a daughter-in-law who is not on good terms with her MIL. Now when they were already having a dialogue, Dara suddenly said "Ano po sinasabi niyo? Hindi ko kayo maintindihan, galing po ako sa Pilipinas kaya hindi ko alam. Hindi ko alam ang sinasabi niyo", to the confusion of the audience, haha! Filing this under Iconic Things That Only Dara Can Do:
ADVERTISMENT - CONTINUE READING BELOW ↓
You can't also miss this video when her Filipino accent was revealed the moment she said "automatic", and everyone burst out laughing!
Follow Hanna on Instagram.
K-UPDATES