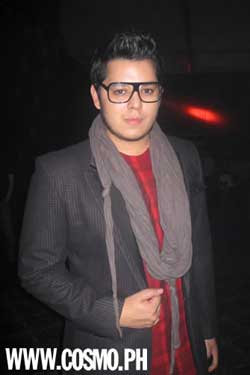 Do not expect any member of the Gutierrez household to take part in the May 2010 elections, which is just months away, except perhaps to support friends who are running for office.
Before
Raymond Gutierrez
left for the United States to oversee auditions there for the upcoming
Starstruck Batch Five,
we got the chance to chat with him. While the topics mostly revolved around his
Starstruck
hosting stint, politics cropped up in the discussion when his sister
Ruffa Gutierrez
was mentioned. Ruffa recently announced that she is supporting
Noynoy Aquino
's bid for presidency, and he happens to be the brother of her
The Buzz
co-host
Kris Aquino
.
Meanwhile, it is no secret that their parents,
Eddie Gutierrez
and
Annabelle Rama
, are close friends of former
President Joseph Estrada
, who also recently announced his intention to run—for the second time—for the highest position in the country.
According to Raymond, everyone in his family has the freedom to choose whom he or she will vote for. As for him, he says he has to listen to everyone's platform first, and then he'll decide whom to cast his vote for—the first time he'll be doing so. Raymond and his twin brother
Richard Gutierrez
recently got their dual citizenship, and Raymond just recently registered at the COMELEC.
As for running for any post, he says no member of the Gutierrez family is inclined to do so. Years ago, their father Eddie ran and lost, and this served as a lesson for all of them.
Incidentally, Raymond says he is very excited for his upcoming US trip, since aside from work, he will also get the chance to reconnect with old friends in California, where he and Richard finished high school.
Continue reading below ↓
Recommended Videos