Alright, I've had ENOUGH. Literally everyone and their mother has been releasing and/or promising new music in 2020, and that is not even an exaggeration. Selena Gomez dropped an album. Justin Bieber dropped an album. Demi Lovato released a new song. Adele confirmed that a new album is coming in September. But you know who has been failing to deliver any substantial music-related news? Ms. Robyn Rihanna Fenty.
I know Rihanna is a busy woman who has cosmetics, lingerie, and clothing lines to worry about, but I—and the rest of the Navy—just want a damn album already. It's been more than four (4) calendar years since Rih's last album, Anti, was released...meaning that the fans are kinda impatient. Especially when she teases us LIKE THIS:
That being said, please allow me to discuss everything we know so far about Rihanna's upcoming ninth album—fondly referred to as R9 by the Navy—while we wait for its release with bated breath.
Does R9 have an actual name yet?
Nope, sorry. When Rih was asked by T magazine if she had any possible names for the album, she said, "No, so far, it's just been R9, thanks to the Navy. I'm about to call it that probably, 'cause they have haunted me with this 'R9, R9, when is R9 coming out?' How will I accept another name after that's been burned into my skull?"
Exactly *when* is R9 coming out?
Honestly, no one has a goddamn clue, not even Rihanna herself. At the end of 2018, Rihanna gave fans some hope that a record was on the way after someone straight-up asked her on Instagram when it's dropping. Rih's answer? 2019, which wrapped up two whole months ago with no release from Ms. Fenty.
As hungry as we are for new music, Rih's taking so long to release the album because she simply does not want to rush it. "It really does suck that it can't just come out because I'm working on a really fun one right now," she said to Sarah Paulson in Interview magazine last June. "I'm really happy with a lot of the material we have so far, but I am not going to put it out until it's complete. It makes no sense to rush it, but I want it out. I've gotten to the point where I'm like, 'Even if I don't have the time to shoot videos, I'm going to put an album out.'"
What's R9 going to sound like?
Whenever the album does come, prepare to be transported to the islands, because Rih's cooking up a record full of "reggae-infused" bangers. Her words!
When Rih graced the cover of Vogue in October, she explained that this genre will pretty much always feel like a good choice to her because of her Barbadian roots. "Reggae always feels right to me," she said. "It's in my blood. It doesn't matter how far or long removed I am from that culture or the environment that I grew up in—it never leaves. It's always the same high. Even though I've explored other genres of music, it was time to go back to something that I haven't really homed in on completely for a body of work."
So basically, expect the album to sound like "Work" but with even more reggae!
Rihanna - Work (Explicit) ft. Drake
So, is there a single coming out anytime soon?
Ummm, yes...and no. While there's no official R9 single coming out (that we know of) we will be getting some new Rih in the form of a feature. Rih is featured on PARTYNEXTDOOR's song, "Believe It", which is an absolute BOP.
Who's Rih collaborating with for R9?
Lucky for us, we have a shortlist of names who may have something to do with the album.
Here's who we've got:
Lil Nas X
In Rih's Vogue interview, she said there's a "special collaboration" happening with Lil Nas X that "may not even be with music." Note that she didn't fully deny a music collab.
The-Dream
Okay, this name might not ring a bell at all, but The-Dream is the mastermind behind Rihanna's signature hit "Umbrella." He wrote the song for Rih between late 2006 and 2007, and the great news here is that he's back to help her on R9. He confirmed to Hollywood Life last year that yes, he is "definitely" collaborating with Rihanna for the record!
Haiti Babii
Again, this name might sound unfamiliar, but Haiti Babii went viral in the rap community back in May 2019 for a very unique freestyle he did on California's Real 92.3 radio station.
Haiti Babii Freestyle | Bootleg Kev & DJ Hed
Koffee
Rih's also writing the album with Koffee, according to Haiti Babii. Koffee is a Jamaican reggae artist who is the youngest person ever (and only woman!) to win Best Reggae Album at the Grammys. Of course, this doesn't mean Koffee's presence on R9 is #confirmed, but let's all just be thankful for any scrap of intel we can get, people.
Koffee - Toast (Official Video)
The Neptunes
Rihanna confirmed this collab herself on Instagram Stories: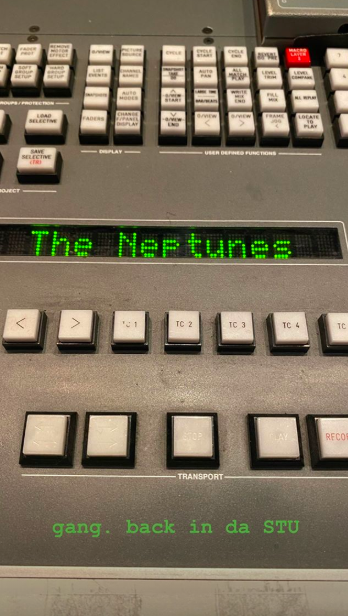 Wondering who TF The Neptunes are? Well, you should start by learning that they've literally produced two of the most iconic songs in history: Britney Spears' "I'm a Slave 4 U" and Nelly's "Hot in Herre." Oh, and they also produced Justin Timberlake's Justified album, which gave us hits like "Rock Your Body" and "Cry Me a River."
Cool, now that you have all that fun info, The Neptunes consist of Pharrell Williams and Chad Hugo, who previously worked with Rih on her collaboration with N.E.R.D. for their song "Lemon." It was, and still is, a bop:
N.E.R.D & Rihanna - Lemon (Official Music Video)
Who isn't Rih collaborating with on R9?
Drake
Sorry, Champagne Papi fans. Rihanna's pretty opposed to collaborating with Drake on this record. Welp, at least that's what she told T magazine back in May. "Not anytime soon, I don't see it happening," she said of a possible Drake assist. "Not on this album, that's for sure."
Lady Gaga
As much as I—and by "I," I mean EVERYONE—would love a Rihanna x Gaga collab, it isn't in the cards either. Apparently, some fans thought Rih and Lady Gaga were working on something together for the album, but Rihanna shot that down in her T magazine interview as well. "Maybe because she followed me on Instagram," she explained. "It's not in the books right now, but I'm not against it."
And that's everything we know about Rihanna's album so far! Until Rih finally gives us a song to temporarily satisfy our R9-related appetites, we're just gonna have to stay mad and remind ourselves of all the things she's given us instead of new music.
***
This article originally appeared on Cosmopolitan.com. Minor edits have been made by the Cosmo.ph editors.
Continue reading below ↓
Recommended Videos