Remember that one time Drake got onstage at the 2016 MTV VMAs to present Rihanna with the Vanguard award? He made that really gushy speech about how she was "someone I've been in love with since I was 22 years old," and the entire speculated (hoped, prayed, crossed fingers) they were dating? Apparently Rihanna was really not into it.
In a recent interview with Vogue, journalist Chioma Nnadi asked RiRi about their friendship, and the singer winced "slightly at the mention of the rapper's name before her eyes glaze[d] over with cool indifference." OUCH.
Rewinding ever so slightly, Drake and Rihanna were really good friends for a while, and when they performed together, they'd do stuff like this, which made people think they were dating: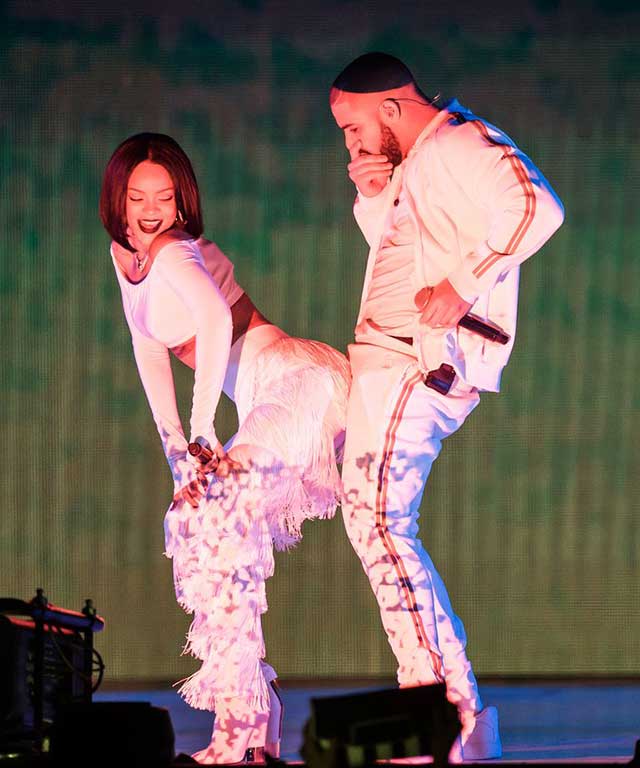 Continue reading below ↓
Recommended Videos
Then, when he gave that speech at the VMAS, people were convinced. He really went for it, saying "she's one of my best friends in the world. All my adult life, I've looked up to her even though she's younger than me. She's a living, breathing legend in our industry." But things took a sharp turn when he went in for a kiss and she very obviously tried to dodge it.
She told Vogue that looking back, the whole thing made her uncomfy. "The VMAs is such a fan-focused awards show, so having that energy around me, and knowing the people who had received the award in the past, made it feel like a big deal," she said. "Waiting through that speech was probably the most uncomfortable part. I don't like too many compliments. I don't like to be put on blast."
After that incident, the rumors died down, and Rihanna started dating billionaire businessman Hassan Jameel, as one does. Now she and Drake aren't even really friends. "We don't have a friendship now, but we're not enemies either. It is what it is," she told the magazine.
As if that wasn't harsh enough news for a Thursday morning, Rihanna concluded with this sentiment: "I used to feel guilty about taking personal time, but I also think I never met someone who was worth it before."
Wow, bummer for Drake. 
Follow Emma on Instagram.
***
This article originally appeared on Cosmopolitan.com. Minor edits have been made by the Cosmo.ph editors.