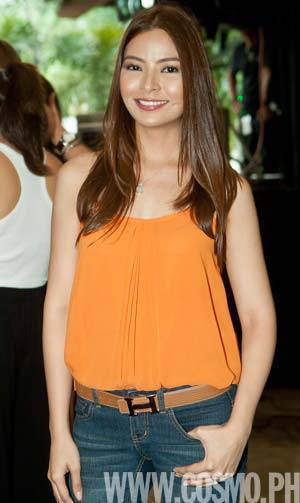 Being a model and beauty columnist, you would think Rissa Mananquil-Trillo would have an intense step-by-step beauty regimen she swears by or a set of strict fashion rules that should never be broken. But for this PMAP model and hip mom, "it's all up to how you want to express your personal style and taste."

Aside from modeling and maintaining a column in a newspaper, Rissa is also a teacher, mom to her 12-year-old son Enzo, a full-time wife, and an ambassador for juice drink brand Smart C+. Being a mom and wife does not hinder Rissa from looking effortlessly fab just like any off-duty model you see in street style photos; she still has that sought-after model form on which any outfit would look good!

In a short interview with Rissa, Cosmo.ph found out her personal style, beauty beliefs, and how she has matured on both counts. Read our interview below to be inspired by this eternally glowing model-mom.


What's your personal style? Do you have a signature look?
I don't think I have a signature look, it's more of what I'm comfortable with. I already know my body, what looks good on me and what doesn't look good on me. You know, there was a time when I loved to experiment, and I'm all for that. It's a way to try different styles, different looks, and that's how you learn in real life what looks good on you, what works for you, and what doesn't.

What's one item that you abuse from your closet?
I'm the type who sticks with a bag for like weeks, and then when I fall in love with a new one, I'll stick to that for a week. I'm not the type who changes her bag every single day.

Who are your fashion icons?
Wow, there are so many women I look up to in this industry. We have our very own local fashion icons, Apples Aberin and Tweetie de Leon.

What is your fashion philosophy?
My fashion philosophy is, at the end of the day, you have to be comfortable with what you're wearing. An outfit has to be comfortable enough for the wearer to forget about it, but fabulous enough for the people to be able to remember it.

For you, what's the biggest fashion no-no?
I think there is no rule today when it comes to fashion. For me, there are no no-nos and to-do's and not-to-do's in fashion. It's all up to how you want to express your personal style and taste.

What fashion trend won't we catch you wearing?
Personally? 'Yung nauso before na cycling shorts na neon. (laughs) I guess that.

What's your beauty regimen?
I try to keep it as simple as possible. It's not about how many products I use. I use a few products but they really, really work.

What's your favorite beauty product?
Pond's Age Miracle and the dual eye cream.

What's one beauty tip you'd love to share to our readers?
The best way to look instantly better, even on a bad hair day or a bad mood day or just simply a bad day, is to put on a smile.

How do you stay fit?
I'm the type of person who has to enjoy the workout I do, and I used to take up a lot of ballet. So I work out at home and in my room, you know try to reminisce and do ballet moves and stretches on my own. I guess also being a mom and running a household is a 24-hour job that keeps me busy.