This post contains spoilers for the Riverdale episode, "Labor Day."

The Riverdale kids are back—both from summer break and the show's summer TV break—and are on the verge of starting their junior year. This, according to narrator Jughead on the season three opener, which fittingly picks things up three months after Archie was arrested for a murder he did not commit. Yes, we're back in the great "war" between Archie and Hiram and right away, things look bleak for dear Archikins. (But at least his abs still look good.)
As narrator Juggie explains, the fab four spent their summer in and out of the courtroom as Archie's case played out. Betty interned with Archie's lawyer mom and (former) Mayor McCoy, Veronica worked at Pop's (because well, she owns it now), and Jughead provided moral support (and summer fashion inspo, which for him consisted of suspenders, long pants, tanks, and of course, his crown beanie). Choni (Cheryl and Toni), meanwhile, skipped town and had an "amazing" three-month adventure across the country on motorcycles, which, good for them!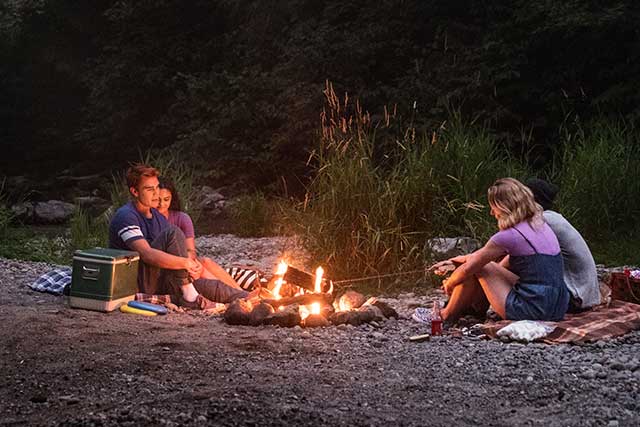 Continue reading below ↓
Recommended Videos
At the Cooper residence, Polly has 100 percent moved back and has introduced Alice to teachings of The Farm, which includes lots of milk oolong tea for all that detoxifying. To borrow Betty's words, The Farm really is a "Heaven's Gate commune for pregnant runaways and wives of serial killers," and the final scene involving the twins (Juniper and Dagwood are super cute right now, but that's not the point) totally backs Betty's observations.
"Labor Day" is a packed episode that tries to get everyone back into the swing of things and offers plenty of twists and turns. But in true Riverdale fashion, you might be left with a few questions and the urgency to binge watch the rest of the season sooner rather than in the long months to come (at a slow, one episode at a time pace). Below, some moments that were straight up confusing and require some explaining, possibly by Jughead over coffee at Pop's? See you there.
1. Is it ethical for Archie's mom to represent him in court? Mary Andrews basically spent her summer in Riverdale trying to prove Archie's innocence (with fellow lawyer Mayor McCoy and their intern Betty) and even gave a few statements in court, but was it the best move? Advising Archie behind the scenes is one thing. Trying to convince the jury of the good characteristics of your client who also happens to be your son is another.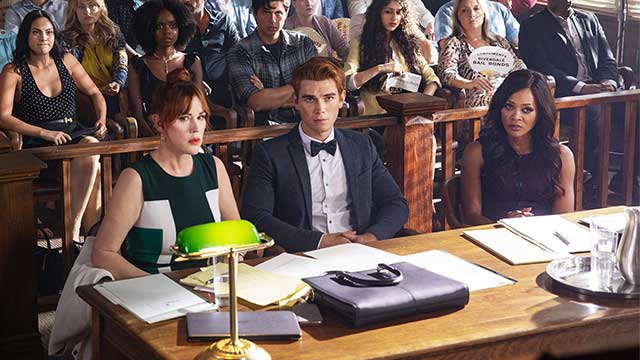 2. Alice is a completely different person. Now that she's involved with The Farm, Alice has ditched her makeup and good clothes for a natural complexion and floral print. Wasn't she wearing Serpent-inspired eyeliner knocking on F.P.'s trailer door a hot minute ago? Is The Farm really that effective? Is Polly?
3. Thornhill is back and has a pool. Cheryl invites pretty much every teen in Riverdale to Thornhill for an end-of-summer party over Labor Day weekend. The great reveal, of course, is that Thornhill, which Cheryl burned down on season one, is suddenly standing again and has a gorgeous pool with all the trimmings. Can mansions really be rebuilt that quickly? And where's Nana Rose? Can someone go get her if she's still at Thistlehouse?
4. The sight of Archie and Reggie's abs. These abs don't make any sense. Did Archie and Reggie spend their summer doing this (throwing a football around and doing a million sit-ups) when Archie was not in court? This is a ridiculous distraction, but the show is 200 percent better because of it. Thank you, KJ Apa and Charles Melton for putting in all those hours at the gym.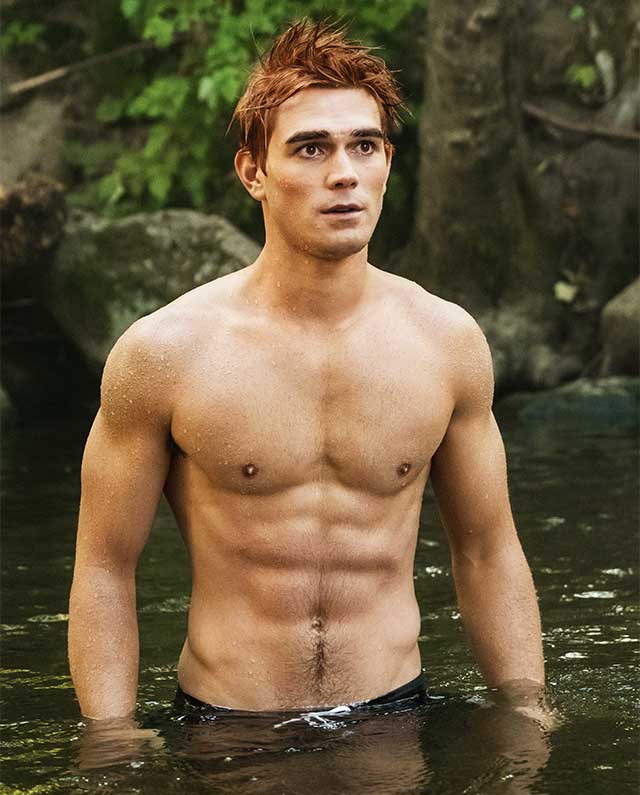 5. Cheryl has a velvet couch by the pool. Of course she does, but think of the potential damage from water splashed about by guests and the oil left behind by all that sunscreen, because these kids know all about SPF, right?
6. "The Serpent queen is a warrior queen, so if you're on the front lines, so am I." I understand why Betty had to fight for her place in the Serpents in their latest mission (to find Hot Dog the dog), but there should be another way to prove her point without saying something that makes one cringe. Later, Jughead serves this equally hair-raising line to his Serpent queen, so things level out I guess: "From now, we're partners, in Serpents, in life, all of it."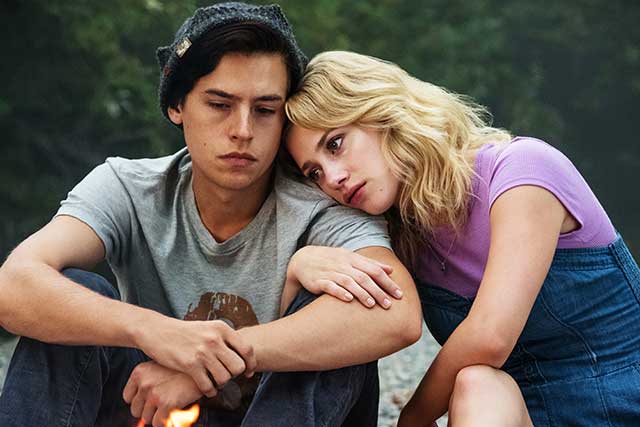 7. Why is Polly so evil? In addition to bringing The Farm to the Cooper residence, Polly does some snooping and discovers that Betty has been lying about seeing a therapist and forging a prescription for Adderall. The worst part? She tells on Betty and further divides Alice from Betty. Is this The Farm's doing or is Polly out for some serious revenge on what happened to her and Jason?
8. Archie pleads guilty despite the jury saying they're undecided and need more time. In classic Archie form, he isn't thinking straight. This is the same guy who started those "circle" vigilante groups on season two, so we shouldn't be surprised with his guilty plea. But what exactly is he cooking up when he can't even physically stand up to Hiram from juvenile detention? Is he going to use his newly-engraved Serpent tattoo to take down his girlfriend's dad? Is he going to sing his way out of this one?
9. Jughead looks for Dilton and Ben with a compass. A compass! Before the episode wraps, the pace goes from zero to 60 thanks to the revelation that Dilton and Ben (the same Ben who was with Miss Grundy the night she died and who "interviewed" Chic for a job at the movie theater) had been playing a board game involving a "Gargoyle King." When Jughead can't find Dilton, he turns to a map left by Dilton and a compass. Not a phone with Google Maps. A good 'ol compass. It's cute and all, that is, until you remember that these kids have been smartphone literate since the beginning, when the "Sticky Maple" debacle played out on season one. I guess a compass is more aesthetically pleasing than a shot of Jughead running around in the dark with the glow of his iPhone!
***
This article originally appeared on Cosmopolitan.com. Minor edits have been made by the Cosmo.ph editors.