By now, you've probably watched—and rewatched—Season 2 of hit zombie series Kingdom. And we're sure Ryu Seung Ryong's performance as the evil chief state councilor Cho Hak-ju both amazed you and made you super mad! I mean...why is he so greedy for power? Why can't he leave Prince Lee Chang alone? 
Here's something that will make you love the actor even more: A fan video of Seung Ryong getting pranked by zombies is circulating on Facebook! During a press conference, Seung Ryong, along with Ju Ji Hoon, Bae Doona, Kingdom scriptwriter Kim Eun Hee, and the show's director Kim Seong Hun, were having their photos taken with a sword and a huge Kingdom-inspired zombie cake. 
As they were asked to look at the cameras, "zombies" began creeping up behind them! Ji Hoon pretended to fight a zombie with the sword prop, but the real star of the video is Seung Ryong, who yelled in fright and appeared to be totally shocked to discover a zombie right next to him. 
The video's caption hilariously describes the situation, saying, "Yung ikaw yung kontrabida pero ikaw pa yung natakot."
Watch the vid here: 
Continue reading below ↓
Recommended Videos
In an interview with Cosmo.ph and other members of the press, Seung Ryong talked about his character, saying:
"Evil characters like Jo Hak-ju, as I said before, is not absolutely evil. There are reasons, at least for him, for what he is doing. He gives a certain sense of legitimacy to all of the things that he does. So that is something that's unique about him compared to other [villains]. And I do think that if I were to find something [to admire] about him, it would be the charisma that he used to really get to where he is in the story."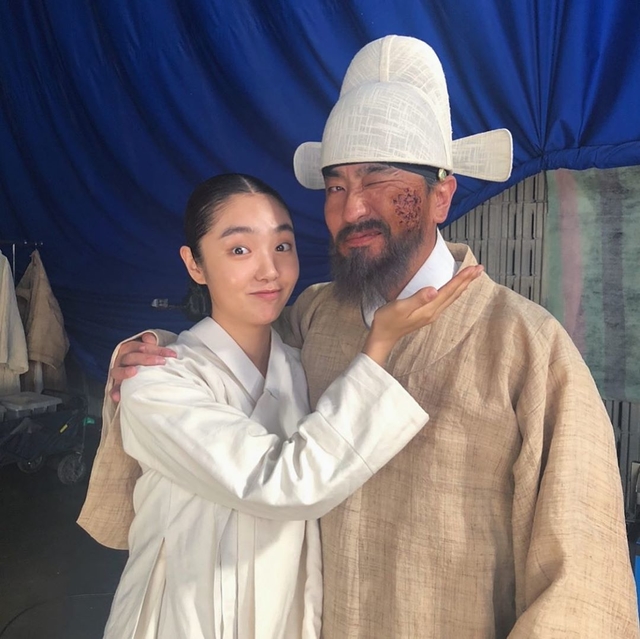 Kingdom's first season was released in January 2019. In Season 2, Prince Lee Chang continues to fight zombies while trying to take back control of his kingdom from the *evil* Cho clan. Meanwhile, Seo-bi, a physician, tries to get to the bottom of the plague and find a cure! 
***
We are officially on Viber! Be part of the Cosmo Viber Community by clicking here! You can also visit the Sticker Market and download the "Cosmo Girl Sticker Set" here to be automatically part of the group. The stickers will only be available until April 27, so don't miss out on the fun!
Follow Lily on Instagram.