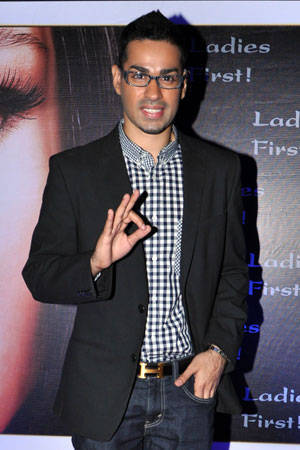 Since it's Men, Men, Men month here at Cosmo, we want to do more than just let you feast on a sumptuous boyfriend buffet. We're taking this chance to shed light on some of the issues that seriously baffle us about boykind. And who better to ask than Boys' Night Out radio DJ and self-proclaimed soldier of love, Sam YG?

Sam gamely entertained our questions moments before hosting Ladies First! at Buddha-Bar Manila. Some of his answers will have you nodding your head in realization, while some will have you gasping, "That bastard!" as you recall the last dude who pulled these cheap moves on you. 

Without further ado, here's what Sam YG says it really means when...

...after a date he says he'll call but he never does.

He's not interested. If he calls after a few days, maybe he's playing some mind games and being pa-hard to get. But if he never calls, flat out he's not interested.

...he says you're beautiful, but he keeps checking other girls out.

Guys will be guys. We'll still check out beautiful women, even when we say that you're beautiful or hot. It's just human nature that when a hot girl walks by, guys will probably look. Our eyes are magnetized. May magnet 'yan eh.

...the sex is great but he still watches porn.

It's more like a fantasy lang. It's not really comparing the girl to what he sees in porn. It's more of comparing notes. "Oh, what's he doing that I'm not doing? Bakit ang galing nito? Bakit siya naging porn star? Gusto ko ring maging ganyan!" Or wala, he just wants to see something different, which is better than cheating diba? Nood na lang siya ng porn."

...he starts naming your children.

Oooh. That means you're not in the friend zone. You're in the pang-seryoso zone already, girlaloo! Eighty percent it's that. Twenty percent he's just a sweet talker. Yeah, some guys will actually do that to make you feel like you're the only woman in the world. So I wouldn't say one hundred percent seryoso yung guy. There's a twenty percent possibility na he's playing mind games.

...he breaks up with you through text.

(Silence) That's a walang kwenta kinda guy right there! You only do that in really extreme cases. Kunwari mamamatay ka na. Text mo, "Okay I'm dying, break na tayo." But have the decency to at least tell the person, diba? You don't have to give a reason if you don't want to. But if you can start something properly, have the decency to end it properly.

...your ex checks up on you every now and then even when you're already with different people.

He's the malanding ex! Ingat ka diyan! Pag nakakita ng opening 'yan, yari ka girlie! Kasi si ex alam niyang may advantage siya eh. He kinda knows how to tickle your fancy to a certain extent. So there's always that chance that he'll ask for one more try. It's a 50-50 for me. But a lot of exes are really good friends. They can maintain good ties. I think a purely platonic friendship is a good thing. Pero malamang pag naiwan kayong dalawa, magbi-build up 'yung tension niyan. Ingat kayo.
ADVERTISMENT - CONTINUE READING BELOW ↓
ADVERTISMENT - CONTINUE READING BELOW ↓
Recommended Videos
EXPLORE COSMO