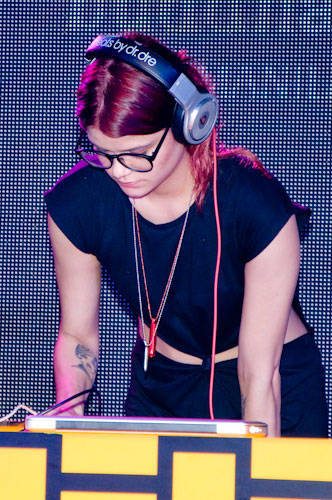 Few things are sexier than a female DJ. She steps up and takes charge of the party without a word, letting her cool aura, bold fashion statement, and intoxicating beats do the talking.
We've got two words for you: Sanya Smith. This model-slash-DJ, one-third of the DJ trio The Zombettes, is quirky, confident, and not afraid go crazy.

Proof of Sanya's spunk is her devil-may-care attitude when it comes to dressing. From playing with wigs to partying it down in sneakers at even the classiest of clubs (while more meticulous clubbers suffer silently in five-inch heels), this woman oozes with sartorial cool every time she takes the stage.
ADVERTISMENT - CONTINUE READING BELOW ↓
We caught up with Sanya at Buddha-Bar Manila's Ladies First! to see what's behind her unique sense of style. Read on to see how much of a fashion rock star Sanya is!

Describe your personal style.
Personally, I believe fashion should have no rules. There shouldn't be a right or wrong because its a form of self-expression. And I love to express myself!
I dress depending on what I'll be doing on that particular day, the weather, etc. A lot of my personality goes into what I wear. And since my mood is always changing, so does my style. Edgy, relaxed, glammed up, glammed down, rock n' roll--my world is pretty topsy-turvy. One word--schizophrenic!
Who are your style icons?
I love Katy Perry, she's absolutely NUTS! She's like a bubblegum version of Lady Gaga, whom I also admire. I wish I could pull off a bra made out of candy canes and rockets.
I also love the way Pauline Prieto, my fellow G Star Raw brand ambassador, is able to throw on whatever and look like she just stepped out of the 90s. I love the 90s. I would do anything to go back to that era of Lisa Frank and Reeboks.
You have such a unique style. Where do you shop to pull your looks?
I don't shop much, really. I'm such a boy like that. But when I do, I'll find stuff everywhere, from Topshop to the little boutique at the end of the street that no one really notices. I love ukay-ukay. It's a treasure trove! I found a pair of Underground England boots for P300 one time. It would have normally set me back around P6,000 to P7,000 if I got them online. I wore them for a good six years until they wore out.
How does being a DJ influence your fashion sense?
I believe image plays a very important role in music. It throws the whole thing together. I'm not saying your look defines how talented a musician or DJ you are. It's more like the outer shell supports what's already there inside that person.
Take Ozzy Osbourne, for example. The guy looks like one of Hell's rejects. But that is also what he is known for--being the Prince of Darkness and all. 
ADVERTISMENT - CONTINUE READING BELOW ↓
When I play at a club or event I sort of have a different persona. She's SaNINJA. She's a platinum-haired party princess that enjoys a Vodka Red Bull and doesn't take any requests from anyone. Haha! Just kidding. It's different everytime. I love messing around with wigs and things that make people go 
"Whoa! What the hell is that girl doing!?"
What style tips would you have for Cosmo girls when they go clubbing?
Clubbing? I don't know, really. I'm not sure I'm the best person to give advice on the topic of club fashion. I've shown up at Republiq wearing sneakers and a hoodie countless times. I like to be comfortable when I know I'm about to get plastered.