You guys, we've got another celeb wedding to look forward to, because longtime couple Sarah Geronimo and Matteo Guidicelli are officially engaged! We know you're curious, so here's an account of how their adorbs love story started. 
Early 2013: They are ~reintroduced~ by Billy Crawford.
In a September 2016 interview for YES! Magazine, Matteo revealed that he's always had a huge crush on Sarah. After his 2012 breakup with Maja Salvador, Matteo "found the courage to truly get to know her". He shared: "I called Billy and I said, 'Introduce me to Sarah, introduce me to her.'" Matteo even went to see Sarah's show in Batangas, where he lined up with her fans for a meet and greet + a photo! 
September 2013: They ~secretly~ become a couple. 
It's common knowledge that Matteo and Sarah normally celebrate their anniv every September! They went to Cebu in 2016 for their third-year anniversary celebration and visited Europe for their fifth in 2018. However, they were super low-key about it in 2013 and chose not to announce it to the world. 
March 2014: The two are spotted holding hands in public. 
Although the couple tried to keep their relationship a secret, Sarah and Matteo were spotted together during several gatherings, and this photo from Ogie Diaz even shows them holding hands: 
ADVERTISMENT - CONTINUE READING BELOW ↓
June 17, 2014: Matteo talks about *dating* Sarah.
Whenever they go out with friends, Matteo shared that they need to ask permission from Sarah's parents first, and that he doesn't mind doing it. "As long as we respect the parents, that's the most important thing. And to not do anything outside, not to do anything rude."
June 19, 2014: Sarah confirms that she's in a relationship with Matteo. 
"Sige sasabihin ko na po, boyfriend ko na po si Matteo," Sarah said during an interview. She added that her term of endearment for Matteo is "mahal!" 
April 2015: Sarah reveals that her parents are "more accepting and understanding" of their relationship.  
Speaking to Inquirer, Sarah said: "It's important that people around me are also happy for me. That is also Matt's wish…We wish for love, understanding, and acceptance from both our families." 

January 2016: Matteo talks about gaining the approval of Sarah's parents. 
During Matteo's guesting on Krist TV, Kris Aquino mentioned how Sarah's parents originally ~didn't approve~ of Matteo for their daughter, but Sarah stood her ground and defended him! Matteo said that he prayed a lot about the relationship and that he was very proud of Sarah. 
September 29, 2018: The couple makes a rare public appearance at the ABS-CBN Ball. 
Fans of the AshMatt couple were certainly gushing. So were we! 
November 7, 2018: Matteo posts a MEANINGFUL photo with Sarah and his little brother Paolo.  
This particular IG snap was posted exactly one year before their official engagement announcement, and fans think that this was when Matteo actually proposed!
More proof: Matteo's brother has revealed on Instagram Stories that the couple has been engaged for a WHOLE YEAR and they just didn't tell anyone about it. 
February 2019: Rumors that Matteo already proposed to Sarah surface. 
Photos of Sarah wearing what seemed to be a diamond engagement ring made its rounds, but Matteo denied that he'd already proposed. In an interview with PEP, the actor said while laughing: "No, no. It's [the ring] too small!"  
ADVERTISMENT - CONTINUE READING BELOW ↓
July 2019: Matteo says that he and Sarah *sometimes* talk about marriage. 
During his interview for Tonight With Boy Abunda, Matteo said: "Sometimes [talking about marriage] steeps here and there...Siyempre, we've been together for a few years now." When pressed about their plans, he even joked, "Tito Boy, talk to Sarah." 
November 7, 2019: The couple formally announces their engagement. 
Matteo posted Instagram photos with Sarah, where we see the pop star with a ring! It's definitely legit this time. "I love you, my love, now and forever," Matteo wrote. Congratulatory messages from friends, family, and fans flooded in. 
Matteo also posted a throwback photo of the two of them: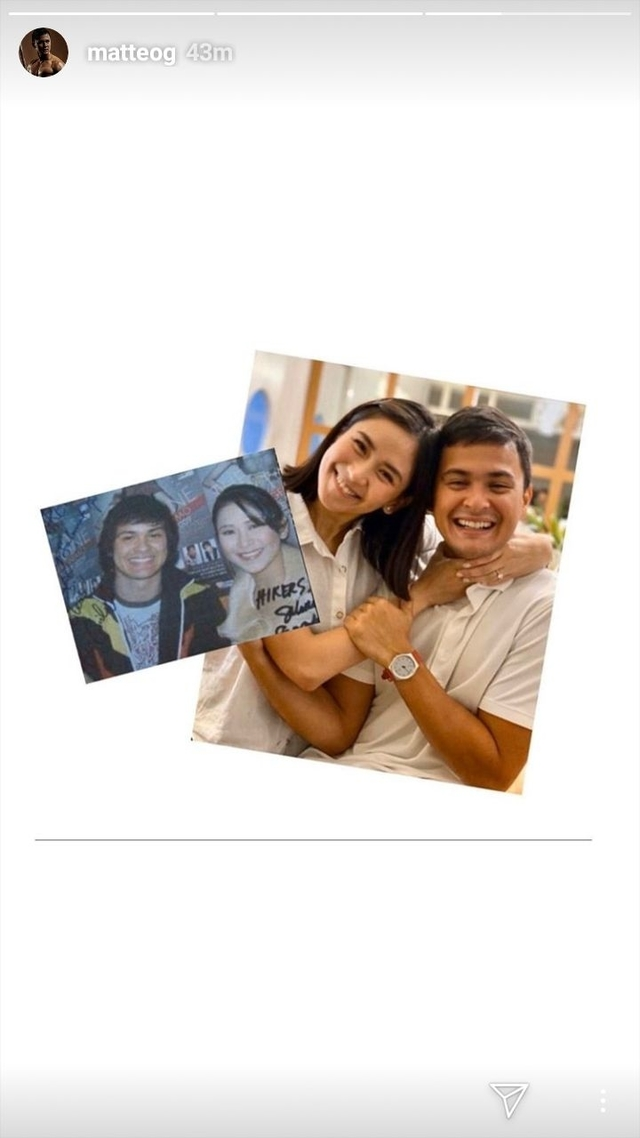 We can't wait for the wedding! 
Follow Lily on Instagram.