IT WAS HOT, HOT, HOT.
I wish I had better words to describe how Be The Sun In Manila had been, but these words are all I can think of. It's been a week and a day since that SEVENTEEN concert weekend, and I'm still stuck in this withdrawal of epic proportions. I hope that recounting my experience would somehow ease my longing for the boys. I miss them so much.
Oh my!
If I'm being honest, I didn't see myself getting into SEVENTEEN. I mean, the boys had been around since 2015 and I managed to not get caught in their crosshairs for a good seven years. Coincidentally, just this year, I had been told by my friends, Cindy and Hanna, to check them out. I said I would, but it's one of those things you add to your life's "To-Do List," hoping you'll get around to it someday.
ADVERTISMENT - CONTINUE READING BELOW ↓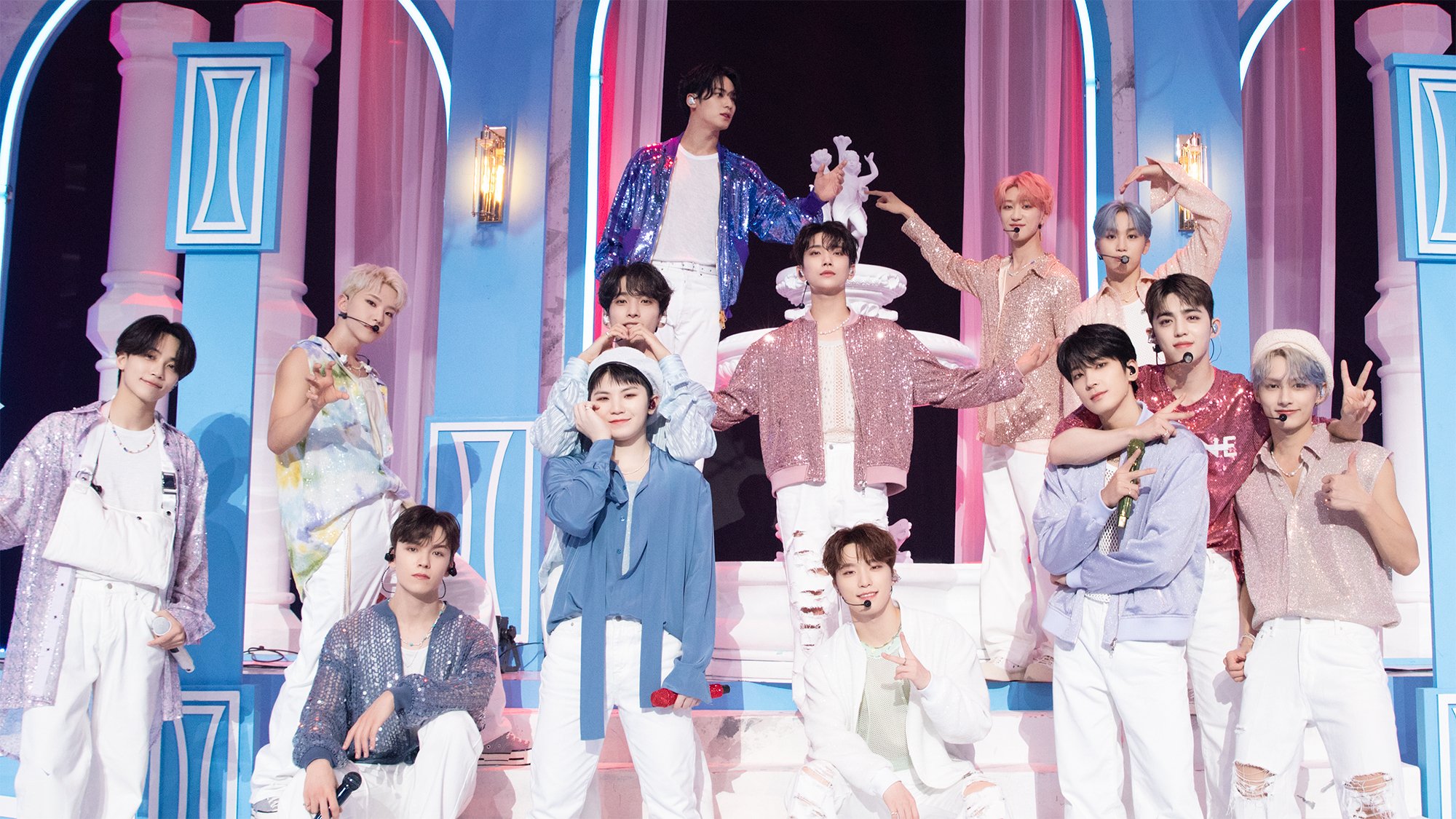 Until YouTube's algorithm slapped me with a video of Mingyu dancing to "HOT" during a Music Bank performance back in May. Initially, it was curiosity: "Who is this handsome human being I'm looking at?" But then it moved to, "Ugh, I'm loving this song!" And, not too long after, I was messaging Hanna and asking her what variety show to watch if I wanted to see more of SEVENTEEN.
May 2022 wasn't the month I hoped it would be, so I was looking for a picker-upper, a mood booster. The universe gave me 13 members, three sub-units, and a long list of discography I was only eager to dive deeper into.
Going SEVENTEEN
I was fully content in consuming the SEVENTEEN content I can find online. About a month after, I think I've watched all the "HOT" performances and have started the binge on season one of Going SEVENTEEN. So when they announced back in June that they will be coming to Manila, I was frantic! My heart was saying "go," but my mind couldn't justify it. I mean, I've been a fan of other K-pop groups for far longer, but I wasn't this compelled to go to their concerts.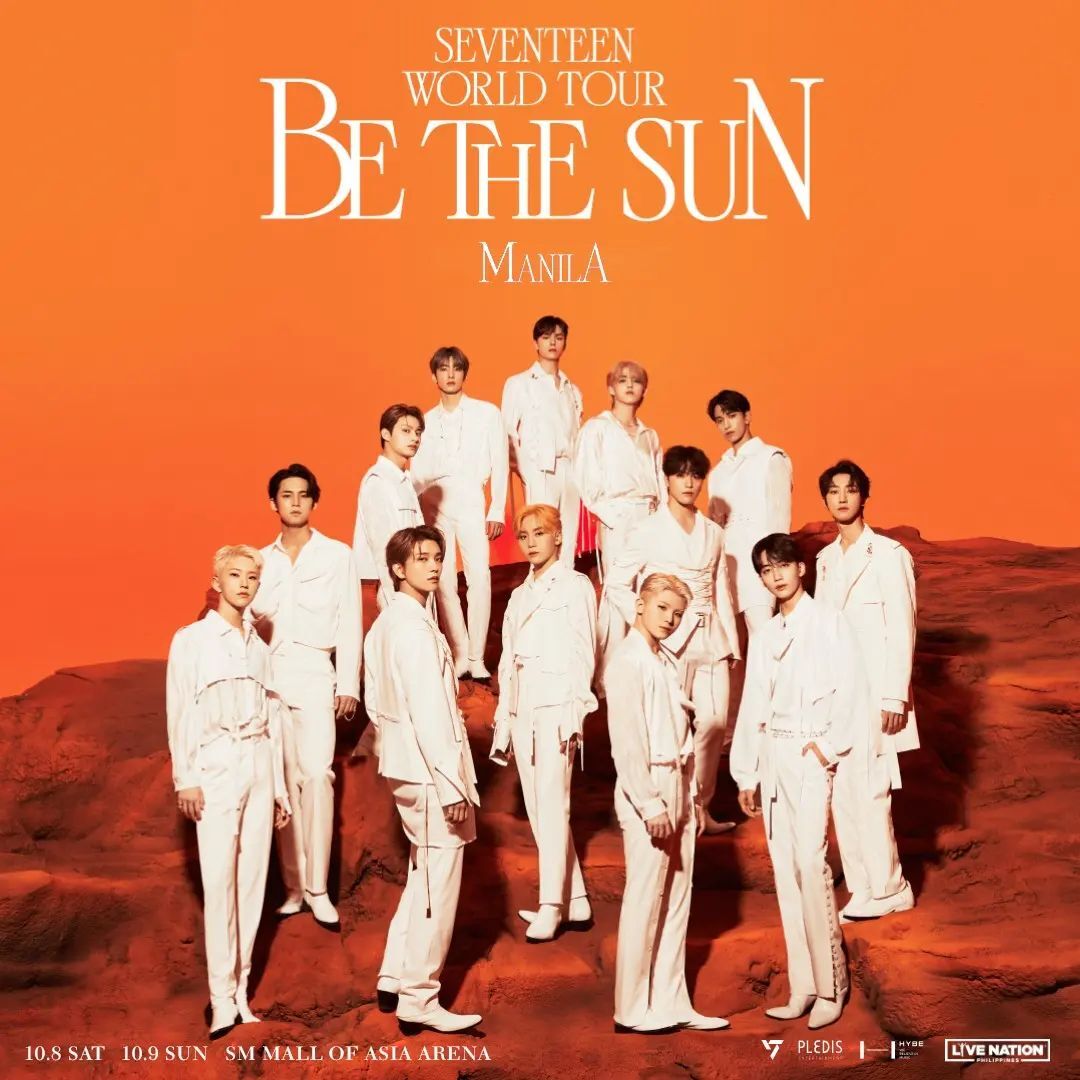 ADVERTISMENT - CONTINUE READING BELOW ↓
I'd like to think it's because of the way SEVENTEEN made me feel when the things happening around me weren't so great. It's the comfort they offered. It's the joy their songs brought me. I wanted to feel this live. I wanted to be there and thank them for coming at a time when I needed them.
Plus I have one enabler friend (Hi, Cindy!) who said we can buy tickets during pre-selling since she's a Carat member. My attendance at the concert was basically locked and loaded. All that was left was to pull the trigger.
Mansae
Prior to the pre-selling event, Cindy and I were strategizing because good gosh, I didn't realize buying tickets for K-pop concerts today was so intense! Gone were the days when you'd log on to the portal, buy the tickets you want, then log out. Now, there's register here, register there, queue here, then there, then wait for the selling to finally begin. Cindy and I were both anxious on the days leading up to the pre-selling date. To get the tickets that we want, we knew we both had to have a good queuing number.
ADVERTISMENT - CONTINUE READING BELOW ↓
And we did! We were lucky to get low queuing numbers. Cindy was able to secure two VIP Standing tickets for us on Day 2 of the concert! They cost an arm and a leg, but the joy of knowing we're going to see them here in Manila was already worth it. I was playing "Mansae" the entire day in celebration.
Heaven's cloud
The days between buying the ticket and the actual concert seemed so far away, especially with the boys embarking on a tour of North America first. To get by, I had been listening to the Be The Sun In Seoul playlist, which one fan nicely made on Spotify. I would listen to it every day so come d-day, I already know the songs by heart.
During their North America leg, I was also worried that they wouldn't be complete in Manila. That was because Mingyu, Dino, Hoshi, and Joshua contracted COVID and had to miss out on a couple of stops. But once they recovered, it was as if they didn't get it at all. From the fancams, the four of them were performing like there was no tomorrow. Their energies were still at full blast. They managed to finish their North American tour and started the Asia leg soon after, and that was when it started dawning on me: I'm finally seeing them soon!
ADVERTISMENT - CONTINUE READING BELOW ↓
First, it was Jakarta, then it was Bangkok, and then suddenly it's October 7. I woke up to pictures of them at Incheon Airport and en route to Manila. It only felt too real when I saw videos of them walking in NAIA, with Joshua leading the pack.
You make my day
The number of people outside the SM Mall of Asia Arena on Day 2 was just insane, you'd think the concert was only going to happen that day! Lots of fans flocked to be with their fellow Carats, reveling in this experience that almost everyone last felt in February of 2020. It was hot and humid outside, but no one cared. The air was filled with excitement and I couldn't believe I was only counting down the hours until I saw them right in front of me.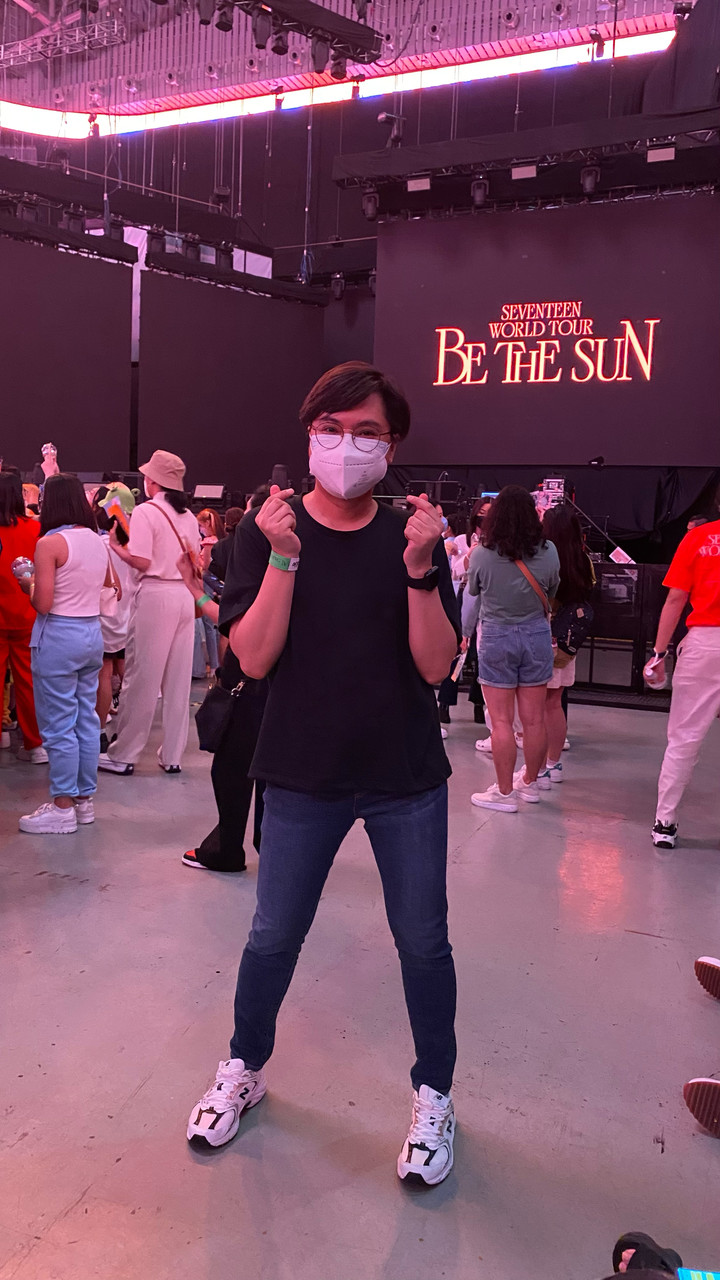 ADVERTISMENT - CONTINUE READING BELOW ↓
As fans slowly filled out the venue, the familiar non-stop singing along also ensued. This was a scene I hadn't seen in almost three years! Every time a new song played on the screens, fans were only too eager to sing along, even shouting thunderously when their biases came on screen. Lights from the carat bongs also illuminated the venue and it was truly a sight to behold. A couple of minutes past seven in the evening, when the last MV played and the place was reduced to darkness, the screams only grew louder. The triangular screens on the center were finally raised, and all 13 members finally came to view. It's showtime!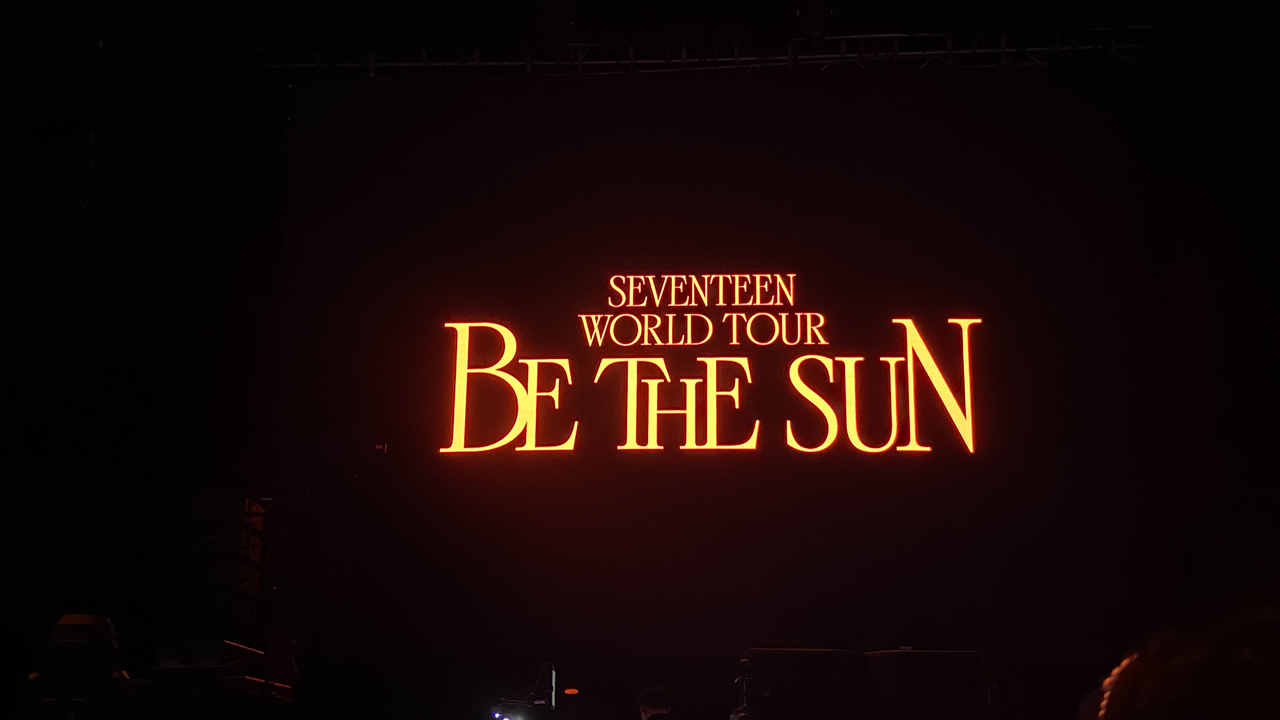 ADVERTISMENT - CONTINUE READING BELOW ↓
Hot
SEVENTEEN kicked off Day 2 of Be The Sun In Manila with one of their latest hits, "HOT." It was a high-octane performance that rocked my world—literally and figuratively! The pounding speakers and the deafening screams shook the entire SM Mall of Asia Arena. The pyrotechnics also blew hot fumes making it an entirely 3D experience. The boys immediately followed it up with two other songs that upped the ante: "March" and "HIT."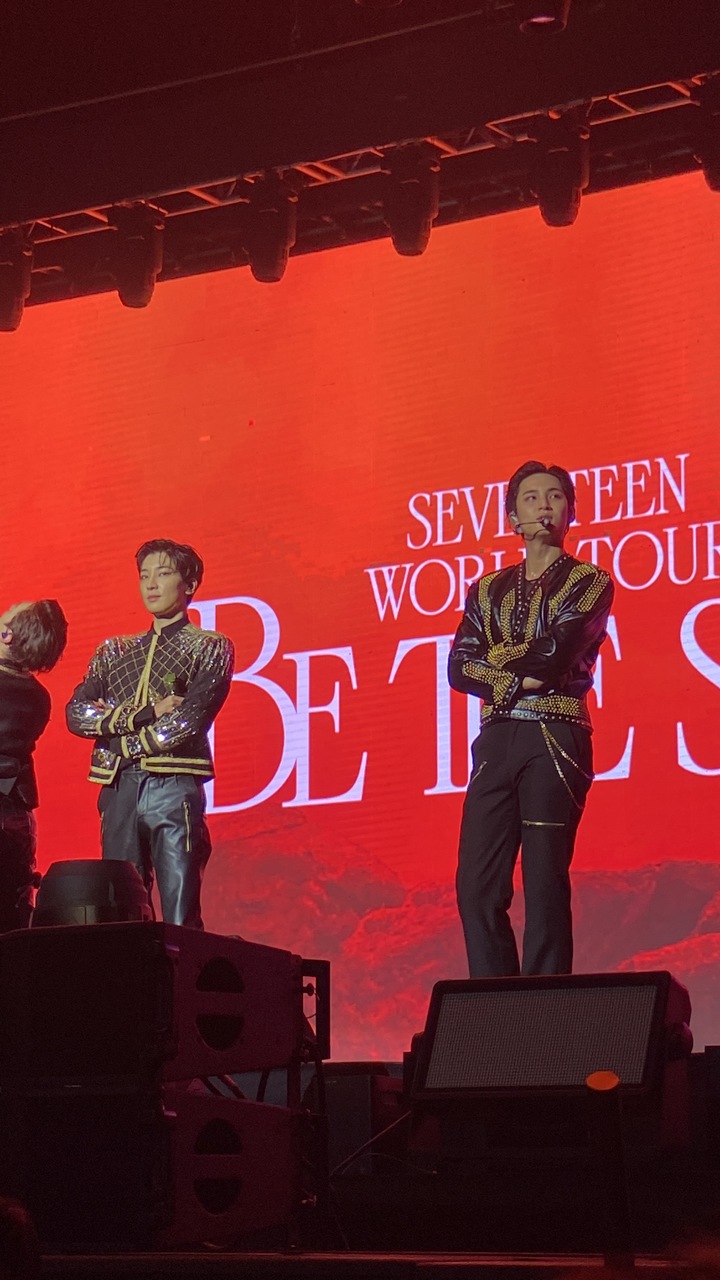 ADVERTISMENT - CONTINUE READING BELOW ↓
Afterward, the boys took turns greeting their Filipino fans hello. "Long time no see," Hoshi shouted. "Manila's energy is no joke. You guys are crazy," he continued.
"Let's relieve the stress, both ours and yours, tonight," leader S.Coups encouraged everyone in attendance that night.
"Let's have a good time tonight. Salamat po," came Woozi's wishes for the rest of the evening.
"Na-miss ko kayo," DK, the last one to introduce himself, told the fans before they launched into their fourth song of the night, "Rock With You."
Boys be
Joshua and Vernon kicked off the unit performances with the all-English track, "2 Minus 1," which is a song from their mini-album, Attaca. Toning the energy down a bit were the svelte and elegant performances of "Moonwalker" and "Wave" from the group's Performance Unit: Hoshi, Jun, The8, and Dino.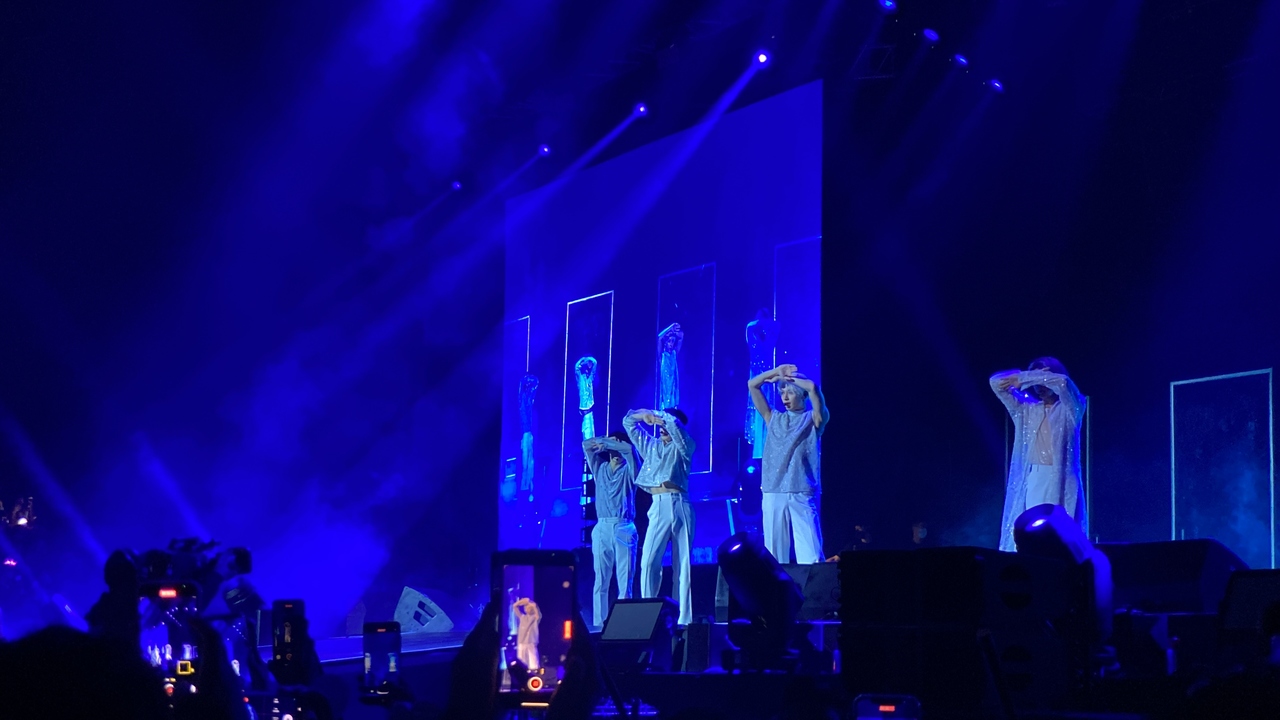 ADVERTISMENT - CONTINUE READING BELOW ↓
The Vocal Unit, composed of Jeonghan, Seungkwan, Woozi, DK, and Joshua continued to serenade the crowd with "Come to Me." Perhaps one of my favorite performances of the night was when they sang "Imperfect Love," which they performed with so much heart. It was made even better because they allowed their Manila Carats to sing along with them. It was both a sight and a sound to behold.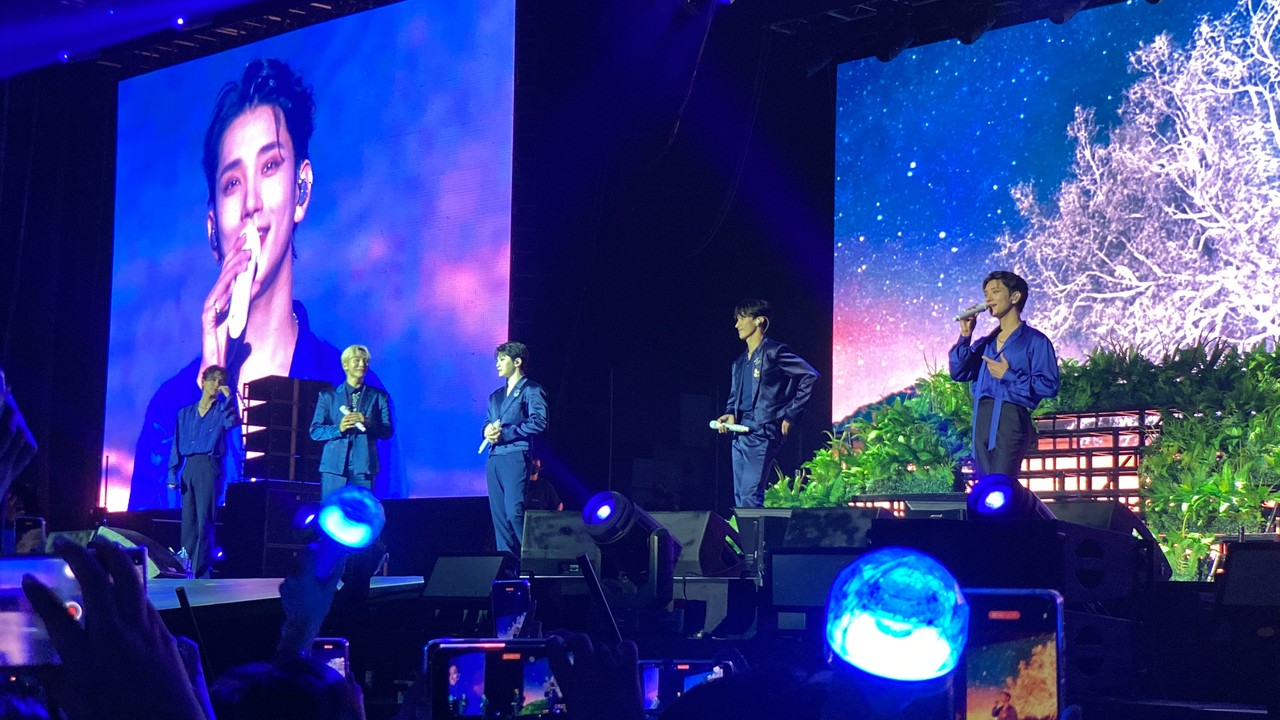 ADVERTISMENT - CONTINUE READING BELOW ↓
Last of the unit performances, S.Coups, Wonwoo, Mingyu, and Vernon of the Hip-Hop Unit once again brought the energy up with "GAM3 BO1" and "Back It Up"! Afterward, the lively performances kept on coming through. All 13 boys reunited on stage to perform their oldie-but-good hits, "Mansae," "Left & Right," and the crowd-favorite, "Very Nice." It was also a chance for the boys to have fun on stage who, I noticed, never seemed to run out of energy.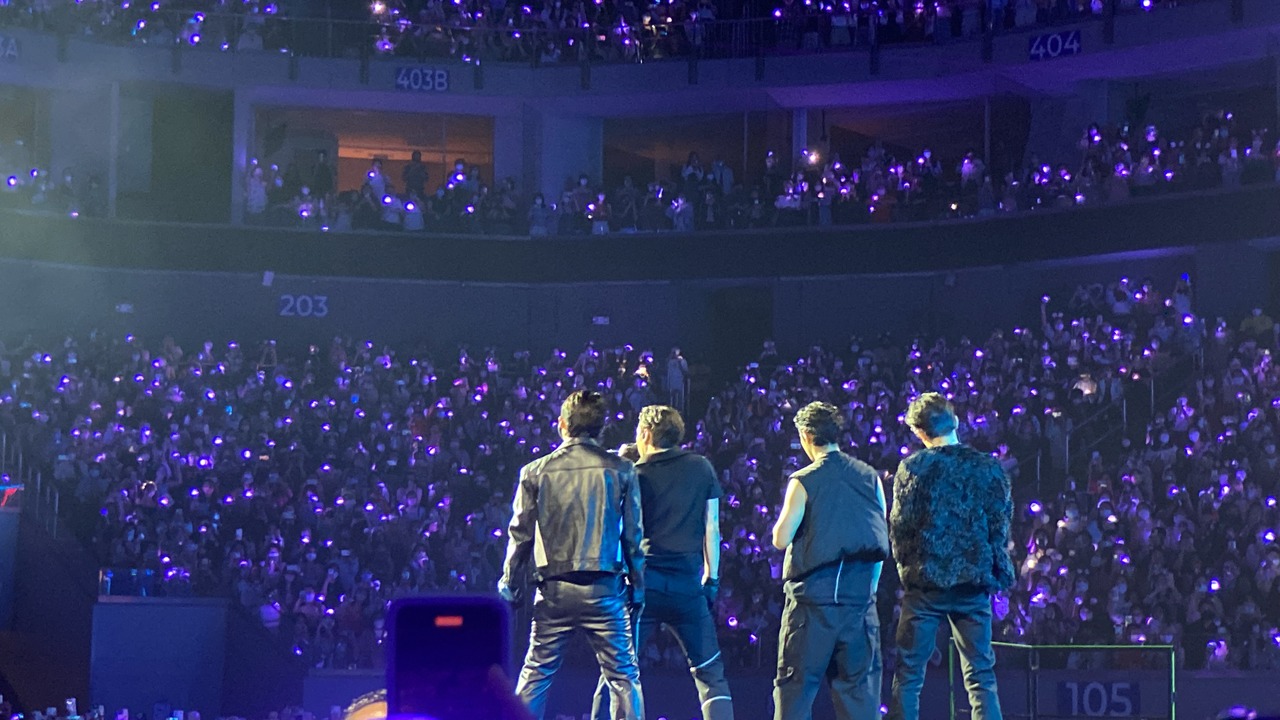 ADVERTISMENT - CONTINUE READING BELOW ↓
SEVENTEEN also performed "Shadow" and "Crush" before once again taking turns talking to the crowd. At this point, they all had fun with the autotune mic and played with it, one member after the other. Hoshi performed G-Dragon's "Heartbreaker." Joshua sang Whitney Houston's "I Will Always Love You." Wonwoo also joined in on the fun with his rendition of Super Junior's "Sorry Sorry."
After having fun with the autotune mic, Hoshi sort of gave everyone a scare when he told us that Wonwoo has news to share. "It's very sad to say, but the next song is the last song," Wonwoo revealed, and OMG you can just imagine my relief. I thought he was going to say something else! They got me there. With that, the boys launched into their last song of the night, "_WORLD."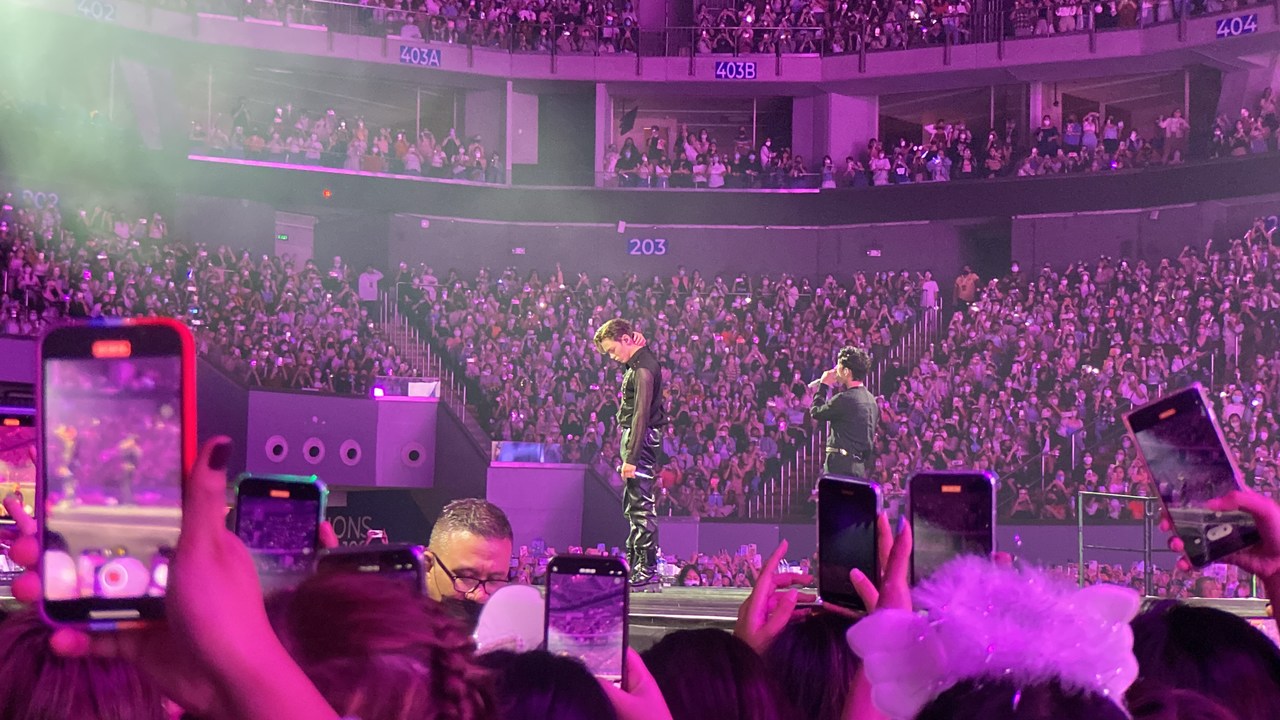 ADVERTISMENT - CONTINUE READING BELOW ↓
Happy ending
Of course, that's not the last song of the night. After playing a VCR, the boys were back on stage to perform another one of their all-English tracks, "Darl+ing." They also performed "Our Dawn Is Hotter Than Day" before bidding their Manila Carats one last goodbye.
"I was really happy to be performing for two days in Manila. I will never forget this good memory. I love you, everyone," said Mingyu.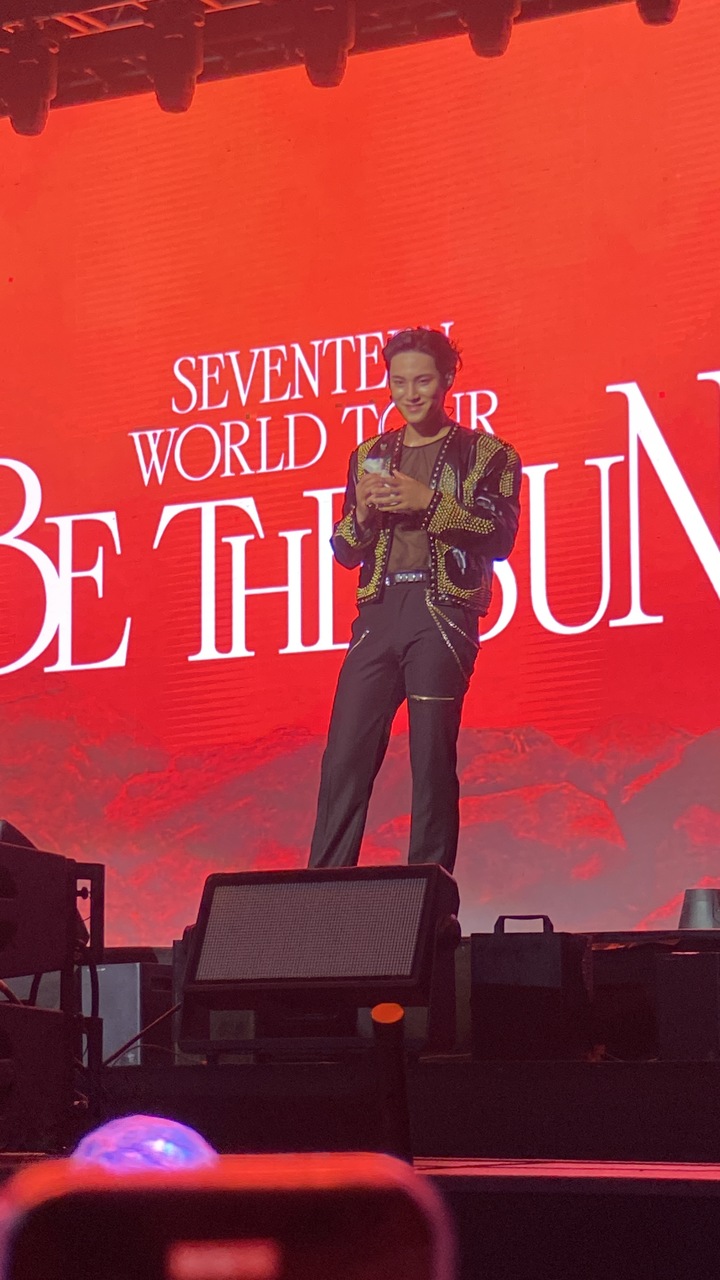 ADVERTISMENT - CONTINUE READING BELOW ↓
"Masaya ba kayo? I really had fun because you guys were so energetic. We'll come back soon, okay? Mahal ko kayo," said Jeonghan.
"I just like the overall chemistry and connection we had today. We'll definitely be back. Love you, guys," said Joshua.
"We're having a good memory because of the Carats. We're coming back soon, so please stay healthy and please stay happy," said Wonwoo.
"I had so much fun for two days. I'm actually feeling sorry because I couldn't come the last time. I hope you guys had fun. I'll come back soon. Mahal ko kayo," said S.Coups.
"Thank you for having a happy time with us for two days. I hope you guys stay healthy until we come back, okay?" said The8.
"Thank you for coming and enjoying the show. Babalik kami ulit," said DK before asking the crowd one last time, "Gwapo ba ako?"
"We had an amazing time. We're gonna miss you, and we can't wait to come back. Mahal ko kayo," said Vernon.
ADVERTISMENT - CONTINUE READING BELOW ↓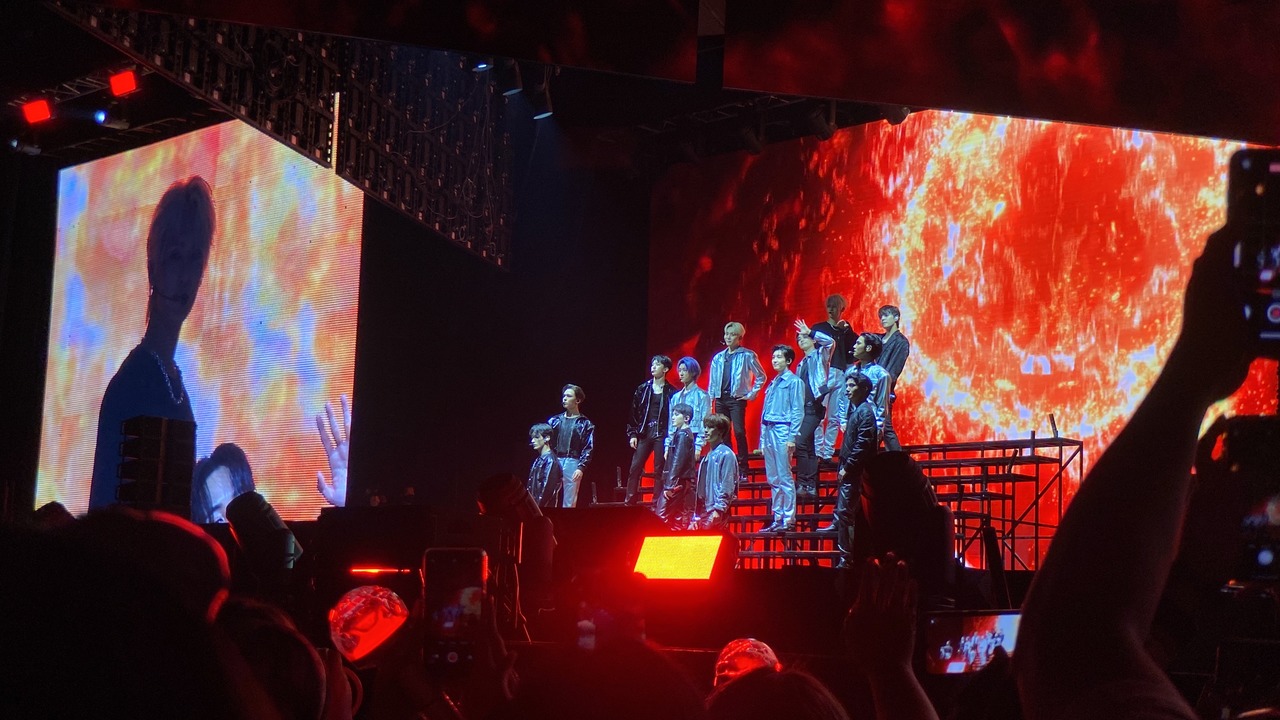 "I'm so lucky that I can be loved even here in Manila. I love your voices, and all your decorations are all so pretty. Please take care until we come back," said Jun.
"Because we cannot see each other often, these kinds of days are important to me as well. I hope you guys will bring all the good memories you had today. Mahal ko kayo," said Seungkwan.
ADVERTISMENT - CONTINUE READING BELOW ↓
"Masaya ba kayo? Magkita tayo ulit. Babalik kami ulit. Masaya ako. Mahal ko kayo," said Woozi in Filipino.
"I really love you for all the love that you gave us. We'll be coming back, so I hope you guys come back just like this in our concert today too. See you, Carats. Bye! I love you," said Dino.
"Thank you for the love that you sent us during the time that we cannot be together. Mahal ko kayo. Horanghae!" said Hoshi.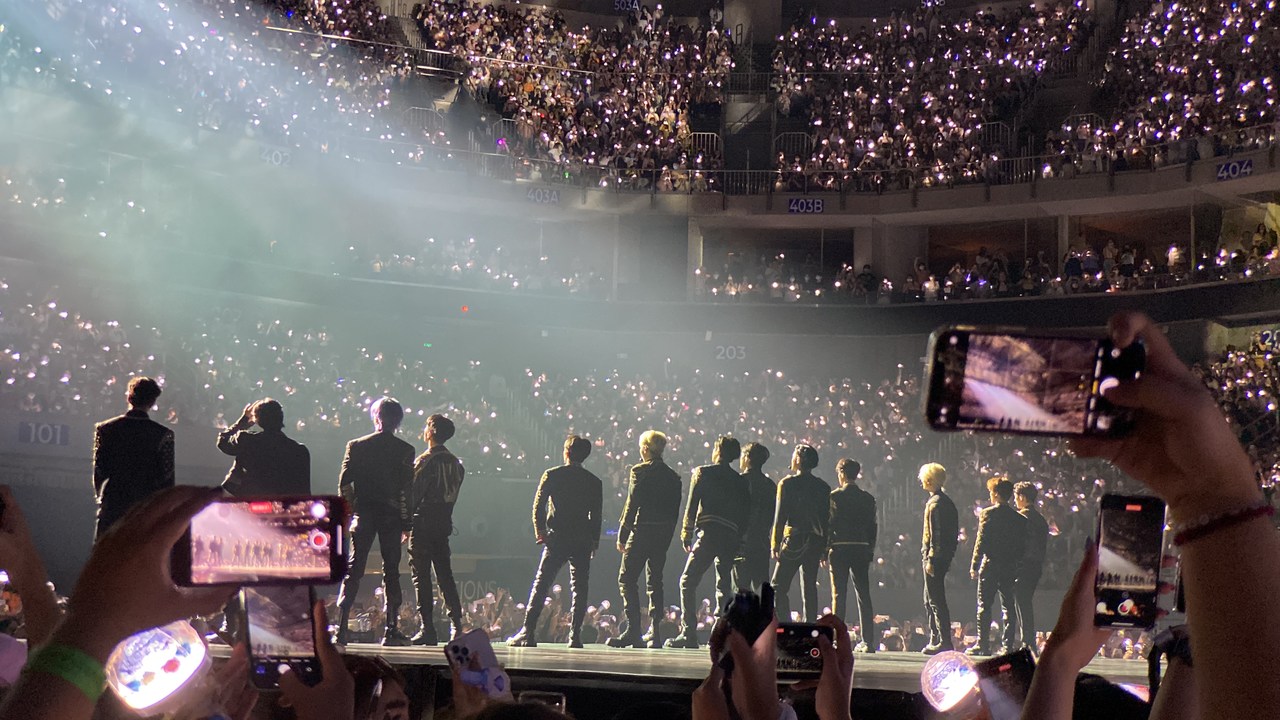 ADVERTISMENT - CONTINUE READING BELOW ↓
Seventeen performed "Snap Shoot" next, where lucky fans, including a Pizza Carat, got to dance along with the boys. And just like any SEVENTEEN concert, the boys ended the night with the never-ending "Very Nice." The members insisted that we drop all our phones and just dance along with them. At one point, S.Coups even told us that they'll end the show early since everyone was still on their phones. Honestly, it was a wake-up call I didn't know I needed. After that, I stopped capturing things on video and just jumped and danced until the very last notes of "Very Nice" faded away.
The members were back in the middle of the stage, the very same spot where they started the evening just a couple of hours ago that evening. They bowed to the Manila crowd for one last time before the triangle screens finally hid them all from view. The concert I had been anticipating for months had finally ended.
ADVERTISMENT - CONTINUE READING BELOW ↓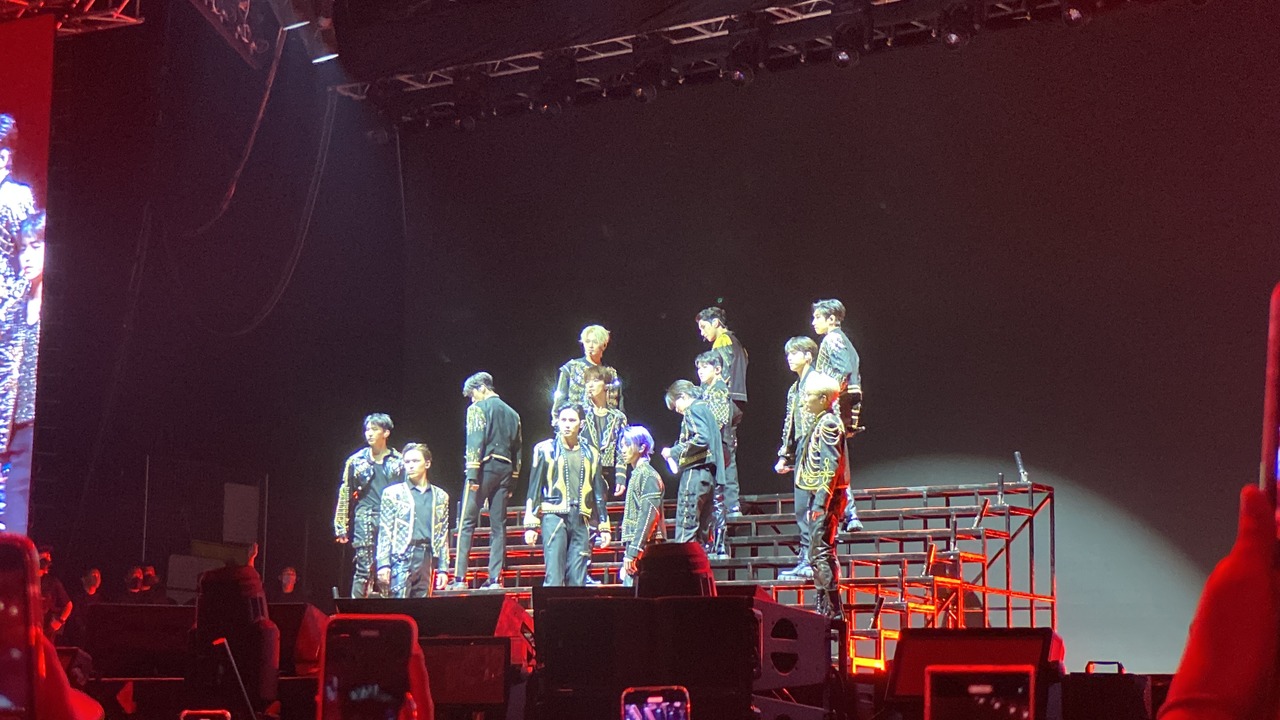 It was my first time being in a crowd of this proportion again. Honestly, it was frightening because COVID-19 is still pretty much alive and kicking. But all the inhibition melted away when SEVENTEEN finally took the stage and performed songs that nursed my broken heart and spirit. It was a night I will never forget. It was also the night that I promised myself that I will see SEVENTEEN again, someday soon, be it here or abroad.
ADVERTISMENT - CONTINUE READING BELOW ↓
MORE FANGIRL STORIES HERE:
I *Finally* Met My Ultimate Bias B.I And It Was The Happiest Day Of My Fangirl Life
I Went To BTS' Manila Concert In 2017 And It Was *The Most Beautiful Moment In My Life*
I Attended the 'Begin Again' K-Pop Concert And Ended Up Having a New ~Bias~