Ah, it's me again, coming at you all with yet another Shawn Mendes and Camila Cabello update/check in! Believe it or not, Shawn and Camila have been dating for—drumroll, please—approximately 132 days, or four months and change! Somehow it feels like ages ago since the "Señorita" music vid dropped and people started speculating, amirite? Some people still claim the whole relationship is fake (lol), but Shawn and Camila are still together well within cuffing season, and that speaks volumes if you ask me!
We've analyzed Shawn and Camila's body language before when they first started their public PDA parade back in July, as well as that particularly sizzling VMAs performance back in August, so it goes without saying that it's time we checked in with your favorite boo'd up faves.
Thankfully body language expert Blanca Cobb has the tea you so desperately crave and is dishing all the deets on Shamila's recent makeout-filled interaction at the Toronto Raptors vs Los Angeles Clippers basketball game earlier this week. Shawn's eyes were WIDE open at one point while he was kissing Camila, but is that *really* as sus as it sounds? Allow Blanca to fill you in.
First up, we have this adorable pic of Shawn and Camila sitting (hugging? embracing?) courtside while watching the game.
Continue reading below ↓
Recommended Videos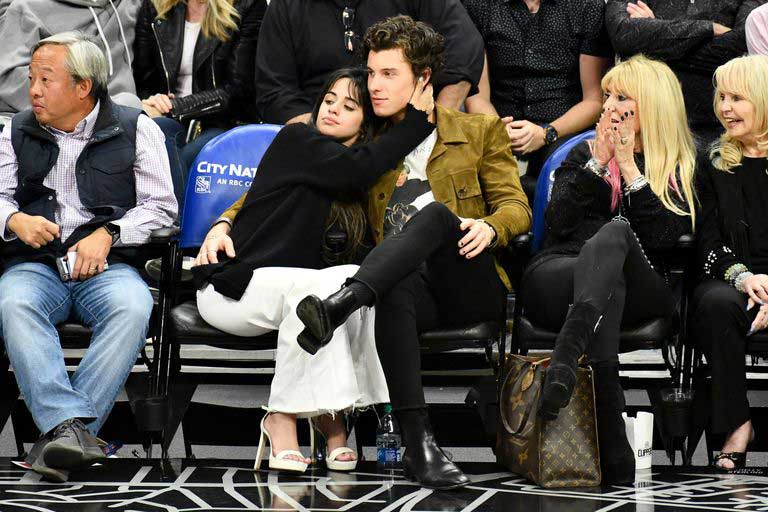 From what Blanca can tell, Shawn and Camila are pretty connected even though they're not looking at each other. "They're both looking in the same direction, and if you notice where Shawn's hand is, it's on the right side of her body. His hands are curving into her," Blanca said. These seem like a simple physical gestures, but they go so much deeper than that!
"Shawn's hand is on her hips, which is an intimate part of the body, and you wouldn't just rest your hands there if you were acquaintances," Blanca explained. "The curvature of his fingers suggests that he is relaxed and is at ease with her. And as far as his left hand that's resting on his thigh, his fingers are relaxed too, meaning that he's feeling pretty chill with Camila."
Next up, we have this extremely passionate-looking kiss where Shawn and Camila (still) have their arms wrapped around each other. Peep the judging woman in the background staring them down: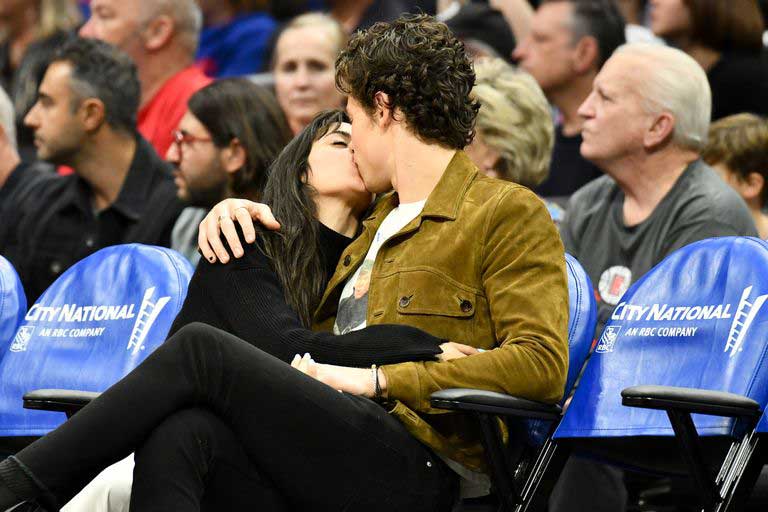 Honestly, who even kisses like this at a basketball game? That's right, NO ONE! According to Blanca, it's pretty exceptional that Shawn and Camila are being so passionate in a setting like this. "This kiss doesn't look like anything more than lips touching, but you wouldn't expect this type of lingering kiss at a ball game with closed eyes, and that means that they're very comfortable with each other," she said.
Despite the fact that Shawn and Camila are literally attached by the lips, the rest of their bodies are tying to keep the connection too. "Shawn's hand is on Camila's shoulder, and the relaxed space in between fingers suggests confidence," Blanca said. Camila, on the other hand, "has her arms draped around Shawn's middle and her free hand is holding Shawn's free hand, meaning that they are maintaining their connection."
Okay last but not least, we need to talk about that open-eyed kiss. I know it looks hella weird, guys! And if I caught my BF with his attention away from me like this mid-makeout, I know I'd be pissed! But Blanca says that Shawn's open eyes really aren't anything serious—he's just a boy at a basketball game who is distracted AF.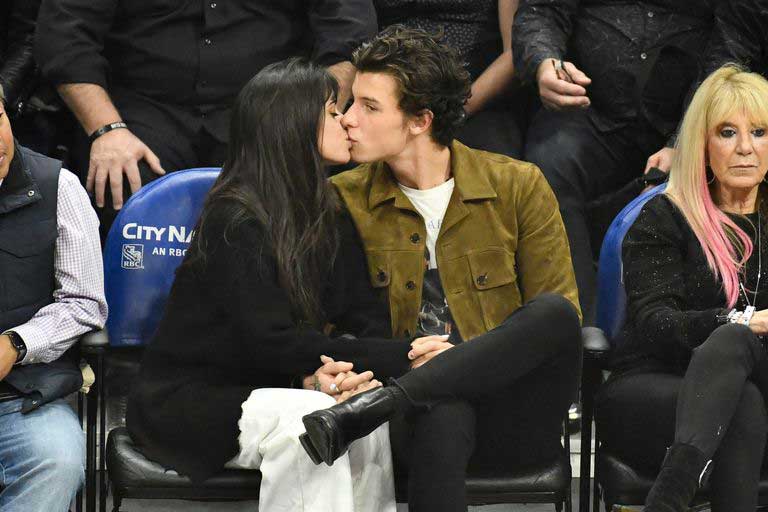 "Shawn is distracted, which you can tell because his eyes are open and is looking to the court, but he and Camila are still maintaining the connection because their fingers are interlinked," Blanca explained. "There's no tension in the fingers, but the fingers of Shawn's right hand aren't touching the back of Camila's hand, which also hints at the distraction on his end."
So does this distraction spell trouble for the couple? Nah, not even a little bit. "They're sitting shoulder to shoulder like they're literally joined at the seam," Blanca added. "You can tell by the position of the legs— Camila is leaning towards him."
Even though some fans are convinced Shawn and Camila's relationship is fake, Blanca said Shamila's body language suggests otherwise given that they've been behaving like this in public since day one.
"I look for patterns of consistency in their PDA over time. Shawn and Camila are touchy feely and they kiss each other in public. They're comfortable in their PDA style and that hasn't changed over the course of their relationship," Blanca said. "They do feel a spark for each other since they're four months in and still in the honeymoon phase, but from what I am seeing, these are all good signs as of today!"
Welp, it looks like Shawn and Camila are stronger than every, guys. So if you're not a fan of the relationship, it unfortunately looks like you'll have to stay pressed!
***
This article originally appeared on Cosmopolitan.com. Minor edits have been made by the Cosmo.ph editors.