Sid Lucero
comes from the mighty Gil-Eigenmann clan of actors—he is son to
Mark Gil
, grandson to
Rosemarie Gil
, nephew to
Cherie Gil
and
Michael de Mesa
, and cousin to
Ryan and Geoff Eigenmann
. So where exactly did he get that name? Here's a little trivia: Sid's real name is
Timothy Mark Eigenmann
. He just assumed the name of a role his father played in the brilliant Mike de Leon classic
Batch '81
.
With a filmography that includes independent productions
Selda
,
Tambolista
,
Donsol
, and his most recent project
Sabungero
(directed by his girlfriend Rozie Delgado), Sid is widely respected as an indie actor. But he also dabbles in mainstream entertainment, as he was part of GMA-7's now-defunct fantasy series
Etheria,
and most recently in ABS-CBN's
Dahil May Isang Ikaw
, where he lends depth to his character. Whichever way he swings, we'll keep cheering for him!
As Cosmo got to know this hot young actor better, we were more and more swept away by his passion for his craft and the awe-inspiring ideas that go through his gorgeous head. But if you still prefer the eye candy, just click on the gallery button to see MORE scenes from Sid's Cosmo Centerfold debut--we know you're STILL not over it!
Q: You come from a clan that's considered showbiz royalty. How close are you to your family and relatives?

A:
The thing with my
titos
,
titas
, even my dad, I rarely see them. But when we see each other it's like a huge party, it's not really planned. My cousins once in a while I get to see them. We're very close, my brothers and cousins.
Q: Who is your biggest idol when it comes to acting?
A:
I really like
Gary Oldman
. What I like about him, number one
kasi
he's underrated. He never plays a character that's close to his personality. It's always different. Unlike the other character actors like Johnny Depp and all that, it's always their personality [that comes out]. When you watch it, you know it's Johnny Depp, no matter how much makeup you put in there. Gary Oldman, the way he does it, he's such a real person. His works are his own, the characters' own. You don't even know what he's like in real life. You don't.
Q: Which among the roles you've played are you most proud of?
A:
I really like
Tambolista kasi
I really worked hard for that. Also in
Donsol
. It was my first film. I like roles
kasi
where you have to change everything, especially the way you talk, the way you use your voice. For me that's working extra hard
din
compared to TV where you just have to say your lines. I also like
Selda
'cause when it was sent to Greece, they received it very well, and then they gave me an award for it. I'm very proud of that.
Read more of the interview on the next page.
Photo by JC Cerilla
[nextpage]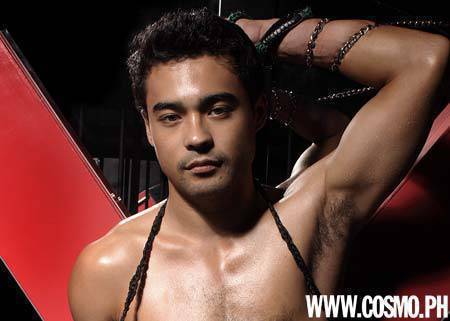 Q: So how does it feel to have won Best Actor at the Thessaloniki International Film Festival in Greece?

A: It's actually confusing more than anything because you do your job and you try to make it better but you can't help but try to match or better what they have in mind or what their perception of what acting is supposed to be.
And because I'm from the Philippines, it's a very Filipino way. When they first gave me the Urian for this movie, I felt like I didn't deserve it, I should've gotten the Supporting Actor [award] instead for a different movie, instead of this one. But when Greece received it [the same] way, that really confused me because
I always had a different perception of what acting is supposed to be especially if you're talking about the world as an audience
. 'Cause our audience is very easy to please, but I guess [in Greece] it's not much different. That's what I picked up from it. So you just have to do your job the way you're raised to, as a Filipino. They're gonna watch it that way.
Q: You gained acclaim through your work in indie films, yet you still take on mainstream roles. Do you discriminate between the two or do you welcome both?
A:
No, in fact
I think we're the only country that looks at independent filmmaking as a totally different sector of filmmaking
. It's only in this country where indie is such an
indie
thing. But all around the world it's been happening. In fact, during the '60s
pa lang
we already had independent films. Our independent filmmakers were
sila
Lino Brocka. But back then you don't hear people saying it's indie.
Here kasi it's a misconception. Automatic, if you say indie it's low-budget, right? It's not e. It's basically not funded by a major film production [company]
. It's not done by Viva or anything like that. No, there's no discrimination; in fact my aim is to further blur the line between mainstream and independent filmmaking. 'Cause in the end
once that line is gone and we're left with just filmmaking, I'm sure it's going to be a huge improvement in the industry
. More people around the world can watch.
Q: You've accomplished a lot in your few years in the industry. Do you have any other career goals?
A:
I wouldn't say I accomplished a lot; in fact I just started. I feel like a kid in the industry, I have a lot to learn.
Ang problem kasi ngayon sa Philippines ang konti ng mga roles na binibigay e.
There are so many stories that are far more interesting than the
kawawa
guy, or the guy who goes abroad, or whatever. So no, there's still more. I want to do as much as possible. I want to be big [in] mainstream cinema as well as in independent cinema. I think everyone should do both. Especially the mainstream people, they should do indie, too.
Q: In the recent Cinemalaya Festival, there were a lot of mainstream actors in the mix.
A:
Yeah. That's what I'm really proud of
nga e
. That line is almost going away. Once that line is gone, our industry is going to be much, much better.
Want to hear more of Sid's thoughts? Learn his views on making a relationship last in this CosmoTV exclusive!
Photo by JC Cerilla
66
Continue reading below ↓
Recommended Videos