Sofia Andres took to Instagram to issue a long apology letter to people she may not have been cordial with, and simply noted that her behavior was borne out of her "fear of rejection."
She wrote,
"Hi everybody, I just want to say sorry, really sorry for those who think that I ignored them, disrespected them, and think I never wanted to say hi or acknowledge them whenever they see me. To tell you honestly, I have this fear. Fear of rejection. I know it's just simple to say hi and hello with a smile but I'm having a hard time to do that to some people I really don't know. I am always scared they might just judge me or ignore me or say nothing [at] all. My defense mechanism is to always act like I am a strong woman and you can't bring me down. But the truth is I have no self-confidence, I have insecurities, yes I do. I always feel like I'm never enough. Believe it or not, I have been rejected so many times. Seriously, when I don't smile I have this bitch face, like a strong face. I feel like whenever I see people around they're saying bad things at the back of their heads. I feel pressured, I feel like they don't even want me at all. I don't know how I will approach them properly. Do they even want me to be with them? Or do they want me to say hi? Those are questions to myself. I am really sorry. I am working on my personal relationship for such a long time. And again, I just wanna say sorry. I am really really sorry."
Continue reading below ↓
Recommended Videos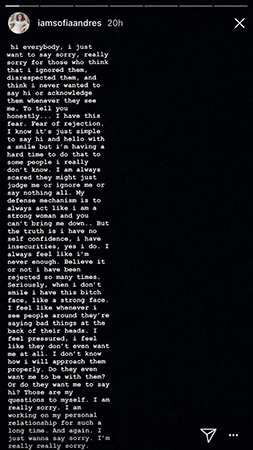 It's unclear to know the exact reason why she posted the note but rumors have circulated that it roots from a tweet by a certain Twitter user @mangyanblogger.
In a tweet posted on February 18, Sofia wrote, "Too tired to be nice."
While the young star received a shower of support from her post, @mangyanblogger reacted differently to her sentiment. The user responded to Sofia's tweet, "You were never nice to begin with. Good luck."
He then continued to accuse the young actress of supposed less-than-ideal behavior during a bloggers conference in one of her recent projects.
In a video uploaded on Lionheart TV, a number of bloggers agreed in the comments section about Sofia's alleged unacceptable behavior. This includes video clips of the actress appearing to be focusing on her phone during several of her interview engagements.
Apart from her Instagram post, no official statement has been issued by Sofia's management about the issue.
Follow Leo on Instagram.