Solenn Heussaff is one of the celebrities, together with government agencies, who are warning the public about groups that claim they were deployed by the government to sanitize homes against the novel coronavirus (COVID-19).
"There are no groups intended for sanitation in homes being sent by the government," the new mom wrote on her Instagram Stories, adding people need to extra careful and alert for similar scams.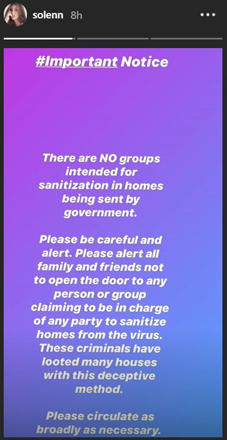 These so-called sanitization groups have looted many houses with their scheme. Do not open your doors to "any person or group claiming to be in charge of any party to sanitize homes from the virus," Solenn advised.
Continue reading below ↓
Recommended Videos
Official government sources such as the Philippine News Agency (PNA) and the Department of Health (DOH) have issued advisories already. 
"There are NO groups deployed by the government to sanitize homes," read a post on the official DOH Facebook page.
The so-called sanitization group has been circulating its "services" on social media with DOH's letterhead. The Health Department also urged the public to get their information only from official sources.
The enhanced community quarantine was imposed in the entire Luzon to help stop and contain the spread of COVID-19. Apart from inhaling droplets of infected persons, the virus can also be spread through touching contaminated surfaces where the virus can stay for eight to nine hours on average.
The DOH advises the use of disinfectants with bleach—just mix one part bleach and 99 parts water. Toilets and bath essentials should be disinfected regularly as well as items everyone in the household frequently touches, such as doorknobs, light switches, mobile phones, tabletops, among others.
It's even more crucial now that we practice cleanliness at home. We all know what we must do for hand hygiene but make sure to keep homes clean, especially if someone is coming back from a supply run.
For more updates on the COVID-19 pandemic, click here.