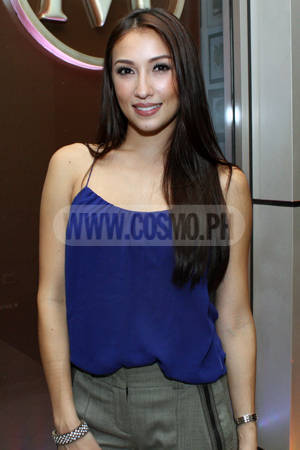 It certainly doesn't look it, but for all her endorsements and magazine covers, our sexy September cover girl Solenn Heussaff is a no-fuss babe. From simple, breezy outfits that she can do cartwheels in to non-sticky, hassle-free beauty products, Solenn proves that being stunning need not be high maintenance.
We caught up with Solenn at Magnum's intimate yet sumptuous dinner at Las Flores to introduce their newest flavor, Choco-Cappuccino (view our Party-Hopping photos from the event here!). We asked the sultry Magnum ambassador which of the four flavors was her favorite, and of course, we couldn't help trying to nab a few fashion and beauty tips from her as well.

What's your personal favorite among the Magnum flavors?
It used to be the Almond, but now I must say the Choco-Cappuccino.
What do you love about the new flavor?
I love coffee. I'm always on the go so I'm always drinking it. Maybe now I can replace it with ice cream? Not too many a day, of course. It's really good. The crunchiness from the coffee-flavored sugar bits is my favorite part.
Continue reading below ↓
Recommended Videos
You're obviously a chocoholic-slash-coffee addict. When it comes to style and beauty, what products are you addicted to right now?
I'm forever and ever a fan of pekpek jean shorts. I can't go anywhere without them. When I don't know what to wear, it's always that plus a loose tank top. I always go for comfort, especially in a country like the Philippines where it's really hot. It's the easiest and lightest thing to slip on.
For beauty, I usually just put on night cream. I sometimes have a whitening scrub for my elbows when they're dark. But I don't put any creams during the day 'cause it makes you sweat easily. I do yoga also, so I can't have a good grip if I put cream on. 
During dinner parties like this, how do you plan your outfits?
I came from taping, so I didn't plan this outfit. I didn't even know what the theme was. But I know Magnum is a very fun family and I knew it would be very cozy tonight so I opted for something casual and chic. If I go to a party after this, I still look dressed, but I don't look overdressed--like I'm not in a gown or anything. And I still like comfort so I'm in pants so I can move around and do cartwheels. 
What five kikay items do you never leave the house without?
Vitresse for my hair. It's always tangled and I blow dry everyday. I usually don't like taking care of my hair, so that's the only product I really use.
I also bring lip balm. I don't like gloss or anything sticky. I always have eyelash glue because when I come from shoots I usually wear fake eyelashes and they come off sometimes. That, plus mouthspray and cologne.