Song Joong Ki climbed to Hallyu superstardom when he captured fan hearts across the world through his role as Captain Yoo Si Jin in the 2016 K-drama, Descendants of the Sun (DOTS). He made headlines (and shippers' dreams come true) a year after when he tied the knot with his DOTS co-star, Song Hye Kyo (sadly, the couple ended up filing for divorce in 2019).
2021 marks Joong Ki's 13th year as an actor and to celebrate his long-running career in the industry, we have prepared loads of trivia about our OG oppa:
He was born on September 19, 1985.
Which makes him a 35-year-old Virgo! People under this sign are known to be highly intelligent (this statement will be proved as you scroll down)! The actor grew up in the rural outskirts of Daejeon, a city located in the central region of South Korea. Song Joong Ki is the second of three siblings, with an older brother and a sister who is seven years younger than him.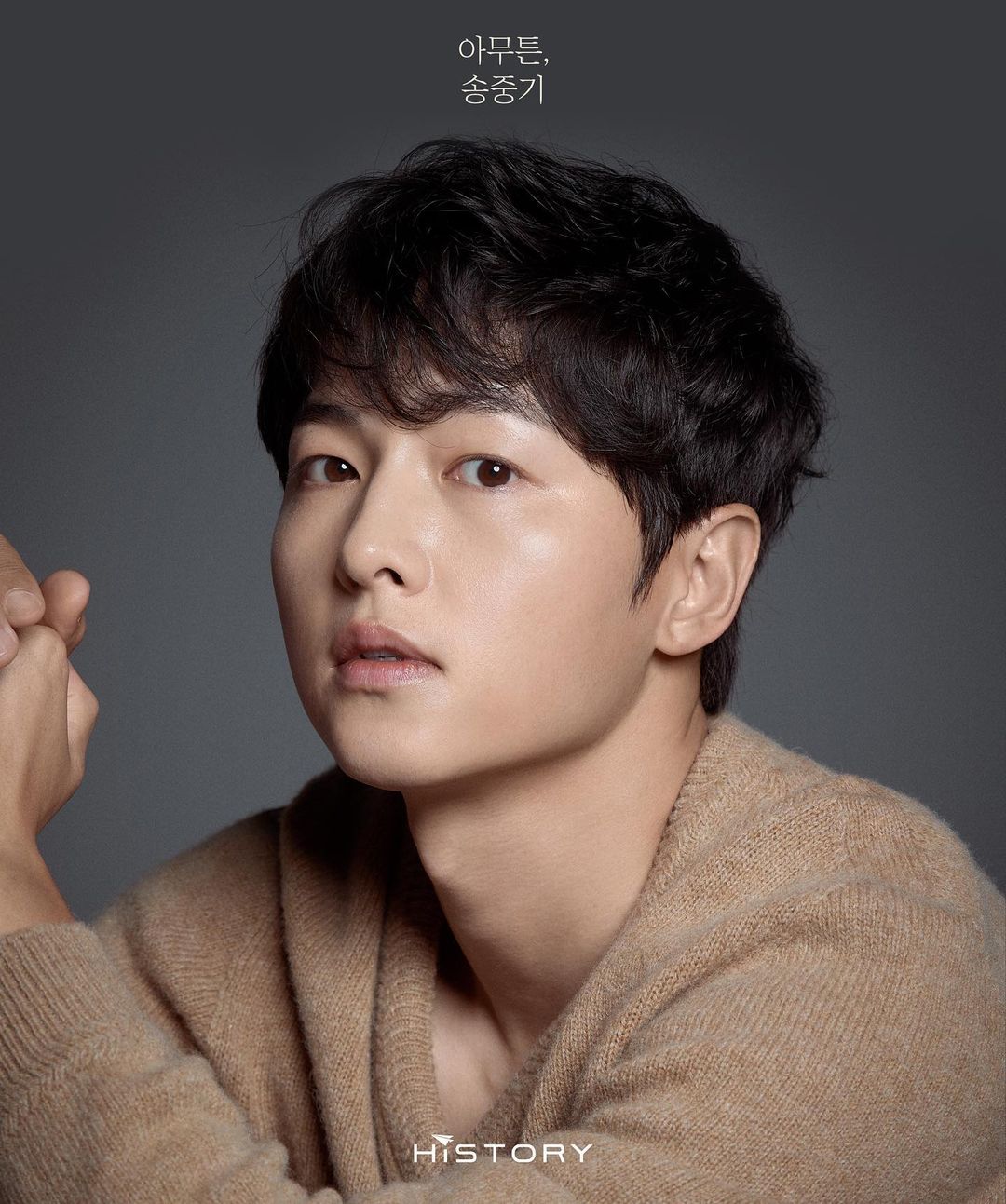 ADVERTISMENT - CONTINUE READING BELOW ↓
Song Joong Ki graduated with a degree in Business Administration.
Song Joong Ki was a shy child yet an ace in sports and academics, and he brought pride to his hometown by representing it in several track speed skating competitions and excelling in school. He was a consistent model student and his high grades gained him admission to Sungkyunkwan University (where he scored 380 out of 400 points on his exam!), one of South Korea's most prestigious universities. In school, he was called as an umchina, or the son of your mom's friend who is good at *everything*. 
He made his acting debut in a Korean movie.
Song Joong Ki's early roots started in the 2008 historical film A Frozen Flower, headlined by Jo In Sung, Song Ji Hyo, and Joo Jin Mo. He was also cast in many blockbuster movies, including The Case Of Itaewon Homicide (2009), A Werewolf Boy (2012), and The Battleship Island (2017).
For his pivotal performance in the award-winning tear-jerker, A Werewolf Boy (Park Bo Young), Joong Ki revealed that he watched Hollywood movies like Edward Scissorhands, Let Me In, and Lord Of The Rings, so that he can learn how to do mime for his character—a human being who acts like a beast. The movie gave Joong Ki a chance to shine like no other because it stripped him of glamour and allowed him to showcase his acting skills mainly through facial expressions and gestures. His speaking lines come towards the end of the film, which definitely hit the right spot (be sure to have a box of tissue on hand).
Song Jong Ki has a long list of K-dramas under his belt.
The 35-year-old's exposure to the small screen came in the form of modest roles in Triple, Will it Snow for Christmas?, and OB/GYN Doctors. Song Joong Ki then gained steady recognition for his flower boy features, and his breakthrough role was in 2010 when he played the part of charming ~*playboy*~ Yeo Rim in the historical K-drama Sungkyunkwan Scandal  (Park Min Young, Park Yoo Chun, Yoo Ah In). Because of this series, Joong Ki gained more fan attention with his onscreen bromance with Ah In, and they received the Best Couple award at the 2010 KBS Drama Awards.
He sustained his rise in popularity by giving fans a weekly glimpse of his athletic, competitive, and down-to-earth personality through the Korean variety show, Running Man. His one-year stint with the show still ignites a lot of great memories because of the strong ties he built with his co-stars, especially with funny man and real-life BFF Lee Kwang Soo.
Joong Ki's last drama before enlisting to fulfill his army duties was The Innocent Man, where he was paired with Moon Chae Won. This series cemented his prowess as a swoon-worthy leading man. Fans had to wait to see him again when he enlisted to serve in an infantry unit in Chuncheon City in August 2013.
The two years were definitely worth the wait with the K-drama hit, Descendants Of The Sun, marking Joong Ki's comeback in the entertainment industry. Through the drama, he was able to prove that his acting chops and onscreen charm were as strong as ever—earning him admiration from fans both old and new.
ADVERTISMENT - CONTINUE READING BELOW ↓
In 2019, Joong Ki led Arthdal Chronicles. Named after the mythical capital of Gojoseon, Korea's first kingdom, the drama kept fans glued to their screens with Jang Dong Gun and his fellow DOTS cast member, Kim Ji Won joining him in its star-studded lineup.
What other Korean celebs think of Song Joong Ki
Other celebs have a lot to say about Joong Ki, and they're all positive! During his fan meeting, his other BFF, Jo In Sung, revealed what it's like being friends with him: "It is not easy to find someone that you can open everything inside of you, but Song Joong Ki is such a person to me. I can tell and share many things with him." Awww!
Song Joong Ki's DOTS co-star, K-pop idol Onew, also said that the actor comforted him when some of his scenes in the K-drama were cut: "Since it was the first episode, I wanted to see when I'd appear. Joong Ki told me it happened to him before, too. He encouraged me, saying I would be better."
Gummy, who sang a song for DOTS' OST, shared that Joong Ki once gave him a handbag, and describes him as someone who is "very kind and considerate." Girls, we have more reason to stan this man.
In 2016, Song Joong Ki was hailed as the CF King.
ICYDK, the title CF King is given to a Korean actor or K-pop idol who became the face of numerous brands! The "Song Joong Ki Effect," which swept the world as a result of DOTS, earned the actor a rightful spot as the Korea Tourism Organization's Honorary Ambassador in 2016. This resulted in a brand model all-kill, with Joong Ki endorsing a handful of brands such as Tony Moly, FUJIFILM, Seoul Milk, Sprite (he was the brand's endorser for two years in a row!), Baskin Robins, Jeju Air, Hite, LG's Household & Health Care, and Domino's Pizza.
Song Joong Ki has published a beauty book.
Together with beauty editor Hwang Min Young, Joong Ki released the book Beautiful Skin Project For Men where he shared his skincare secrets. Three years after, the book was translated into Japanese.  Joong Ki's flawless AF skin is hard not to notice, that even his A Werewolf Boy co-star Park Bo Young had to ask for his skincare advice! His answer? Have an apple a day. Noted, oppa!
In February 2021, Song Joong Ki will lead two highly-anticipated projects, Netflix's new sci-fi film Space Sweepers and tvN's drama Vincenzo—and they both will be streamed on Netflix! Here's a full list of must-watch dramas starring Song Joong Ki.