Game of Thrones

 

officially ended last night

 

with the series finale, and people just found proof that Sophie Turner might have spoiled the ending more than a year ago.
Spoilers ahead! Don't keep reading if you haven't watched last night's episode.
In the past two years, the internet has been doing everything in its power to figure out how Game of Thrones ends. As it turns out, Sophie Turner gave a major, major hint/spoiler more than a year ago.
A few of the GoT cast members have gotten tattoos to commemorate the end of the show or their roles throughout the series, and Sophie got the above tattoo after she finished filming last June.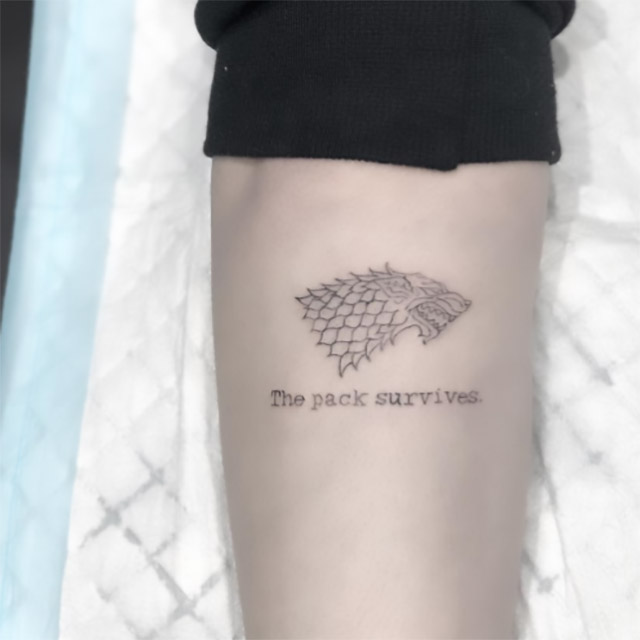 Continue reading below ↓
Recommended Videos
Basically, the phrase "the pack survives" is a long-running theme on Thrones. Ned Stark told his daughter Arya during the very first season, "Let me tell you something about wolves, child. When the snows fall and the white winds blow, the lone wolf dies but the pack survives."
Then, during season seven, Sansa repeated it. "When the snows fall and the white winds blow, the lone wolf dies but the pack survives," she echoed.
Here's the catch. Now that the series is officially over and the Stark children who were alive at the start of season 8 (Arya, Bran, Sansa, Jon) all made it out of the show alive, it seems like this was a major tell. "The pack survives" could've quite literally meant that all the Stark kids live, which would mean Sophie spoiled the show's ending almost a year ago.
When she first got the tattoo, James Corden asked her about it and she said it was just a motto she lived by.
Sophie Turner explains her 'Game of Thrones' tattoo on James Corden's show in 2018.
"Yeah, actually, while I was getting it done, people advised me not to because it looked like I was giving everything away, but I wasn't," she said. "It's just a quote from last season. But everyone figures the pack really does survive, but it's just a moral that I like to live by."
LOL, NICE TRY, SOPHIE.
***
This article originally appeared on Cosmopolitan.com. Minor edits have been made by the Cosmo.ph editors.