"Now there are many groups with over ten people. In 2005 when Super Junior debuted, there was no group that big."
"When they appeared, there were just too many people. We thought, "It'll take forever just to remember them.""
"Launch an idol group with over ten people? That looked like jumping into a fire with a bundle of straws."
Music critics like Kim Yoona, Lim Jin Mo, and Kim Jak Ga spoke the truth—when Super Junior 05 debuted with "Twins" on November 6, 2005 as a 12-member project group, it was the first of many Super Junior *firsts* in the K-pop industry. Even their company had initial misgivings debuting a group that big, with current SM Entertainment COO (and former SJ head manager) Tak Young Jun claiming they were originally promoted as an all-around entertainer group.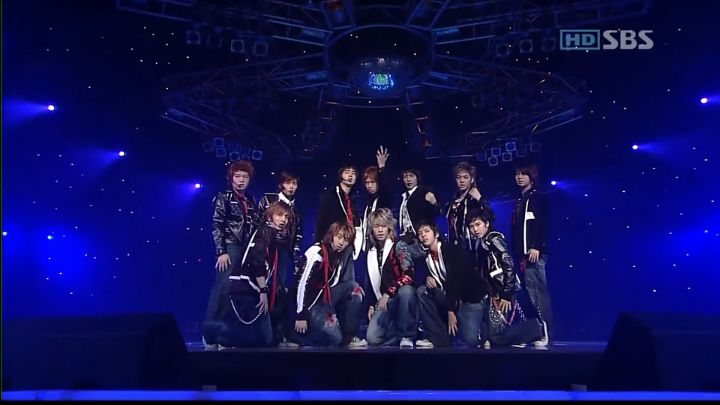 ADVERTISMENT - CONTINUE READING BELOW ↓
However, in their 17 years of being an active—and leading—force in K-pop, eventually being aptly-dubbed the Kings of the Hallyu Wave, Super Junior have proven their doubters wrong and entrenched themselves fully in all niches of the industry. Aside from incredible album sales and sold-out concert tours, the members have made themselves known to the general public as popular variety show emcees, survival show judges, comedians, concert and music video directors, musical stage and tv/film actors, and even YouTubers (all members now have their own individual channels!). 
Lasting nearly two decades in such a fast-paced, ever-changing industry is definitely something to be proud of, so it only made sense to ask for the group's input when telling their story. The nine active members—leader Leeteuk, Heechul, Yesung, Shindong, Eunhyuk, Siwon, Donghae, Ryeowook, and Kyuhyun—all appear at different points of the documentary to narrate personal stories during their incredible career, which really drove home the message that despite all the struggles they faced during their journey, as a group Super Junior eventually experienced record-breaking successes first across Asia, then the rest of the world.
And yes, before ELFs start counting—older video clips from the archives feature Hangeng, Kangin, Sungmin, Kibum, Zhoumi, and Henry without blurring their faces out. They were all part of the original 15-member lineup, and although they're no longer actively performing with the group it's only right for them to be included when chronicling Suju's history.
As Ever Lasting Friends, look forward to these never-before-scene moments (and more!) when you watch the two episodes: 
The members pre-debut (how did they get into SM and chosen for Super Junior?)
How the acting line of Heechul-Siwon-Kibum balanced their time onset and onstage
Behind-the-scenes and onstage footage of the members prior to their "Twins" debut performance
Behind-the-scenes clips from their "Miracle" MV shooting
Kyuhyun's addition to the Super Junior lineup, and "U"
Heechul's car accident on August 10, 2006 and his return to work
The birth of sub-units: Super Junior K.R.Y, Super Junior-T, Super Junior Happy, Super-Junior M, Super Junior D&E
Leeteuk, Shindong, Eunhyuk, and Kyuhyun's car accident on April 19, 2007
The first "Super Show" in February 2008
2009's mega-hit "Sorry, Sorry" and the flash mob dance craze worldwide
The heartbreak over members leaving the group
Military service (enlistment and discharge)
Shindong and Eunhyuk as concert directors
Super Junior's 10th anniversary and Label SJ 
Super Junior's 15th anniversary
ADVERTISMENT - CONTINUE READING BELOW ↓
"The idea of units began with Super Junior," acknowledged music critic Kim Yoona. And thanks to the multiple units, Super Junior's brand recognition continues to improve, with the members being able to perform in several places at the same time. "In the case of other groups, their group itself may have a lot of fame, but the public is not aware of every member. And I could say with pride that most people knew about every member of Super Junior," Tak Young Jun stated.
Just like Kyuhyun said in the first episode of Kyu's Medley—where he sang a selection of Super Junior b-sides throughout the years—"These songs are not meant to be sung by a single person. Sometimes they were sung by 13 people or 10 people or even 9, 8, or 3 people." No matter the number of members onstage, watching Super Junior perform live is an unforgettable experience.
ADVERTISMENT - CONTINUE READING BELOW ↓
With a run time of around 50 minutes per episode, we LOL'd upon seeing the members' hair evolution from the early 2000s until present day. How many cans of hairspray did the stylists have to go through? *laughs* Despite releasing two episodes, the entire documentary felt way too short—and since it stopped at their 9th album, hopefully Disney+ is planning on releasing more Super Junior exclusive content in the future: They're already on their 11th album, and with Yesung having a solo comeback on January 25 it'll be nice to see the members' solo projects (and more on the sub-units, give me back my SJ-M!) featured in depth in a third ep! The second generation idol group is still very much active, and they're going nowhere—they've proudly proclaimed themselves "the last man standing," after all.
P.S. Yes, the Philippines makes several cameos in the two-parter, so keep your eyes peeled for some blink-and-you'll miss it moments! How many did you spot? *winks*
ADVERTISMENT - CONTINUE READING BELOW ↓
In celebration of their upcoming 18th anniversary, 'Super Junior: The Last Man Standing' premieres on Disney+ on January 18.
READ MORE HERE:
We Attended SUPER JUNIOR's Media Showcase—Here's What They Said About Their 11th Album, Super Show 9, And More!
I Watched My First Super Junior Concert And It Was The Best 3 Hours Of My Life
Everything You Need To Know About The Members Of Super Junior
Follow Andie on Instagram.