If you asked me, "How did you first get into K-pop?" I wouldn't be able to give you an exact date, but I definitely remember one of the songs that got me hooked: Super Junior's "Sorry Sorry." The catchy beat (and seeing the dance craze take over the Philippines) was the start of my obsession with all things K-pop.
I eagerly caught up with all things SJ. Fandom? Yep, I'm a proud ELF (Ever Lasting Friend, the name of their fans). Variety Shows? I remember the days when episodes were split into multiple parts in a YouTube playlist—and the devastation when part six out of 12 was taken down due to copyright. Music Bank performances? Good luck spotting your bias at 144p resolution! Another problem was that the members were EVERYWHERE. Hosting multiple TV and radio shows (I miss Super Junior Kiss The Radio!) was great because I could see them anytime I wanted, but it was also hell catching up on all their content. I was and still am infinitely thankful for our ELF subbing teams on social media, who freely do the hard work of hard subbing these episodes immediately after they've been shared online.
ADVERTISMENT - CONTINUE READING BELOW ↓
Prior to Super Junior's Manila concert on December 15, my boys had been to the Philippines four separate times: Super Show 2 in 2010, Super Show 3 in 2011, Super Show 5 in 2013, and Super Show 7 in 2018. Due to circumstances, I missed every single concert, and I was determined that #SS8inManila would be "The One." However when the ticket selling was finally announced, there was a bit of a problem: My friends and I didn't know what section to choose, HAHA. All of us luckily share the same bias (Donghae, in case you were wondering), but Eunhyuk was our bias wrecker. Unfortunately, the two position themselves on opposite sides for majority of the concert performance, so we ended up choosing the right side aka Hae's side.
Tip: If you're going to a concert with friends, DIVIDE AND CONQUER. Those with fast internet, log in to SM Tickets beforehand to secure an early slot in the online ticketing queue. Those who live near SM Malls, check social media (Twitter and Facebook especially) to see if unofficial group lines have been planned, especially if you're planning to line up super early in the morning. Remember there's an additional fee (usually around six percent of the ticket price) for processing when you buy online!
ADVERTISMENT - CONTINUE READING BELOW ↓
Recommended Videos
Concert Day aka "OMG FREEBIES"
I arrived at the Mall of Asia Arena at around 12 noon. The concert was still at 6 p.m., but I had seen several ELFs share pictures on Twitter of the freebies they planned on giving away, and I had already DM'ed some asking to reserve. From noon till around 3 p.m., my friends and I went around trading freebies and collecting merch of our bias. Sadly, all that walking meant we were too far away to make it back in time for the ELFISH (Donghae stans) group pic, HUHU. We were still able to meet other Donghae stans though, so that's a plus!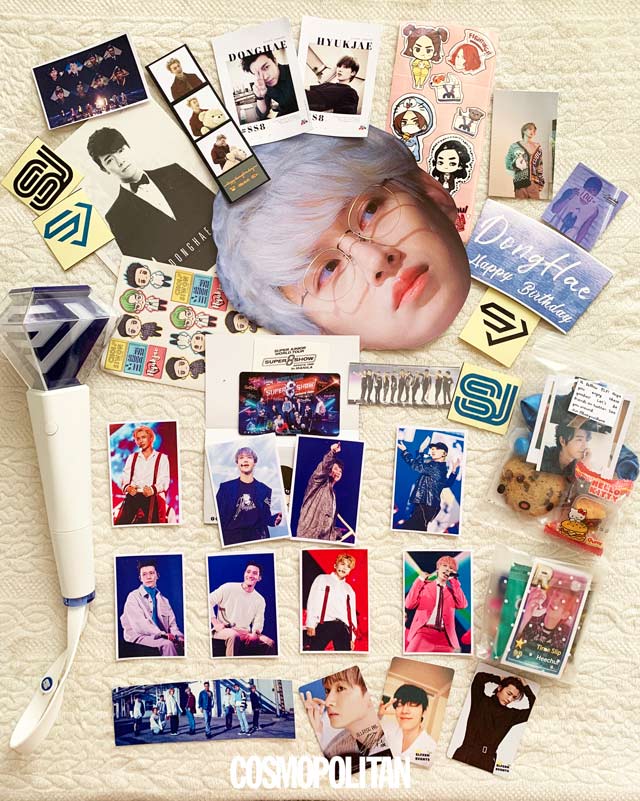 ADVERTISMENT - CONTINUE READING BELOW ↓
Fan projects are *hush-hush*
This year, the individual member fan clubs decided to unite and do a combined fan project for the members. SJ United PH and Philippine ELF Union planned a banner project to be shown during the song "Believe," and each section was given color-coordinated hearts to wave around during "No Other." Even VIP standing fans received the fan projects! The only requirement: No posting on social media until after the concert, so no one would ruin the surprise!
And what a surprise it was. The boys were SO happy to see the fan project, calling out "Wow!" "Hearts!" "So beautiful!" and more. It was such a great feeling to know that, while their concert tour was primarily for the fans, there were little things we could do to make the boys happy too.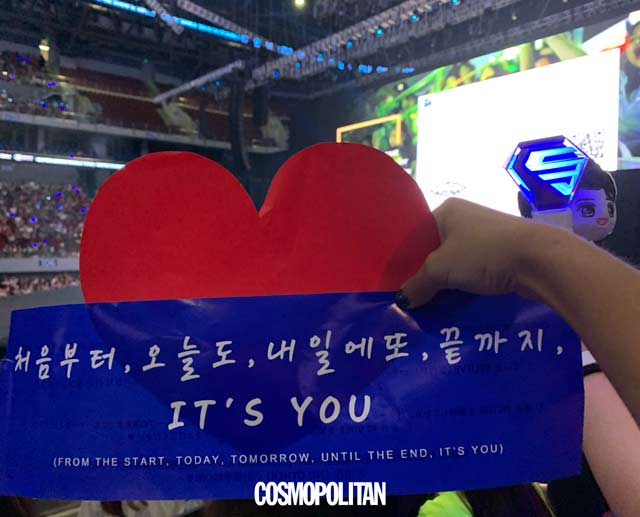 ADVERTISMENT - CONTINUE READING BELOW ↓
View this post on Instagram
It was *definitely* a "Blue World"
From the sapphire blue ocean made up of thousands of Super Bongs to the gorgeous live performance of "Blue World," if you weren't a member of the K-pop community you'd definitely think there was a huge gathering of Ateneans at the MOA Arena. But it was actually the PH ELF fandom having a huge reunion and enjoying all things SJ while waiting for the concert to start. From testing their song and dance memory at the Globe K-Mmunity booths to practicing the fan chants while lining up to enter, the buzz of excitement was *incredible.* One of the best things about being a K-pop fan is the sense of family no matter which group you stan. You're united by the love and support you show towards your bias group, and that only heightens your concert experience.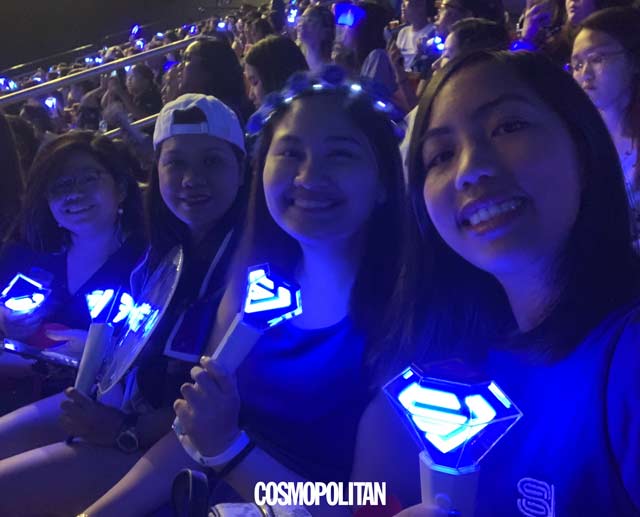 ADVERTISMENT - CONTINUE READING BELOW ↓
View this post on Instagram
Two words: SUPER CLAP
When the familiar DUN DUN-DUN DUN, DUN DUN-DUN DUN started booming across the arena, the screaming started, and I knew it was *finally* the moment I'd been waiting for: The iconic "Superman" intro I've been dying to be a part of was finally here. Since this was my first-ever K-pop concert, I don't know if the somewhat out-of-body experience I had is relatable, but it's definitely a surreal feeling going from seeing them on your phone screen to being close enough to touch them (looking at you, VIP standing). It's been nearly a week and I STILL can't believe I saw Leeteuk, Yesung, Shindong, Donghae, Eunhyuk, Siwon, Ryeowook, and Kyuhyun in person!
View this post on Instagram
CAN WE TALK ABOUT THE STAGES?!
Concert Director Eunhyuk and VCR Director Shindong did an AMAZING job with SS8. From "Superman" with it's fiery opening to the literal "Blue World" to the moving cages for songs like "She's Gone" and "My All Is In You," the stage production was out of this world. The members took every chance possible to make use of the extended stages, walking (sometimes running!) all the way up the stairs to greet lucky VIPs seated in sections 201/222. 
ADVERTISMENT - CONTINUE READING BELOW ↓
AND THE FANSERVICE. From Siwon taking selfies with ELFs to Eunhyuk's "PHIL" on his cheek to several members showing off their physique (ehem, Leeteuk, Donghae, and Siwon), no ELF was spared. Super Show 8 really was a "time slip": Nostalgic to the extreme for tita ELFs, and an introduction to Suju's older songs for baby ELFs. 
View this post on Instagram
I. WAS. OVERWHELMED. (in a good way).
You know the feeling when there's just SO much stimulation you just kinda...shut down? Yeah, that was me during probably the first five minutes of SS8. Do I scream the fan chants, or just sing along? Do I wave my Super Bong the entire time? How do I hold my phone, light stick, and fan project at the same time? Do I take videos vertically for IG stories or horizontally so I can post fancams? Do I take photos of their on-screen close-ups, or keep my camera focused on my bias?
ADVERTISMENT - CONTINUE READING BELOW ↓
I had so many thoughts running through my head, I didn't know what to do. Eventually, I just decided to enjoy the concert and sing along, only taking videos and photos of moments I had practically burned into my brain from watching previous concert fancams: Yesung, Ryeowook, or Kyuhyun sings an incredible run here, Shindong, Eunhyuk, or Donghae has a dance solo there, Siwon or Leeteuk come front and center NOW. That kind of thing. You definitely leave the concert feeling like you can do everything at once, though!
View this post on Instagram
View this post on Instagram
You *might* leave the concert with a different bias. (Kidding!...or am I?)
In K-pop slang, a bias is your favorite member. For Suju, my bias is Donghae. He's an incredible composer, an amazing dancer (his hip thrusts for "Sorry Sorry" are legendary), and overall he's just a sweetheart, period. Plus his naivety and occasional dumb moments are hilarious. 
However, with a bias comes a bias-wrecker: Another group member who makes you take that second look—you know what I'm talking about, aminin mo na. They do everything possible to take your attention away from your OG fave. In my case, that's Eunhyuk. Dance king, variety god, one half of D&E, etc. I entered the concert fully expecting half my fancams to be focused on him.
ADVERTISMENT - CONTINUE READING BELOW ↓
Instead, I left MOA Arena whipped for Yesung. I definitely took notice during his solo promotions for Pink Magic (his pink hair, thank you very much), but D&E forever hold my heart so I stayed faithful. However, I'm pretty sure all ELFs can agree that Time_Slip (Super Junior's ninth album) is Yesung's era. His skilled dance stage at SS8 (that handstand!) left me feeling guilty when I'd see my phone immediately focus on Yesung despite Donghae or Eunhyuk being RIGHT IN FRONT OF ME. But that's okay, because the winner of the night was Ryeowook's sexy solo stage. HIPS DO NOT LIE.
Three hours felt bitin.
From singing along to the song lyrics (because let's face it, Pinoys turn everything into karaoke and nobody has time to memorize the fanchants, lol) to laughing at their ments, Super Junior definitely made the most of their three hours on stage. Despite the language barrier, the members definitely made use of the interpreter to say cheesy lines and have us sing-along ("Donghae is coming to...Philippines!" sung along to the Santa Claus tune comes to mind).
ADVERTISMENT - CONTINUE READING BELOW ↓
View this post on Instagram
Special mention to their 16-minute long opening ment, which covered everything from Eunhyuk's love for Frozen 2 to Kyuhyun and Leeteuk's English-speaking skills, lol. When asked what love meant to the members, we found out that Shindong's mom was in the audience due to a funny joke from Shindong himself! 
Leeteuk: "Love is Shindong's mom."
Shindong: "No. love is ELF. Why? Mom is ELF."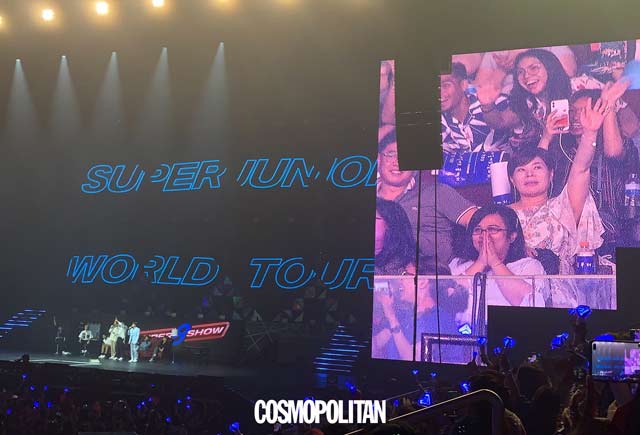 ADVERTISMENT - CONTINUE READING BELOW ↓
It's been almost a week since SS8, but I'm ~still~ not over the fact that I finally got to attend a Suju concert. Cue "...is this just real life, is this just fantasy?" Loving a K-pop group is not for everyone: I've had friends tease me about my obsession with "those boys," but you do form a special relationship with your faves, despite the language barrier and thousands of kilometers separating you (2,620 km from Manila to Seoul, just saying). You might have found their music when you most needed an escape, or discovered a variety show episode that got you laughing till your sides hurt. In the end, though, it doesn't really matter how you built that special connection. To quote Siwon, "You don't need to be an ELF from the beginning. You just need to be an ELF until the end." And I plan on being there.
See you next year for two days of SS9 in Manila, PH ELFs!
ADVERTISMENT - CONTINUE READING BELOW ↓
Follow Andie on Instagram. 
K-UPDATES