There are only a handful of legendary parties in the history of United States. The Met Gala, the Vanity Fair Oscars party, that one night at Studio 54 when Bianca Jagger rode in on a white horse, and that's pretty much it. But in recent years, an upstart bash has attempted to enter the Hall of Party Fame. It's become a summer tradition as important as fireworks and frosé, sunburns and crop tops. Yes, you know where this is going—to Watch Hill, Rhode Island, where Taylor Swift holds her sort of annual Fourth of July party. Here, a complete history of the most exclusive patriotic invite in the U.S., and our answer to the question on everyone's Instagram thumb: Is she having a 2018 blowout, or what?
2013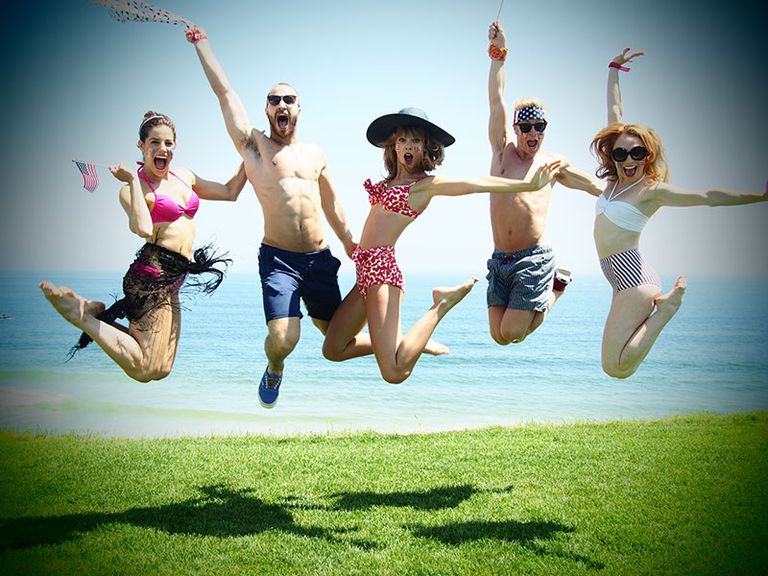 ADVERTISMENT - CONTINUE READING BELOW ↓
Seemingly the first of Taylor's July 4 parties, this one was documented on Taylor's blog. How quaint! "Independence Day is one of my favorite holidays of the year," she wrote. "This time around, my touring family joined me at the beach and I wanted to show you some of the pictures because you're the reason we all get to be on tour together." Taylor had only purchased the Watch Hill house in spring of that year, so it was likely one of the first times she got to spend much quality time with her friends there (she'd been on tour since March).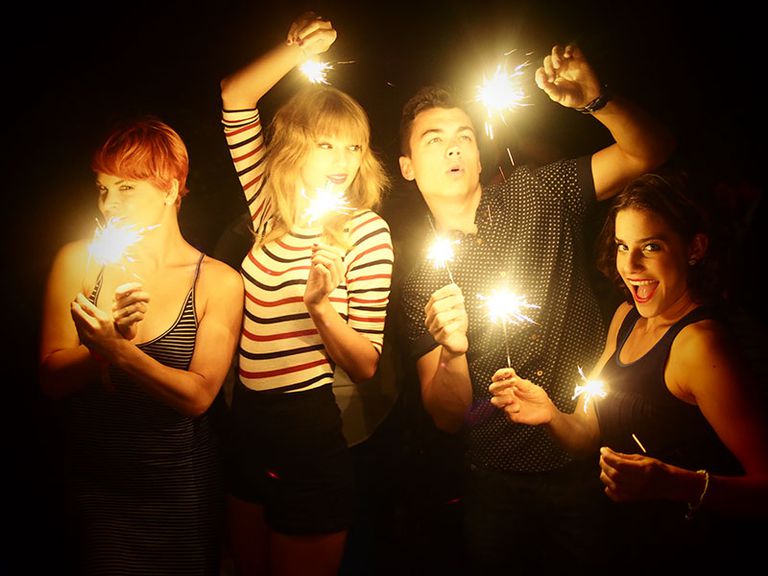 Attendees were Taylor's parents and dancers from the Red tour, so unless you're a Taylor superfan, you likely won't recognize them the same way you will, say, Blake Lively. Still, it certainly was an event—activities included face-painting, synchronized jumping, cornhole, sparklers, and fireworks. Somewhat unbelievably, drinks were served in red Solo cups, which is about as proletarian as these parties have ever been. You can still see the full gallery of photos on Taylor's site.
2014
ADVERTISMENT - CONTINUE READING BELOW ↓
This was the first year of The Squad, and thus the first year that the party became news. The list of people who attended is as follows: Lena Dunham, Jaime King, Jessica Szohr, Emma Stone, Andrew Garfield, model Jessica Stam, singer Ingrid Michaelson, and actress Odeya Rush (who starred in The Giver with Taylor). Taylor deleted the photos from this and all her other July 4 parties during the Great Reputation Purge of 2017, but plenty still exist on other attendees' accounts.
ADVERTISMENT - CONTINUE READING BELOW ↓
Sparklers happened again, as did floppy hats, but this time there was also a boat ride, a slip-and-slide, and plenty of baking.
ADVERTISMENT - CONTINUE READING BELOW ↓
2015
If 2014 was the first year the party really became a thing, 2015 was the year it became iconic. The squad got bigger, expanding to include more models, actors, and musicians, and the themed dressing got even more intense. The inflatable slide made an appearance, and the whole group wore matching American flag onesies as the evening cooled off. Once again there was a choreographed photo of everyone leaping in the air, some patriotic sparklers, and a lot of mini American flags. Someone also seems to have had an Instax mini on hand, because Gigi Hadid posted a photo of a photo of herself eating a rocket pop.
ADVERTISMENT - CONTINUE READING BELOW ↓
The invite list this year was long, so tuck in: Gigi, Martha Hunt, Nick Jonas, Joe Jonas (who was dating Gigi at the time), Danielle Haim, Este Haim, Alana Haim (they'd been touring with Taylor on the 1989 tour), and Serayah. Taylor's then-boyfriend Calvin Harris was also present, and though her photos with him have been deleted, she captioned one, "Friendly relations between Scotland and America."
ADVERTISMENT - CONTINUE READING BELOW ↓
ADVERTISMENT - CONTINUE READING BELOW ↓
There were also plenty of inflatables, a little bit of volleyball, and apparently some tequila, if Nick and Joe's photo is to be believed.
ADVERTISMENT - CONTINUE READING BELOW ↓
2016
Here it is, finally—the year of the "I Heart T.S." shirt. Though this party was possibly the most epic in scale, everything about it was eclipsed by Tom Hiddleston's infamous tank top that declared his love for this then-girlfriend. "The truth is, it was the Fourth of July and a public holiday and we were playing a game and I slipped and hurt my back," Tom later explained GQ in 2017. "And I wanted to protect the graze from the sun and said, 'Does anyone have a t-shirt?' And one of her friends said, 'I've got this'... And we all laughed about it. It was a joke."
ADVERTISMENT - CONTINUE READING BELOW ↓
ADVERTISMENT - CONTINUE READING BELOW ↓
This was also the year of the awkward couples photo, where Hiddleswift and Blake Lively and Ryan Reynolds posed on a porch with the ladies sitting on their men's laps. Ryan made headlines for looking, well, miserable, but he later said that he just has resting "dying" face.
Anyway, the slide was back, only this time it was labeled Taymerica. The onesies returned, and there were matching red, white, and blue bathing suits from Solid & Striped for the ladies. The invite list was once again insane, so take a breath: Blake Lively, Ryan Reynolds, Tom Hiddleston, Ruby Rose, Harley Gusman (then dating Ruby), Karlie Kloss, Cara Delevingne, St. Vincent (then dating Cara), Abigail Anderson (Taylor's childhood friend) and her then-fiancé (now husband), Este Haim, Josh Kushner (brother of Jared and Karlie's boyfriend), Taylor's brother Austin, Rachel Platten, Uzo Aduba, and Brittany Maack (Taylor's childhood friend) and her husband. Phew!
ADVERTISMENT - CONTINUE READING BELOW ↓
2017
The horror! Taylor did not have a party last year, for reasons that remain a mystery. People reported at the time that Taylor didn't want to make a big deal about her relationship with Joe Alwyn, but as we now know, she was also gearing up to release Reputation, so it's possible she was just in work mode and didn't feel like dealing with the drama of choreographing Instagram posts and obtaining matching swimsuits for everybody. The water slide went up again, though, so hopefully someone got to have a little fun.
ADVERTISMENT - CONTINUE READING BELOW ↓
2018
There's no evidence that Taylor's hosting a party this year, either. She's currently on the Reputation tour, and while she does have a short break between her June 30 and July 7 tour dates, a girl needs a break. She's also still keeping relatively quiet about her relationship with Joe, so Instagramming the event might require a level of openness that they're not comfortable with.
Then there are the rest of the usual suspects. Gigi is in Greece, Karlie is in St. Louis, Martha's in the Hamptons, Ed Sheeran's on tour, and so forth. If there were a Magic 8 Ball for squad reunions, it would say, "Outlook not good." Then there's the whole "America" of it all—a patriotic party might not be a good look at this particular political moment. But you never know! Maybe the crew will roll in on private jets and give the Taymerica slide another go. Stay tuned.
ADVERTISMENT - CONTINUE READING BELOW ↓
Follow Eliza on Twitter.
***
This article originally appeared on Cosmopolitan.com. Minor edits have been made by the Cosmo.ph editors.