The music video for Taylor Swift's song "You Need To Calm Down" dropped last night, but Twitter is doing anything but calming down. The lyrics were already overtly anti-homophobia, but the video dials that up to, like, a thousand (in case they were just too subtle?!). With a rainbow trailer park and about a hundred celebrities, the video shows Taytay and her colorful queer friends (and Katy Perry, because in case you hadn't heard, their feud is over) chillin' and being fabulous whilst getting yelled at by a bunch of sign-wielding bumpkins (THE HOMOPHOBES). However, people are far from okay with how both sides are being stereotyped in a mere three and a half minutes.
THE ANTI-LGBTQ+ LEWK
About halfway through the video, we are introduced to the anti-LGBTQ+ crowd protesting Jesse Tyler Ferguson and Justin Mikita's fake wedding. Of course, they're portrayed with about as much nuance as the lyrics of the song. Seriously, look at this guy: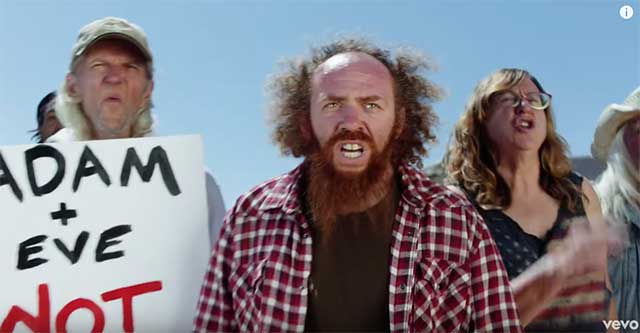 Continue reading below ↓
Recommended Videos
Oof.
We even see a sign that says "GET A BRAIN MORANS" multiple times, because IRONY! It is you, toothless, overall-clad protestors, who are the fools!
The implication is that it's the backward-country types who are the real villains here (admittedly, saying "implication" is a little generous—this whole video is so on the nose that it could knock me out). However, as much as I'd *love* to smugly say it is, that stereotype is far from true. As Queer Eye's Fab Five's (who also star in this video) OWN SHOW DEMONSTRATES, even being the most crimson of rednecks does not mean you are also a hateful person. Also, our real threat isn't always the aggro protestors: The suit-wearing, office-holding bigots can be even more dangerous.
RAINBOWS! GLITTER! PRIDE!
The sign carriers are in stark contrast to our video's hero, Taylor Swi—I mean, the LGBTQ+ community, of course! There are so many drag queens in this video that I can basically taste the hairspray from here. As fabulous as this all is, this also conforms to plenty of stereotypes about Pride. For one, the queer male celebs way outnumber queer female celebs (Alexa, what is a lesbian?). Moreover, at a time when there are plenty of moves to bring Pride back to its activist roots, perhaps a video showing the LGBTQ+ community as a massive party is a little tone-deaf?
Either way, the petition linked at the end of the video has more than 200,000 signatures, so at least stereotypes are good for something. And in the end, there are SO MANY gushing reactions from the queer community sprinkled among the angry ones.
Taylor, despite the backlash, is doing a positive thing at the end of the day. And we can't hate on that.
***
This article originally appeared on Cosmopolitan.com. Minor edits have been made by the Cosmo.ph editors.