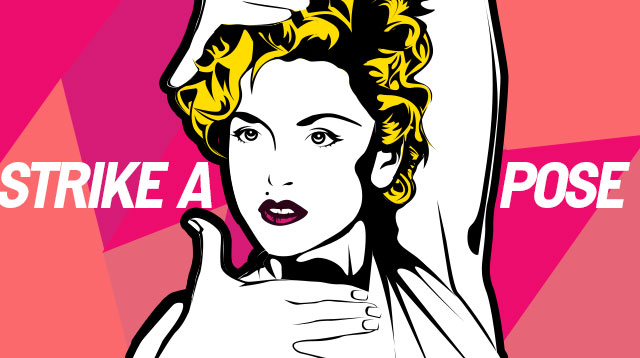 Jico Joson
You might have seen the excitement in your older, non-millennial family and friends when Madonna announced that her Rebel Heart Tour was coming to Manila. Madge's two-day concert on February 24 and 25 was the first time the Queen of Pop was in the Philippines. Beyonce and Katy Perry have been here more times!
Perhaps, too, your first Madonna moment was seeing her Superbowl halftime performance in 2012 or dancing to "4 Minutes," her collaboration with Justin Timberlake, at a club. Not enough. You literally missed growing up to her music, wanting to be her, or memorizing the dance steps to "Material Girl" for a school program.
It pays to know your classics—or *shudders* old school hits. Here, a list of reasons you need to catch up on your Madonna knowledge and why her music needs to be digested more by young girls.
1. More than being the Queen of Pop, Madonna is an original.
ADVERTISMENT - CONTINUE READING BELOW ↓
Go straight to the source. Madonna is peerless, as music journalists the world over have written time and time again. When she was just starting out, she was not said to be a successor or a copycat of any superstar at the time. She was in a league of her own. And how she experiments with a new look and sound for every album she drops proves that she is indeed the mother of reinvention.
2. Today's hottest pop stars were inspired by or channeled Madonna at some point.
Whether they admit it—some have—or not, Lady Gaga, Jennifer Lopez, Rihanna, Miley Cyrus, and Britney Spears have all drawn musical or image inspiration from Madonna. It could be through the display of skin, shocking the press or a direct tackle of The Queen's vast repertoire. Not surprising at all, considering Madonna has done everything.
3. She has a hand in pop culture as we know it today.
Her songs "Vogue" and "Jump" were on the soundtrack of The Devil Wears Prada. Did you catch "13 Going on 30?" The song that played in the end was "Crazy for You." And that's just the tip of the iceberg: society and culture experts say that Madonna is in the same company as Elvis Presley, Marilyn Monroe, and Coca-Cola in terms of recognition, cultural impact, and icon status. Siya na talaga.
4. She is a fashion icon.
So a cone bra is a tad too much for every day. But not a black lace corset under a pinstripe suit. Or pearls with a concert tour t-shirt (Tip: not hers but of another artist, please) and tattered booties. How about channeling Spanish señorita? Madonna's lookbook is a study in fashion history—tear off a page and bring it to life.
5. She was a #GirlBoss before the term was coined or hashtags became basic.
ADVERTISMENT - CONTINUE READING BELOW ↓
Criticized by the Church and some conservative governments, Madonna's worldly view on sexuality and religion is not for everyone's consumption. But the very essence of her unbridled self-expression is worth emulating. And the way she runs her career and curates her brand through thorough research and experimentation (as seen through her new look and sound in every album) is in itself a business model. She makes for a great case study for professional success.
6. Madonna is a Cosmo Girl through and through.
She is a fun, fearless female. Enough said.
Homework:  Open your Spotify, search Madonna, and scroll down to Compilations. Spend a few drives or commutes listening to The Immaculate Collection for her early hits, Something To Remember for her ballads, and Celebration for a more comprehensive playlist. For sure, Beyoncé and Katy Perry wouldn't mind.