There have been a lot of big blowout royal weddings over the years, but none of them can hold a candle to Princess Diana and Prince Charles' nuptials. I mean, this thing was watched globally by 750 million people—including two million fans who flooded the streets IRL. It was inarguably one of the most iconic events in royal history. So, uh, why wasn't it featured in The Crown Season 4?
To be fair, the show did bless us with a Princess Diana wedding dress moment, and the costume designers fully nailed recreating her silk taffeta Elizabeth and David Emanuel gown with its legendary 25-foot train. Plus, we got a look at Charles and Diana's rehearsal! But still, The Crown's ~wedding episode~ ended without an…actual wedding. And there's a specific reason.
Basically, everyone's already seen it.
Confused? Angrily writing a petition to Netflix? Actress Emma Corrin (who plays Diana) explained the show's logic to the Hollywood Reporter, pretty much saying that there was simply no point in recreating the wedding because literally everyone watched it already.
ADVERTISMENT - CONTINUE READING BELOW ↓
"We never recreate things just for the sake of recreating them. I think if we do recreate a scene—like the engagement scene, for instance, when they do the announcement—it has to be because it's linked to something that the characters are going through. It has to be part of the story. It has to further the plot, basically. The wedding scene, you can YouTube it and you could be watching it in 10 seconds, so I don't think there'd be any point in us recreating it."
Josh O'Connor (aka Prince Charles ) also weighed in with his thoughts, saying that not showing the wedding allowed them to concentrate on what was going on behind the scenes:
"Peter Morgan isn't interested in showing you the wedding because, yeah, Emma's right, you just go on YouTube and you can watch it. I think all the historical events are important for punctuating so that the audience know where we are. He'll put in Thatcher's election and that's literally just to tell the audience, 'Right, this is where we are,' rather than putting up on the screen '20th of December 1981,' or whatever. He basically signposts it using historical events. But what's more interesting, because Charles and Diana have to be a certain way on their wedding day, you don't see the nuance, whereas when it's behind closed doors, [like] the rehearsal, we have more license to create and fictionalize."
ADVERTISMENT - CONTINUE READING BELOW ↓
Recommended Videos
And also...it wasn't the *Queen's* wedding.
There's an even more relevant reason that Diana and Charles' wedding wasn't recreated in full. Everything about The Crown needs to relate back to the Queen because, ultimately, this show is not about Princess Diana. It's about Elizabeth. Here's what Emma told the Hollywood Reporter:
"Everything actually has to feed back to the Queen. Even Diana's plotline, it's all about what she's doing and the effect that that's having on the Queen. That's why it's called The Crown."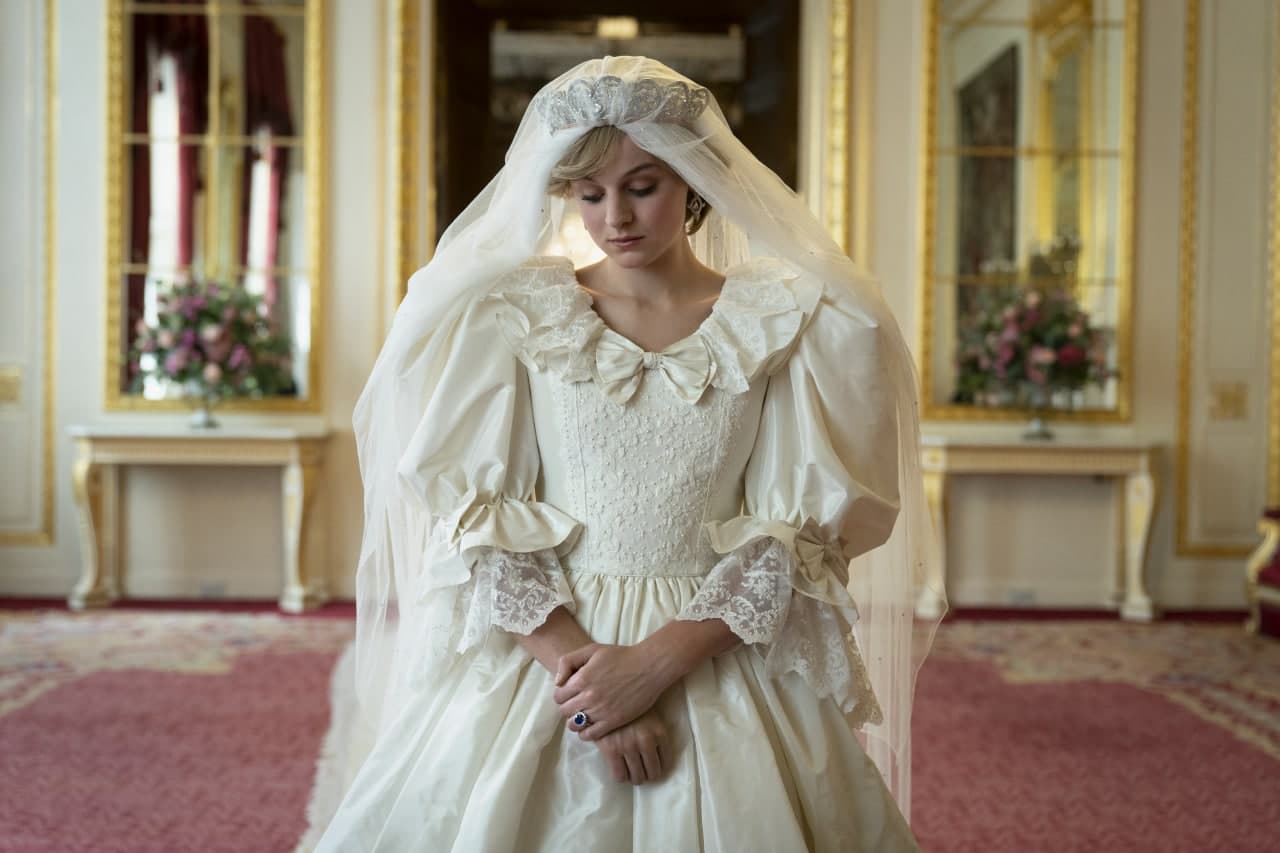 ADVERTISMENT - CONTINUE READING BELOW ↓
Fine, then why include the dress moment?
The Crown's director Benjamin Caron explained that the symbolism of the monarchy is fully wrapped up in that dress, which is why it made the cut. He told the Los Angeles Times the following:
"For me, the dress is symbolic of what that day represents. It's so big. The dress has always represented the slight repression of the crown. It's suffocating her, in a way. I think that was really important in the buildup to the actual wedding. The moment where she's walking away from us in the dress feels really solemn. The episode starts off with you drinking a glass of champagne and then by the end you realize you're actually drinking vinegar and you don't quite know when that taste changes during the episode. You feel, 'Don't do it! Please, don't do it.' You know where she's going. It's the beginning of the end."
ADVERTISMENT - CONTINUE READING BELOW ↓
Honestly, makes sense. I'm not mad, are you?
***
This article originally appeared on Cosmopolitan.com. Minor edits have been made by the Cosmo.ph editors.
EXPLORE COSMO